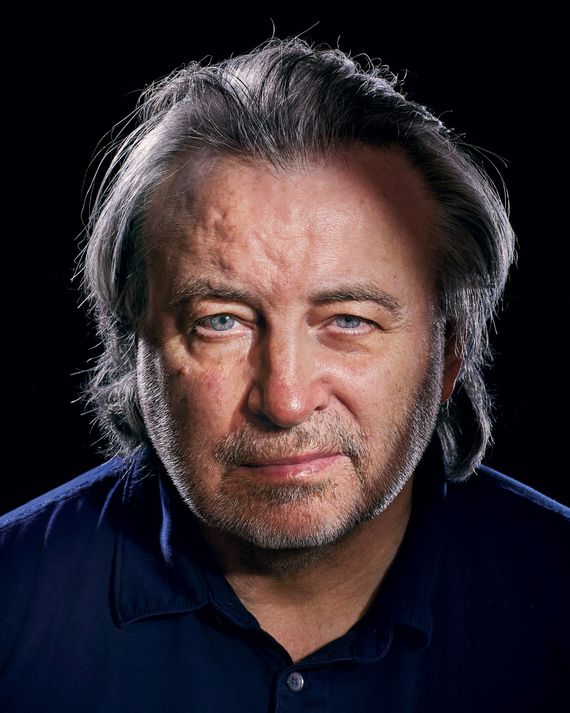 Photo: Hannah Whitaker by New York Magazine
This article was featured in One Great Story, New York's reading recommendation newsletter. Sign up here to get it nightly.
The lights are back on at Balthazar, and the tables are booked; the people spill into the street again, sometimes tripping into the security guard stationed, unobtrusively but not exactly invisibly, outside. Zouheir Louhaichy, a 24-year veteran of this and other Keith McNally restaurants, is at his old post at the maître d's stand, which has been moved outside and outfitted with a bottle of hand sanitizer. He wears the same suit and tie as always, greets just as graciously, and flips through the dog-eared pile of papers that is Balthazar's daily reservations list — even in the age of iPads and Resy — marking his inscrutable runes in pencil at the margins.
Inside, in the bronzy, nicotine glow of the dining room, an ambient roar floating up from the tables, it's not the rude mechanics of the place you feel. It's the analgesic drip of service and certitude: the oil greasing the gears, not the gears themselves. On a still-warm Friday night not so long ago when I managed to land a reservation, I moved my table an inch farther away from the couple's next to mine, and a waiter, descending to take drink orders, noticed instantaneously and slid it back into position without a word. In front of me was the editor-in-chief of Town & Country, and opposite, the Broadway actor John Benjamin Hickey. Outside, as my friend and I left, shielded under the pandemic-era outdoor-dining huts, which have increased the table count of the restaurant by half again, was Tracee Ellis Ross, laughing and snapping pictures on her phone.
Balthazar opened in 1997 but was designed to look as if it had been there for decades or longer. Its menu is derived from Parisian brasserie classics, its frites manufactured with factory-line precision (in 2013, the New York Times dedicated an entire "Op-Doc" to that process). As with McNally's other restaurants — Pastis, reopened in 2019, five years after losing its lease to the very forces of gentrification it had helped to unleash in the Meatpacking District; the Italian trattoria Morandi in the West Village; and Minetta Tavern, a Franco-American chophouse in Greenwich Village — Balthazar was never about a big-name chef with a foodie agenda. It doesn't fetishize farms (and their nearness to tables) or raise up underrepresented cuisines. It represents only itself, which is to say New York, or not quite New York but an idea of New York, a place of sloshing martinis at all hours and tables for the elect, the few, and the favored — but if you don't mind waiting, we might be able to squeeze you in at the bar — where every business meeting is a party and every party a potential business meeting.
Recent years have been rough on McNally, 70, even as his restaurants continued to sparkle woozily. A stroke in November 2016 left him partially paralyzed and unable to speak clearly (he now prefers to communicate via email, which we did over the course of several months). It was followed by a costly divorce from his second wife, Alina, filed in 2018.
Then the pandemic came. The devastation to restaurants wrought by COVID-19 is well documented; 1,200 New York City establishments closed between March and August of last year alone. According to one recent survey, 51 percent of restaurants nationwide couldn't afford their rent this past September. For months at Balthazar, the oysters weren't shucked, and no one pleaded with the reservationists to be seated. Rumors, confidently asserted, bubbled through the brunching class that it was never coming back. The pandemic did claim two of McNally's restaurants: Lucky Strike, a low-key Soho institution since 1989, and Augustine, grander, at the Beekman hotel near City Hall, which had just opened in 2016. And it almost killed McNally himself. In March 2020, COVID sent him to the hospital, a second brush with death in four years. "Everybody was amazed, with his stroke, that actually it didn't kill him," says his old friend William Miller. "If COVID was going to kill anybody, it would have been Keith."
But back from the grave he roared: His speech might be impaired, yet he found a way to express himself. Just before the pandemic, he began using Instagram (current bio: "Deadbeat New York Restaurateur"), arriving without much fanfare and no great controversy — his first post was about an especially tall waiter — and very quickly began generating both. Three weeks in, McNally had to issue the first of a number of public explanations — not to say apologies — to the press for having offended the propriety of the internet by decrying the decision of the publisher Hachette to cancel the publication of Woody Allen's memoirs. (Reached for comment, Allen said he "scarcely knows" McNally but appreciates the support.) Maybe he was just sensitive to the plight of a fellow memoirist since McNally has been churning away on his own recollections, rising early to work every morning from 5 to 11 a.m. Or maybe it was that having survived a major stroke to tell his tale, he wasn't about to be put off telling it, weaker constitutions be damned. "He's always been quite contrarian," a London friend of his told me, but lately, "he's definitely become less — what's the word? — less filtered."
Now McNally, apparently as unsinkable and uncancelable as Balthazar, is preparing to do anything but slow down. According to him, he can't. "Divorce and COVID cost me $10 million," he tells me. ("With Keith deciding to retain the same legal counsel that represented Prince Charles and Paul McCartney in their respective divorces, I imagine his legal fees must have been quite costly," says his ex-wife Alina.)
The comeback plan includes teaming up with Philadelphia megarestaurateur Stephen Starr and others to build near-facsimiles of his very Manhattan bistros in lesser cities. (For a man who spent years anticipating the next hot neighborhood, after a 1993 Williamsburg deal fell through, he never ventured into the outer boroughs.) Starr, whose 40-restaurant-strong portfolio includes Le Coucou, a high-end French restaurant in New York, and the admittedly rather Balthazar-esque Parc in Philly as well as Mexican joints El Vez and Jackass Burrito and the mammoth, party-down Pan-Asian chain Buddakan, first partnered with him for the reopening of Pastis in 2019.
It's a new-old era for McNally. While others may imitate him, he has always recoiled from repeating himself. Over the years, he flirted with the idea of cloning his successes, only to back away. In the early aughts, the casino magnate Steve Wynn offered him $5 million to build a Balthazar outpost in Vegas, but McNally bolted. "I became, um, sickened by the whole idea of being out there and reproducing another thing that I had already done,'' McNally told the Times in 2004, instead opening the bistro Schiller's on the still-gentrifying Lower East Side. (It closed in 2017.)
He has gotten over that nausea and today says he regrets not taking Wynn up on the offer. Now he and Starr are building a new Pastis in Miami, and he's close to a deal on a space for a new Balthazar oyster bar uptown. Separately, with his own group's CEO and Minetta Tavern's chef as partners, he is building a new Minetta Tavern in Washington, D.C. There was even a plan for a restaurant in St. Barts, though McNally now says it has fallen through. But it seems safe to say he and Starr have more afoot. "Stephen's responsible for the finances and the kitchen, and I'm responsible for design and service," says McNally. Starr, in turn, speaks reverentially of McNally. "In terms of the day-to-day operations, the nuts and bolts of the place, we were more than capable of taking care of that," Starr says. "It's his spirit and inspiration that you can't buy."
But McNally's spirit is often cranky, as his social media — he has just over 32,000 followers on Instagram — reminds Starr. He has to put up with it. "I rarely look at Instagram," Starr says. "But there was an occasion or two that maybe I felt it would be best not to discuss certain things — you know, just to let things go and not say what you really think." Was McNally receptive to these gentle cautions, I wondered? "Not at all," Starr said with a gruff chuckle. "Not at all."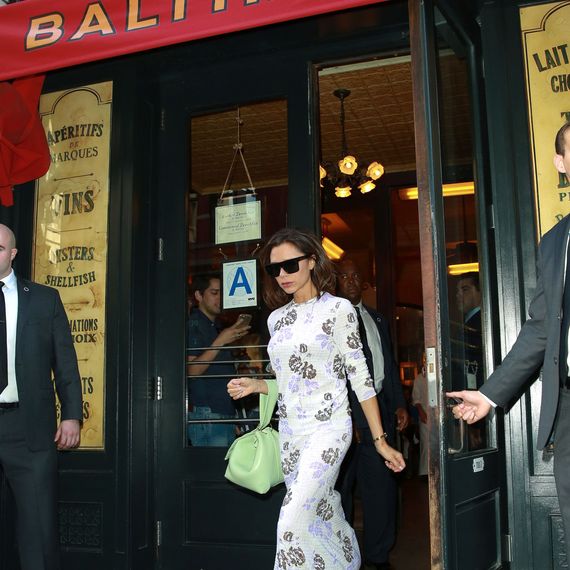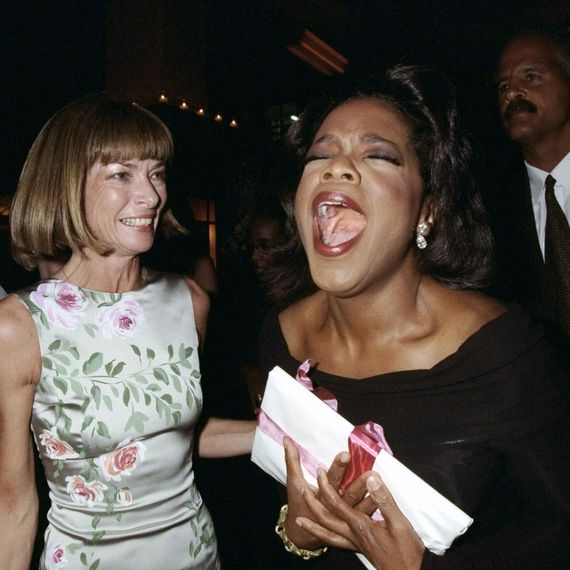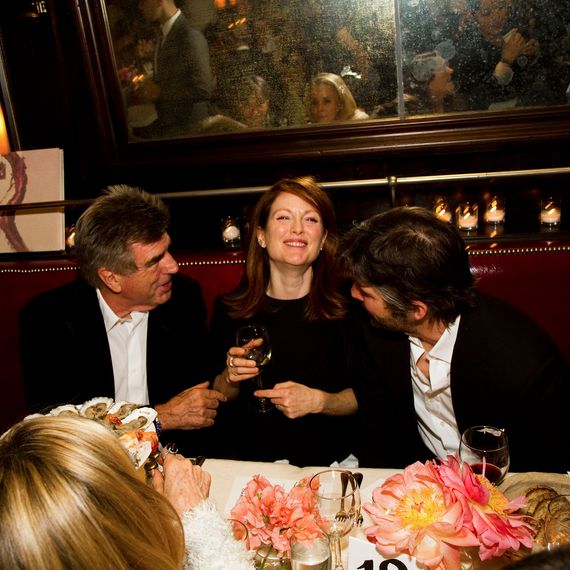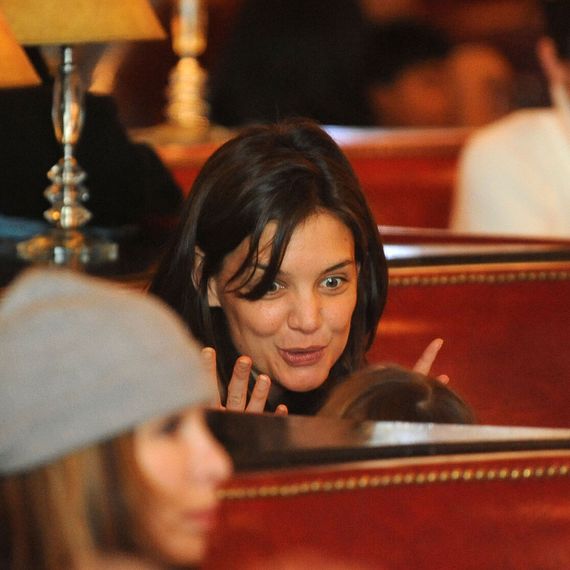 McNally came to the restaurant business by a traditional route: the back door, after circuitous ramblings elsewhere. He grew up in an unglamorous corner of London with a longshoreman father and an office-cleaner mother. Discovered as a bellhop at the London Hilton, McNally found success as an actor, appearing in the ensemble of Forty Years On, Alan Bennett's West End debut. Bennett would be a lasting influence and a lifelong friend; so would Jonathan Miller, Bennett's neighbor and comedy partner in Beyond the Fringe, a British stage revue. McNally's acting days would be numbered, though in the early '90s, he wrote and directed two feature films. But he found his true métier came with a side of frites. "Keith is one of the greatest theater impresarios I know," William Miller, Jonathan's son, says. "The reason he is successful is that Keith is brilliant at creating theater."
When he arrived in New York from London in 1975, McNally worked as a waiter at one of the hot spots of its era: Maxwell's Plum, the prototypical singles bar in the then-happenin' East 60s ("The first scene," wrote Gael Greene). It was owned by Warner LeRoy (the grandson of one of the Warner brothers; LeRoy's father produced The Wizard of Oz). Waiters like McNally wore costumes (a yellow shirt and black-and-red-striped repp tie), and the whole place essentially operated as theater in the round, with the front café and the rear restaurant opening onto the real focal point, the enormous circular bar.
McNally moved on to a place called One Fifth, where his customers included a young Anna Wintour ("Keith has always been very determined and sure of his taste," Wintour says) and Lorne Michaels. There he ascended to the maître d's stand, where he became both air-traffic controller and dramaturge of the dining room. But he eventually aspired to a place of his own. "There have been a half-dozen people who've been able to hold the entire equation of restaurant ownership in their head, and Keith is one of them," says his friend Steven Murphy, who met McNally as a manager at Maxwell's Plum in 1975 and later became CEO of Christie's. "He took a series of leaps in his career for which he was completely unqualified — and succeeded."
In 1980, he opened the Odeon in still-seedy Tribeca with his then-wife, Lynn Wagenknecht, and brother, Brian McNally. It remains inseparable from its own legend, burnished on page and screen. "Keith didn't need the Maxwell's experience to have an inclination" toward the theatrical, says Murphy, but the Odeon was pure showbiz: Its neon marquee was the bright light of Jay McInerney's Bright Lights, Big City, which cemented the '80s Zeitgeist as going down over lines in the Odeon's bathrooms.
McNally ultimately split off from the Odeon. He admits to having had a "diabolical" relationship with his brother in the past, though he says that has long since ceased. He and Wagenknecht divorced in 1992, though he continues to refer to her as his best friend. But the lessons of those early restaurants informed everything that came next. "His vision is pretty phenomenal," Richard H. Lewis, an architect who has worked on several of McNally's restaurants, tells me. "Everything is stage directed." And that meant good food but a better scene — although, paradoxically, McNally declares, "I hate 'scenes.' Clubs also. As terrific as the atmosphere is in scenes and clubs, it's a contrived atmosphere."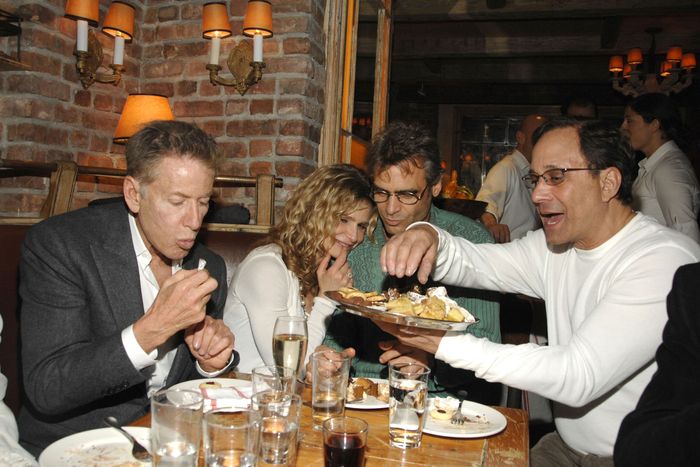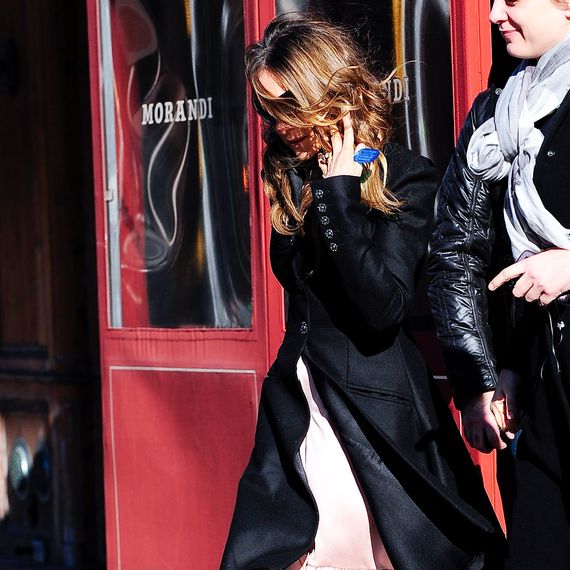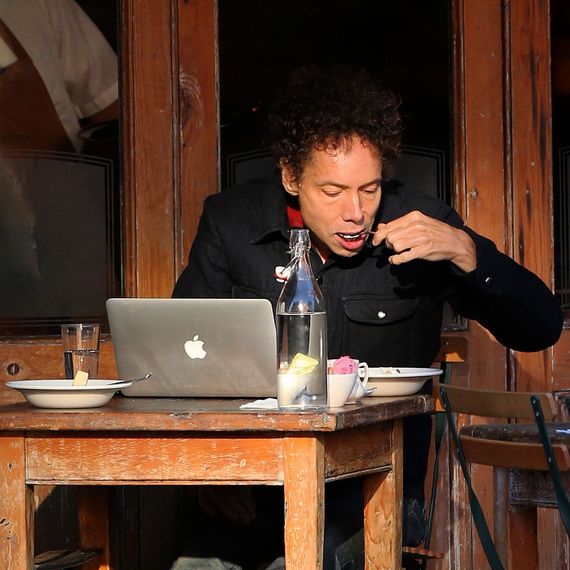 Like the Odeon, most (though not all) of his restaurants are ersatz brasseries: big, noisy, and Francophone if not exactly French. You can usually count on a McNally restaurant for a very decent steak-frites (and a great one at Minetta Tavern, where beef is the focus) and often oysters. But they are French by way of the cinema, set-designed and hand-distressed. Robert Padilla, a French artist who has painted and distressed McNally establishments since the '90s, developed a special glaze to coat the walls and give them the patina of a century of Gauloises. "It's not very authentic," Padilla, a Paris native, admitted. It's "a little bit more like Hollywood."
Certainly, Hollywood stars as well as the more locally bred celebrities in fashion and the arts soon found their way there. Balthazar was instantaneously popular enough to require a velvet rope. At McNally restaurants, the maître d' is a bouncer-king. "He prioritized the front door more than any other person I've ever worked for," a former McNally maître d' told me. "I think it's just because he started as a maître d', he recognized that one of the biggest parts, especially in New York City, is people all want to be seen. If I had to hazard a guess as to why his restaurants were so successful, it has to do with that front-door thing. You walk in, and everyone feels like a celebrity."
Although McNally restaurants do maintain their own reservation lines, the better to distinguish the hierarchy of A, AA, and AAA guests (only McNally can anoint the rarest of these) — Wintour once committed a faux pas when she published the VIP phone number in Vogue — Balthazar & Co. are now on Resy, bowing to contemporary realities.
And then, once you're seated, there is the matter of the food. It is deliberately not too pretentious or chef-centric. "They're known for being places where the menus and the food don't change," one pastry chef told me about McNally restaurants. "It's more like hotel cooking — massive batches of things." "Better than it has to be" is how one major competitor described it to me. A chef may have oversight over multiple restaurants (Laurent Kalkotour briefly oversaw both Balthazar and Minetta) or ferry between them, as Riad Nasr and Lee Hanson, the chefs who opened Balthazar for McNally, used to do. In fact, one of McNally's few flops — the Bowery pizza place Pulino's — was the rare case in which he had imported a name-brand chef, the James Beard Award–winning Nate Appleman, to cook. Nasr and Hanson eventually decamped to open Frenchette, where they earned three stars from the Times, a feat only one of McNally's restaurants, Minetta, has accomplished. (The city is dotted with restaurants from other McNally alumni, including Jody Williams of Via Carota and Dean and Maya Jankelowitz of Jack's Wife Freda.)
Those who love the restaurants count on their consistency. "I'm not saying the food is terrible. I think the food is just … it's correct," says a fellow restaurateur. Others make harsher judgments. "I don't think younger people look to him for inspiration," another chef tells me. McNally and his ilk are "old white guys who are insanely wealthy. It's not relatable."
But tell that to the hordes of diners. Before the pandemic, McNally's restaurants did about $70 million a year in revenue, according to the Times. (McNally says that pre-COVID, Balthazar alone made $22 million a year.) McNally wrote, in an essay for Vanity Fair, that Balthazar's earnings grew every year with the exception of the year of 9/11. In an often unstable business, McNally has provided steady, well-paid, and often long-term employment for waiters, bartenders, cooks, and managers.
But then the pandemic laid bare the punishing economics of the restaurant business. Real estate in particular is a major expense. The minimum base rent for Augustine at the time of its 2013 lease agreement, for example, was more than $500,000 a year. McNally has not kept quiet about his travails with landlords, complaining on Instagram about how he "was forced to close Lucky Strike. Despite paying rent On Time every month for 30 years, my landlord refused to lower the rent during COVID. Such A Greedy Fucker." Meanwhile, a lawsuit filed against McNally, his partners, and his restaurants by Augustine's landlord, floated onto the public record the correspondence of a "restructuring specialist" hired by McNally's group to "assess the ongoing viability of his various restaurants." (The suit was settled out of court.) During the pandemic, several of the restaurants successfully sought PPP loans; Balthazar's came to more than $2.3 million, to support payroll for 225 jobs, and Pastis's to more than $3.3 million. "The PPP money saved our business, for sure," Starr told me. Before that, "I was ready to get into a soup line and have my stamps ready. I thought we were done."
Nor is new funding easy to come by. "Even if you were a proven operator, it was hard to get a loan because everyone in the financial industry knew the shaky financial ground that restaurants were built upon," David Chang of Momofuku told Fortune last year. And one of McNally's most stalwart backers, Scholastic CEO Dick Robinson, died in June. (McNally told me he was too affected by Robinson's death to speak publicly about him.) Which is why Starr's big coffers are a big help.
"My dream is to open a restaurant with ten tables," McNally says. "It honestly is. If I can ever get out of debt, it'll be the very first thing I'll do." Until then, he is planning operations at scale and sending himself into a syndication he has long avoided. He has lately been posting photos of the cane chairs he's ordering for Miami's Pastis — "they will all look fractionally different" — an activity he describes as the fun part of the job. Posts like these alternate with posts joking — joking? — about needing a hit man to take care of his ex-wife Alina, the mother of two of his children. She doesn't sound particularly amused. "I don't keep up with all of that so can't personally comment," she says. "I've learned that when some people can no longer control another, they then attempt to control what others think of them whilst portraying themselves as the victim, so I imagine his posts are designed to elicit contempt and sympathetic responses."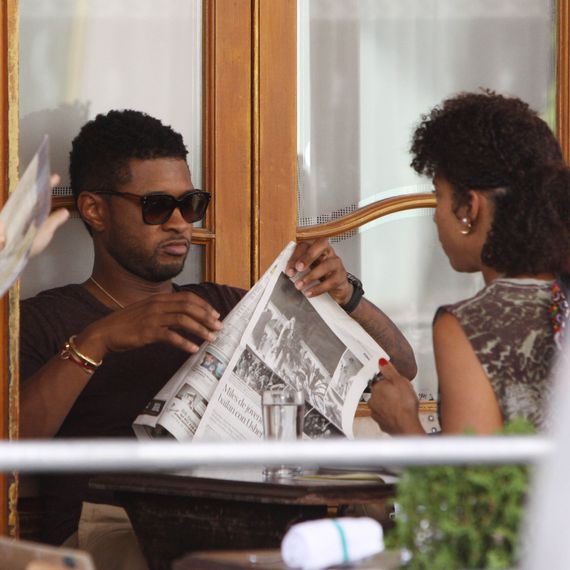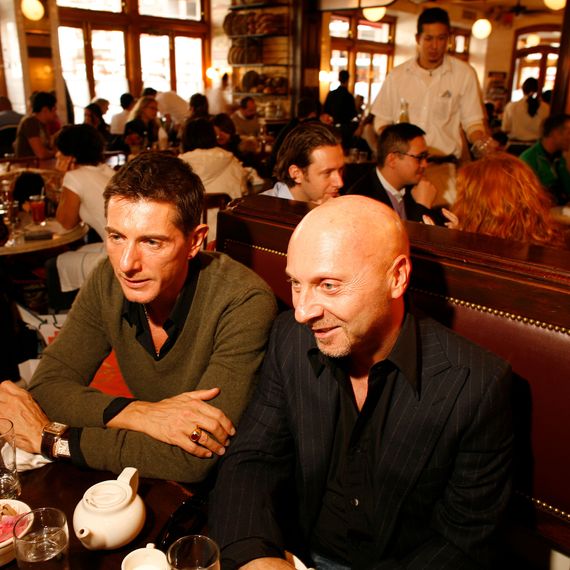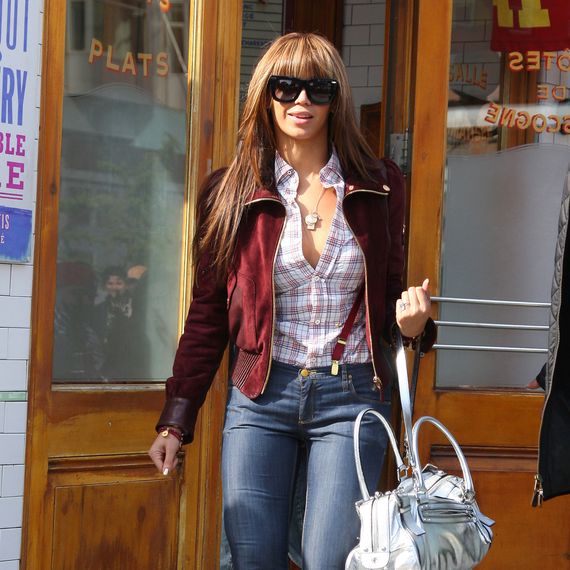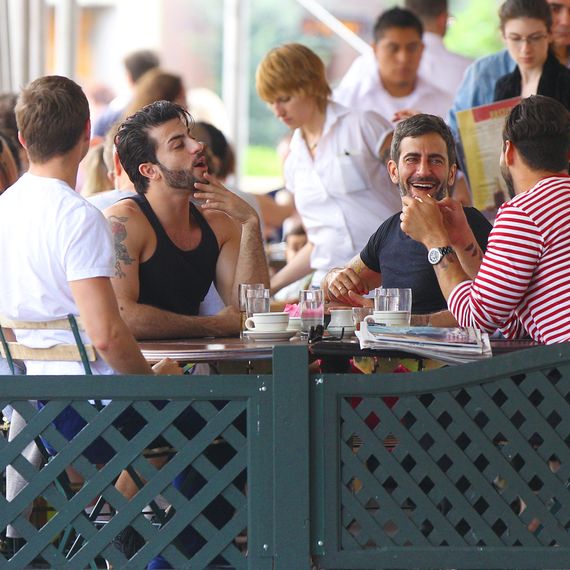 To those who know him, the prickly McNally who has emerged online is not entirely a surprise. McNally lavishes praise on Lou-haichy, now Balthazar's assistant general manager as well as its head maître d', though Louhaichy did once leave for six months after a dispute that he now calls a misunderstanding. ("It was just my ego" is all he would tell me. "Keith didn't mean it.") "Keith has a very obscure sense of humor," William Miller says. "He'll tell a joke at your expense. But if you do it at his, he doesn't like it at all." (In response, McNally says he welcomes jokes at his expense.) Another friend describes enormous arguments that cool their relationship for months, though they always end in détente. "You know, he likes drama," he says.
"I'm not shy to say what's on my mind. This sometimes results in drama," McNally admits, though he says he doesn't seek it out. Somehow, though, it always finds him. Even before Instagram, he enjoyed a public spat, sending open letters to critics who offended him, like New York's Adam Platt, who gave Pulino's one star: "You're as out of touch describing young downtown New Yorkers as you are at understanding the restaurants where they like to eat." (Pulino's lasted from 2010 to 2013.)
Now Instagram, where he often posts multiple times a day, has given him an even more readily available soapbox, and drama has continued to follow. What began with Woody Allen has expanded to subjects ranging from the vacuity of the Beckhams to favorite dishes and staffers at his four restaurants to defenses of Ghislaine Maxwell's right to due process. "I've always been a critic of my own hypocrisy," McNally tells me. "My stroke allowed me to be vocal about other people's. It left me not giving a fuck what anyone thinks of me. This has meant losing a few good, good friends and several hundred restaurant customers."
His habit of doubling down when challenged has made him either a folk hero or a digital troll, depending on whom you ask. Hypocrisy is a worthy adversary as long as you're prepared for many of your victories to be Pyrrhic. Some battles move into very questionable territory, as when he got into a comment war about his right to imitate a Chinese cook's accent or the time he appropriated a photo posted by a guest at Lucky Strike, reposting it from his own account with a caption claiming the handsome Asian man pictured had walked out on a $100 check. Marcus Teo, the man pictured, estimates he got 40 texts, messages, and comments of alarm before McNally changed the caption to read that he had in fact tipped $100. "I knew it was a joke from the beginning," Teo says. "But when it's a joke, the person should be in on the joke. He goes after people. He was on some kind of a mission." (McNally eventually apologized and comped him a dinner.)
Less sympathetic a target was Graydon Carter, the voluptuary former editor of Vanity Fair and a fellow restaurateur, whom McNally banned from his restaurants via Instagram after, he says, Carter supposedly reserved a table for 12 and then never showed up. Carter conceded canceling too late and said he would make a donation to the restaurant's tip pool; he called the rest of McNally's lengthy post about him a "deranged rant."
The temerity to sling arrows like that got the restaurant world talking. "Everybody is kind of obsessed with him in the industry," the general manager of a Michelin-starred restaurant whispered to me. "He says all the things we're thinking and can't say. I would never dare do it myself. Hospitality is the opposite mentality." That poses a problem for those with a more traditional relationship to customer engagement, like, say, McNally's partners, some of whom, behind the scenes, have been trying to rein him in. (The McNally group has no official PR rep. With an owner like Keith, what would be the point?)
But if Balthazar's bookings have suffered as a result of the boss's postings, Louhaichy says he hasn't noticed. (If anything, regulars say they get a kick out of them.) Even Carter is welcome back, McNally insists, not entirely convincingly: "I never hold grudges." But others may. McNally mentions Amanda Brooks, the former Barneys fashion director, as a friend he lost after he pointed out a bit of what he saw as her hypocrisy online; she blocked him, he says, and that was that. (Reached for comment, she emailed, "Keith was a close friend for nearly 25 years, but his recent behaviour towards me (which has gone far beyond one petty comment on my Instagram) has revealed a relentless need for public attention which has come at the cost of our friendship. What has become clear is this: If you want to wind up Keith McNally, ignore him.") Curious as to the extent of his debates, I asked him for a peek into his Instagram DMs. "Sorry, I never share people's insults," he wrote. "Especially when the word cocksucker is used."
Mostly, he seems to relish the attention, and it often feels as if he can't help but seek it out. "Now he's just pandering," a prominent restaurant critic messaged me in exasperation when McNally posted a photo of his furrowed brow with the caption "Just noticed that one of my testicles is bigger than the other one. Is this normal?" But to whom, I asked? "You," she said.
Still, beneath the swaggering exterior beats a sensitive (though maybe still swaggering) heart. "The things that don't work out affect me way more than the things that do," McNally says. "I was more depressed by the failure of Pulino's than I was elated by the success of Balthazar. Unless I slept with Scarlett Johansson, I wouldn't call anything I've done an achievement." Take it all with a grain of Maldon. I ask him about his influence on the restaurants and restaurateurs who have followed him. "I'm vain," he replies, "but not so vain as to think about my so-called influence on the minuscule world of New York restaurants."
So let me. In Balthazar, McNally created a durable prototype of a restaurant that could be trendproof. (If you start old, even artificially old, you don't get old.) The proto-type could then be typed, often with great success: Thus did Pastis, first in 1999, then again in 2019, replicate the success of Balthazar. What's more, it spawned imitators, citywide and worldwide. If you've seen subway tile crawling up out of the subway to street and then penthouse level to line restaurant walls and Miele apartment kitchens, you've got McNally to thank. (For the record, McNally says those are not subway tiles at Pastis but rather 100-year-old American factory tiles.) Parrot Balthazars in all but name have landed as far afield as Melbourne and Rome. (Louhaichy says regulars send him photos from the road.) His fans see his impact on an even larger scale. "Keith transcended the restaurant business," Starr says. "He really affected pop culture."
Partners have long pushed him to create new colonies elsewhere, just as he is now. "We can help Keith on the West Coast, in Middle America, in Chicago," the British billionaire Richard Caring, chairman of the group that runs the Ivy restaurants, told New York in 2010, opining that expansion was McNally's destiny. The two were then in business for the ill-fated Pulino's, and when McNally moved for a time back to London, he was eventually persuaded to open his first clone — a Balthazar in Covent Garden — with Caring there. But when it opened, in 2013, McNally was still expressing reservations. "I've never duplicated any restaurant of mine, and felt — and still feel to a degree — that there's something morally questionable about making a copy of one's restaurant," he said that year. The partnership ultimately flamed out, though the restaurant continues. "It turned out that the integrity-free Caring knew precious little about restaurants but a whole lot about shafting people" is how McNally describes their rupture to me. "After my stroke, the bastard broke off all contact with me. Nowadays, I regret to say I don't have anything to do with the place. Never trust a man called Caring. Especially one with coiffured hair." (Caring did not respond to requests for comment.)
"I'm certain that he was fielding offers for this consistently for the past 20 years," a former McNally employee says. Those who know him well confirm. There was the idea of a chain of Balthazar coffee shops. Another of McNally's London friends, a moneyman, connected him with a group in Dubai desperate to spore a McNally joint there who wined and dined McNally for days. "Keith just couldn't get comfortable with it," he says. "He didn't see himself opening a Balthazar there then."
That was then. Financial precarity is persuasive. In an interview earlier this summer with The Daily Beast, he said plainly that his stroke, divorce, and COVID had wiped out 75 percent of his restaurants' finances. "I think he's sort of more open to those kinds of opportunities," the London friend says.
In this, McNally follows many other self-duplicating restaurants. Major Food Group's celebrity favorite, Carbone, now has outposts in Miami, Vegas, and Hong Kong. Jack's Wife Freda has four New York City locations and two in Tokyo. David Chang's Momofuku group currently operates restaurants in New York, Los Angeles, Las Vegas, and Toronto (and formerly in Washington, D.C., and Sydney), not to mention the venture-backed chains Fuku and Milk Bar, which it co-owns.
"Early on in their career, most rock bands refuse to play their early songs," McNally philosophizes to me about his change of heart. "At one point, they realize their old songs are nothing to sneeze at and start playing them again. That's how I feel about building another Balthazar or Minetta Tavern. It took having a stroke for me to appreciate my early restaurants. I've nothing in the bank and need to earn money while I still can."
That's the kind of talk that often accompanies a sunset. (That and writing a memoir.) Some industry types have whispered that Starr must be waiting in the wings. Of course, he also has a loyal and long-serving team, led by his group's CEO, Roberta Delice, and often including a family member or two. One of McNally's daughters, Sophie, formerly worked in her father's group and ultimately decided it wasn't for her and decamped for L.A. McNally's oldest son, Harry, is now working in hiring at Balthazar, though that line of succession doesn't necessarily seem assured. "I didn't encourage Harry to join the business at all," McNally says. "I just put a loaded revolver to his head. Seriously, I'm happy if Harry wants to run the restaurants. But I'd be much happier if he became an insurance broker."
As it is, the Starr marriage seems to be working well, say McNally staff and confidants, despite their different styles. And McNally does appear to be learning to keep a bit quieter. "When I posted photos of my vasectomy on Instagram, Stephen Starr got concerned that it might put Pastis customers off their main course," McNally tells me. "In hindsight, I think he was probably right."
So here comes Keith McNally again. "When I open Minetta in D.C., I'm more than conscious of starting all over again. From rock bottom," he says. "The worst thing a New York restaurateur can do when opening a New York restaurant in another city is to boast of the New York link."
I had asked him how his health crises changed his estimation of what's important in work and in life; initially, he responded glibly. "It's money, success, and friends' envy that brings one true happiness," he wrote. But he thought better of it and asked to reply honestly.
"Most people who come close to death claim that the experience teaches them to appreciate family," he says. "After bordering on death twice in the last five years — with a stroke and COVID-19 — it wasn't family that I appreciated most but work. Work gave me a sense of purpose, of self-worth. Being incapacitated after my stroke, I had lost all self-respect. I felt so humiliated that for 18 months after my stroke, I was terrified to see anyone. Building Pastis and returning to work at Balthazar, Morandi, and Minetta Tavern gave me back my self-respect. After Balthazar was closed for a year, the reopening last March was enormously symbolic for me. After 40 years of operating restaurants, it finally dawned on me why I was in the business."
So on he soldiers, implacably, hopeful that the world is his oyster, and his oyster bar, even if he is more hopeful than confident about the future.
"Succession doesn't come into it," he says. "I plan to run my restaurants from the grave."