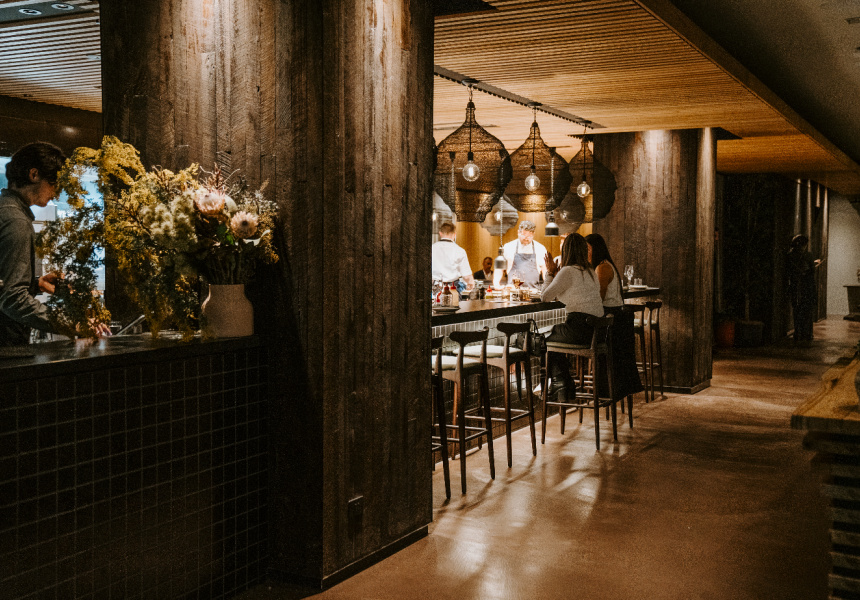 One of the most impressive restaurant openings of last year, Farmer's Daughters, is ex-Pastuso chef Alejandro Saravia's love letter to Gippsland. But now, the Melbourne-based Peruvian chef is spreading the love state-wide with Victoria, an ambitious new restaurant bringing the state's best food, drink and even art into Melbourne's CBD.
Saravia says it's a natural extension of what he and the team have created at Farmer's Daughters. "The success we had [there] made us realise that we had a great concept. Every week we would have Victorian farmers, winemakers and growers approaching us wanting to collaborate, but we couldn't do it if they weren't based in Gippsland … We wanted to expand the concept to showcase the best of the regions." The "region in residence" program means it'll hero different Victorian regions at different times.
Victoria has the fiercely local ethos of a destination diner – minus the drive – but it's also poised to become a smart, perfectly positioned new dining option for the pre-theatre and Arts Centre crowd.
A collaboration between Farmer's Daughters and Fed Square, the sprawling 250-seat venue is right on the riverside, in the square's Yarra Building. Outside, there's an all-weather (but summer-perfect) terrace overlooking the Yarra.
The interior is by Agents of Architecture's Luke Hickman, who's created a sophisticated restaurant, bar and mini art gallery that meld together with ease. One wall in the entryway dining room features dramatic, locally made sculptures; the other is lit up with a projection of the showcased regions on a wall-mounted topographic map.
Move through the restaurant and you'll find a centrepiece interactive ingredients table – hand-carved from a single piece of reclaimed eucalyptus obliqua – where you can touch and smell the Victorian ingredients the kitchen is featuring at any given time.
Across from it is an open kitchen surrounded by a handful of bar seats – perhaps the best seats in the house – for those wanting to get a front-row view of all the woodfire and charcoal-grilling action. On either side are two understated, earthy-toned dining rooms; the cavernous, long-dormant space has been injected with some grown-up character.
As the food starts coming, you'll have to fight the urge to fill up on bread; a pair of fluffy, oversized, pull-apart sourdough loaves by Cobb Lane (with Caldermeade Farm cultured butter) will test you. Standout snacks include the Otway Gold potato rosti with cured Bass Strait scallop and bacon avocado, and Snake Valley smoked-eel pate with pancetta and beetroot.
But the main event, undoubtedly, is the meats. The burly 800-gram dry-aged O'Connor rib eye is served sliced with rocoto-chilli salsa, but the left-on-the-plate bone beckons to be picked up and eaten off of like no one's watching (it's unlikely anyone is). And the Milla's smoked half-duck may be the crispiest-skinned piece of meat you eat this winter.
In the lulls between courses, you might spot an entirely glass-walled room at the back of the restaurant: the 3000-bottle Victorian "wine library". It sounds (and looks) fancy, but it's by no means off-limits. "Wine is made to celebrate, not to be hidden in a corner gathering dust," Saravia says. Here you'll find private local vintages and off-menu drops only accessible through Saravia's connections, plus winemaker-hosted masterclasses.
"There are so many excellent farmers, growers, winemakers and wine regions in the state that aren't necessarily accessible to people," says Saravia, who, essentially, wants to put the best of the state on your plate (and in your glass) in one centralised location.
"We want to highlight all the incredible aspects of the state, not only to locals, but [also] to help showcase Victoria as a culinary world leader to anyone from overseas."
Victoria opens on Thursday July 28.
Victoria

Ground Floor, Yarra Building, Federation Square, Melbourne

(03) 9121 0505
Hours:

Thu to Sat 5pm–late

Sun 11.30am–5pm