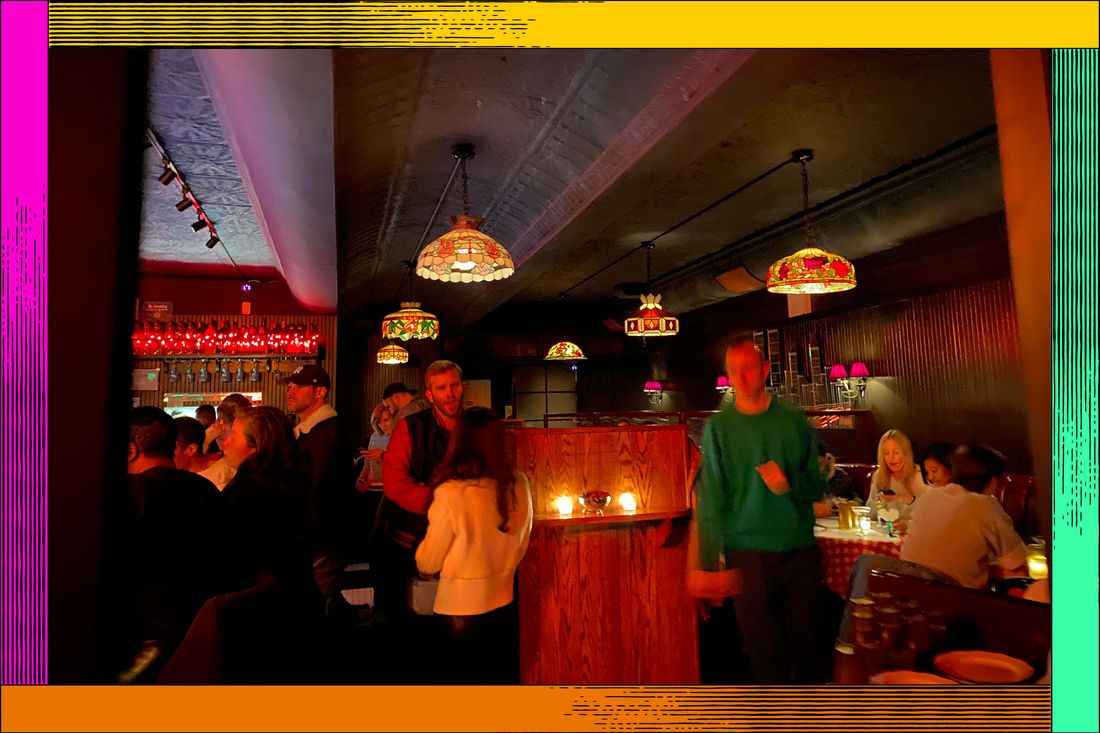 Bernie's in Brooklyn.
Photo: Tammie Teclemariam
This article originally appeared in The Year I Ate New York, a newsletter about eating through the city, one restaurant at a time. Sign up here.
It was just after 6 o'clock on an unseasonably pleasant Wednesday, but the guy at the door was already out of luck. It would be at least half an hour for a seat, he was told. By 7, the wait had only grown longer as a steady collection of young Brooklynites squeezed into Bernie's, the three-year-old restaurant on the border of Williamsburg and Greenpoint that I decided to check out after hearing it's "like Applebee's, but good."
There had been just three free seats at the bar when I arrived around 5:45, right before the wait started to back up. I quickly settled in and clocked the Tiffany lamps, the red-checkered tablecloths, and the bobblehead dolls near the window. I'm tempted to call Bernie's an Un-Grammable Hang Zone, but it's too curated; whoever designed it has a deep, abiding love for kitsch and a set designer's eye for bric-a-brac.
Everyone at Bernie's orders a martini, or so it seemed on this particular weeknight, so I did too, happy to receive Ford's gin, stirred and poured into a chilled glass just until it almost overflowed. A couple of women in from Georgia ordered some drinks of their own, while a couple sitting at the middle of the bar shared a brownie sundae. At the end, a solo diner looked to be enjoying her massive order of chicken parm. I ordered some (surprisingly large) mozzarella sticks and a mountain of Caesar salad served — of course — in a wooden bowl.
Soon, the entire bar area was filled with standing-room-only martini drinkers, people who might never get seated to eat and who didn't seem to mind. One guy walked in and nodded approvingly. "Good scene," he said, turning back to his friends.
Bernie's gets the details right: The beer mugs are frosty, the baked clams are sizzling, and the crowd of Brooklyn locals all look hot. To say it is "like Applebee's but good" downplays its appeal. It's like the fantasy of an Applebee's commercial has been turned into a real place.
If, as the New York Times recently reported, creative chefs are finding a surprisingly receptive audience in the actual suburbs, an opposite phenomenon appears to be taking hold here in the city, where nostalgia-minded restaurateurs are opening businesses that have been painstakingly designed to feel as though they have just arrived in town, fresh off the bus from Sheboygan or maybe Shaker Heights.
This became clear to me when I stopped by Cozy Royale, a restaurant offshoot of the popular Brooklyn butcher shop the Meat Hook. A recent meal there consisted of some spinach-artichoke dip, a Dayglo-pink Cosmo, and an honest-to-goodness "Bloomin' Onion" that came drizzled with sour cream and pockets of black paddlefish caviar that I couldn't really taste over the batter, but which seemed reasonable given the appetizer's $15 price tag.
Who doesn't want an upscale Bloomin' Onion when the world feels so heavy? Even with the little chef-y tweaks that take this cooking outside the realm of actual chain-restaurant food, these restaurants demand nothing of their customers. The word you're most likely to encounter on the menu is "loaded," and salads are often served as a "wedge."
So far, the sprawl of haute-suburban restaurants is limited to Manhattan and Brooklyn, and there is some nuance within the genre. They can take the shape of a "classic American tavern" (Red Hook Tavern), a "classic neighborhood tavern" (Quality Eats), or perhaps a "classic Midwestern supper club," the description applied to Emmett's on Grove, which, despite its West Village address, is sold on the premise that it seems like the kind of no-frills local joints that once dotted the highway exits of Wisconsin.
I invited my friend from Madison to join me at Emmett's on Grove. Inside, the ambience is suitably convivial, with chatty drinkers at the bar giving way to a skylit garden space in the back. That's where you'll find a ring of wooden booths around the perimeter and a single long table running down the center with enough room to dance the polka around all sides.
When I asked if the restaurant resembled something from the Badger State in any way, my friend struggled to perceive any similarities, aside from the booths and the overall roominess. Nothing about the décor screamed "Midwest" to me, but the ability to order a side of ranch with our pizza certainly nodded to the region's culinary sensibilities. (This is not a criticism.) Our servers were also extremely polite, another midwestern trait, but that could have been our luck. We stayed true to the nostalgic vibe and split a simple pepperoni pizza, plus some arugula salad and — why not? — a baked potato because my friend's mom eats one every day, and it felt like an authentic thing to do.
My friend loved the bar-style pizza's square cut, and I was a fan of the thin, flaky crust. A two-top behind us was a date, but most parties were groups of four or more, including a table of guys who could have come straight from a Fashion Week show. As we wrapped up our night, a group of six at the long center table lingered over some final glasses of wine as though they were at the only joint in town still open so late.
There is absolutely nothing "innovative" about these restaurants, which is probably part of the appeal. Even if you've never been to Bernie's, you've likely been to some version of Bernie's in your life, and you'll know exactly what to expect. During my own meal there I decided to skip the brownie sundae for dessert and get some pie instead. "Is that Key lime or lemon meringue?" asked a 20-something woman standing next to me at the corner of the bar wearing a houndstooth jacket and furry brown bucket hat. I told her it was the lemon icebox pie. "I still have to try that," she said before ordering a martini. I asked if she comes here a lot, and she said once a week: "My doctor asked about my diet, and I wanted to say, 'Just look at the menu at Bernie's!'"
A running list of everywhere I've eaten, week six:
72. Barclays Center 73. Marufuku Ramen 74. Frankies 457 Spuntino 75. Clover Club 76. Pig Beach 77. Wasan 78. Daytime 79. Cozy Royale 80. Brancaccio's 81. Bernie's 82. Emmett's on Grove