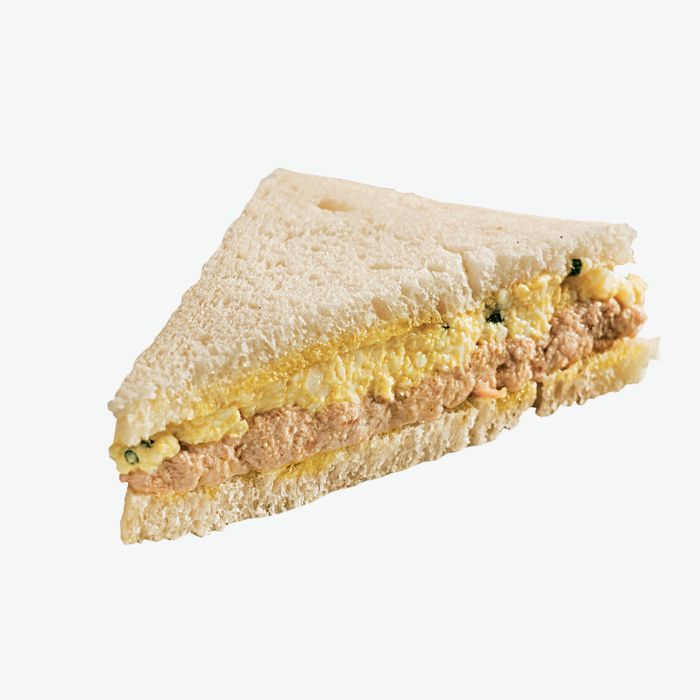 Sant Ambroeus' Il Nostromo.
Photo: Courtesy of Sant Ambroeus
Intrigued by the ongoing Subway Tuna sandwich scandal, we recently slunk over to our local branch to try the embattled chain's hotly contested hoagie. The good news: it tasted like tuna, and as previously noted, it wasn't half bad. (For the record, we went for the $5.59 six-inch sub and loaded it up with banana peppers, black olives, red onion, shredded lettuce, and tomato.) And yet, you can do better. If you want something more delicious and less controversial — if not quite as cheap — try one of the following.
$9.50; multiple locations.
Italian-tuna and egg salads (pictured above) on crustless tramezzino bread cut into triangles for ease of eating with one hand while holding a Negroni or an espresso with the other. The kitchen swears by As do Mar oil-packed tuna from Sardegna, which is certified by the sustainable-seafood project Friend of the Sea.
105 Sullivan St.
By our count, the Soho branch of the mini-chain lists five tuna-sandwich variations on its lengthy menu, and each one is a knockout. The Daniela (pictured above; fresh mozz, hot peppers, arugula; $13) is the most popular, but we've always had a thing for the unsung oddball Vivaldi (tuna, eggplant caponata, provolone; $12).
$8; 127 Second Ave.
Superrich and creamy tuna salad brimming with crunchy carrot and celery on expertly griddled challah. Get it with American instead of Swiss or cheddar for that superb, molten, thoroughly amalgamated quality you find in chopped-cheese sandwiches.
$10.50; multiple locations.
A pan bagnat riff with some North African flair: good canned tuna (currently the oil-packed Italian brand Flott), potato, tomato, hard-boiled egg, Kalamata olives, preserved lemon, chopped parsley, and the spicy curveball clincher — a hearty swipe of harissa. The springy focaccialike roll soaks up the juices and holds it all together.
$11.95–$12.95; 250 Vesey St.
You might not think to go to megabutcher Dario Cecchini's new sandwich shop for tuna fish, but it actually serves a first-rate specimen mingled with a rich aïoli and chopped peperoncini; garnished with pickled red onion, lettuce, and tomato; and sluiced with a caper vinaigrette. It comes on toasted pan de cristal imported from Spain, and you can get it either freddi or caldi, in the form of a Tonno Melt with pepper-jack cheese.
$13; multiple locations.
Cranberry sauce and tuna sounds like the twain that should never meet. But the combo has a pedigree that may interest sandwich geeks: It was concocted in Providence by none other than Dewey Dufresne at his groundbreaking shop, Joe's. By the time Eric Finkelstein and Matt Ross, the college friends who would go on to open Court Street, discovered it, the place had changed name and ownership, becoming Geoff's. Their contemporary riff (with horseradish mayo, white onion, and arugula) pays homage to those seminal sandwich shops. Bonus points: The fish is pole-caught albacore from the American Tuna brand.
$14; 123 Madison St.
A July fire has landed everyone's favorite newfangled diner on the injured reserve list for a while. Chef-owner Sam Yoo hopes to reopen by August 17. In the meantime, you can contribute to the restaurant's Fire Fund and prepare yourself for the return of the city's best tuna melt–the secrets of which include a dash of French's mustard for tang, Pickle Guys' bread-and-butter pickles folded into the mayo for sweetness, and a cache of salt-and-pepper potato chips for crunch.
$11; 408 Broome St.
You'd think that with all the superb conservas lining the shelves at this Spanish-foods importer, you'd find a good tuna bocadillo at the café in the back of the shop, and you would be correct. Actually, you'll find two. There's the simple but excellent Bonito consisting of Don Bocarte-brand tuna, piquillo peppers, and tomato ($10.50), and our favorite, the fish-on-fish Pescador: tuna pâté whipped with piquillo and piparra peppers into a spicy orange spread, white anchovies, and a smear of aïoli on crusty Balthazar ciabatta. Get it smooshed in the sandwich press for the full effect.