vo trong nghia architects (VTN architects) punctuates the forested foothills of cuc phuong, vietnam, with its recently completed vedana restaurant, realized almost entirely in bamboo. the project marks the latest addition to the vedana resort masterplan, designed with 135 villas, five condo-hotels, and eight bungalows. the magnificent restaurant construction, located in the center of the resort, marks a centerpiece which hosts large events as well as all-day dining.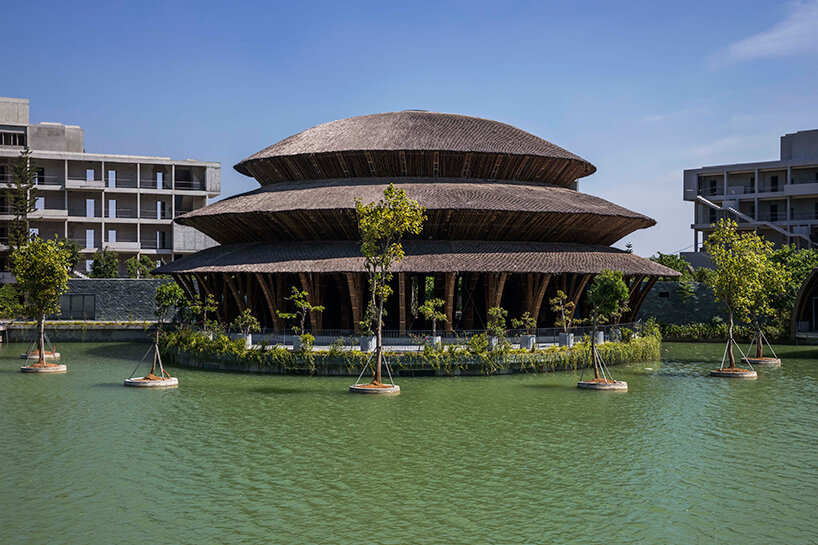 images by hiroyuki oki
in designing its vedana restaurant structure, VTN architects (vo trong nghia architects) composes a three-gabled circular roof system, enclosing over 1000 square meters. the construction is assembled from two stacked ring-shaped discs capped by a dome roof on top. each of these components are individually detached by thin, lightweight strips of bamboo. the largest radius measures nearly 60 feet in width, while the building rises to a height of over 50 feet, making it VTN architects' highest bamboo structure to date. the stepped roof, inspired by traditional architecture, is made of 36 modular frames that suggest a multi-level structure, while the restaurant occupies only one floor.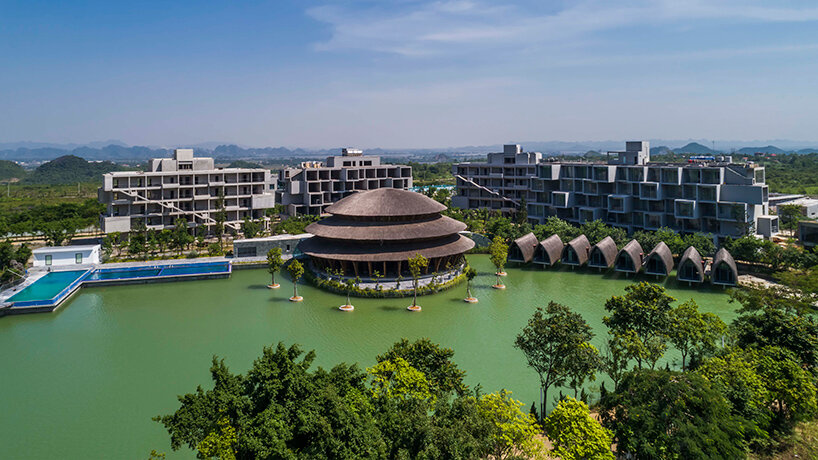 vo trong nghia architects (VTN architects) strategically orients its vedana restaurant beside an artificial lake serves to passively cool the space. making use of the lake is essential as summer weather in cuc phuong, and northern vietnam in general, is especially hot and humid. the lake acts as a reservoir, storing rainwater and groundwater from the mountains, and is utilized for the irrigation of the plant-life across the entire 16.4 hectare site. the restaurant will be nestled in the middle of a planned 'blossom forest,' with a projected 10,000 blossom trees soon to be planted. the view towards the blossom forest, the mountains, and the lake are omnipresent for visitors even from the center of the domed vedana restaurant.