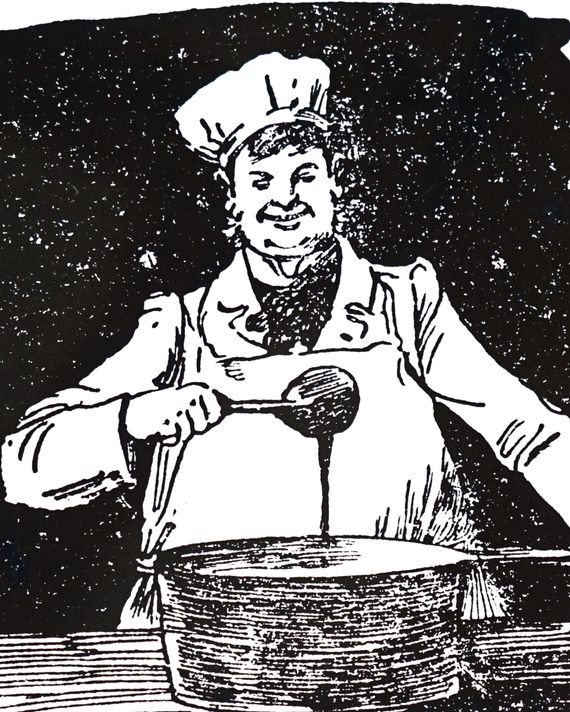 An important chef crafting his world-class cuisine.
Illustration: Universal History Archive/Universal Images Group via Getty Images
This week, a cadre of food journalists, luxury sponsors, chefs, and industry hangers-on gathered in … Berlin? Zurich? Hmmm, wait. That doesn't sound right. One sec. Oh yes, this year they're in Antwerp. Anyway, everyone is there, wearing the customary matching red scarves, to unveil the 2021 'World's 50 Best Restaurants' list, the annual celebration of destination-eating establishments where the vast majority of the actual world will never be able to eat for reasons of prohibitive cost, inconvenient geography, and the general preference among society's ultrawealthy for businesses with exclusionary practices.
So! Who's the big winner this year? It's Noma, of course! Doesn't it seem like it's always Noma? This is a big jump for René Redzepi's high-caliber Nordic compound, which rose all the way up from the No. 2 spot on the previous list. Rounding out this year's top five are Copenhagen's Geranium, which is a 45-minute walk from Noma; the Basque Country's Asador Etxebarri; Central in Lima; and Disfrutar in Barcelona. (New York City, if you're wondering, is represented further down the list by Le Bernardin, Cosme, and Atomix.)
But wait, you're saying. I thought some restaurant in France was the winner, and I don't see it here? It's true that Mirazur, a coastal palace of intricate seasonal delights in southern France, took the top spot in 2019, and since the '50 Best' skipped its list in 2020 (pandemic), it was until this morning still the "best" restaurant in the world. But no more! Now it's Noma, again.
Oh yeah, and where's Eleven Madison Park? I thought that was the best restaurant in the world? No, your eyes aren't playing tricks on you: EMP is also absent from the list, though it's not because of the secret meat room or a recent string of lukewarm reviews from New York's hometown critics. EMP, Mirazur, and a few other places are ineligible for the list because … they have won before. Now they exist in a kind of '50 Best' limbo, still recognized as operational but ultimately unrankable: These restaurants were the best, they may in fact still be the best, but we'll never know because the list is more attention-grabbing if a new place wins each year. (Noma, which took the No. 1 spot multiple times before this one-and-done policy was implemented in 2019, gets through on a technicality since its original location — the site that previously won — closed at the end of 2016.)
Now, you may be thinking, Isn't it a little weird that they're doing this at all while a deadly global pandemic is still very much going on? Probably! Local critics in New York, at least, have abandoned stars and rankings completely, as the industry continues to reel from more than a year and half of destruction, death, and dismay. The idea of stars — or any other subjective metric for quality at a time like this — does a disservice to everything we have already lost, the thinking goes, as well as to the immense, complicated work that still needs to happen before operators and workers are fully back on their feet.
But the global elite — at least some of whom are presumably jetting around right this instant in search of a decent meal — need to eat too, and besides, this list is a celebration of the industry's resilience and commitment to recovery and blah blah blah.
To be sure, for restaurant owners, admission into the '50 Best' club is an extremely lucrative way to get back to work. Your diners are the richest people in the world, and they will arrive in your dining room primed to pay for a good time. They will fork over $400 or whatever for your food and likely much more for wine and cocktails and coffee and anything else you can think to tack on to the bill. Once you are among the '50 Best' chefs, you can, and absolutely should, fleece a bunch of moneyed gastronomes for as much as you can, seven nights a week. Then you can open another restaurant and do it some more.
Not just anyone gets to charge couples $1,000 for dinner, however. Making it onto this list is an enormous achievement. It requires an uncanny level of drive, ambition, vision, sacrifice, tenacity, and what football commentators call stick-to-itiveness to even build a restaurant that is considered for an award like this. It also helps immensely if the person building the restaurant is a man since the places on this list are disproportionately run by chefs who possess Y chromosomes.
And even then, these are not the real best restaurants in the world; they aren't even the best restaurants in their respective metropolises, bucolic little farming towns, or fairy-tale-like European villages. The real best restaurant in the world right now is probably the little brasserie or taqueria or trattoria around the corner from your apartment that has been on the brink of extinction for more than a year and has cycled through mandated closures, takeout, outdoor dining, and the return of indoor dining just to stay in business to serve its neighbors. The actual best restaurant in the world may be the inexpensive sushi joint down the street, where the counter chefs always chat with your daughter and make her feel extra special while steadily expanding her palate with all sorts of lovingly made bites. What is the best restaurant in the world? It's the diner with the good chicken soup. The noodle place that's open late or the bagel place that's open early. It's anywhere you can drop in unannounced and be made to feel cared for — an increasingly valuable sensation these days and one that's difficult to achieve when a reservation requires several months' advance notice, a nonrefundable pre-charge on your credit card, and a plane ticket to one of the world's financial capitals.