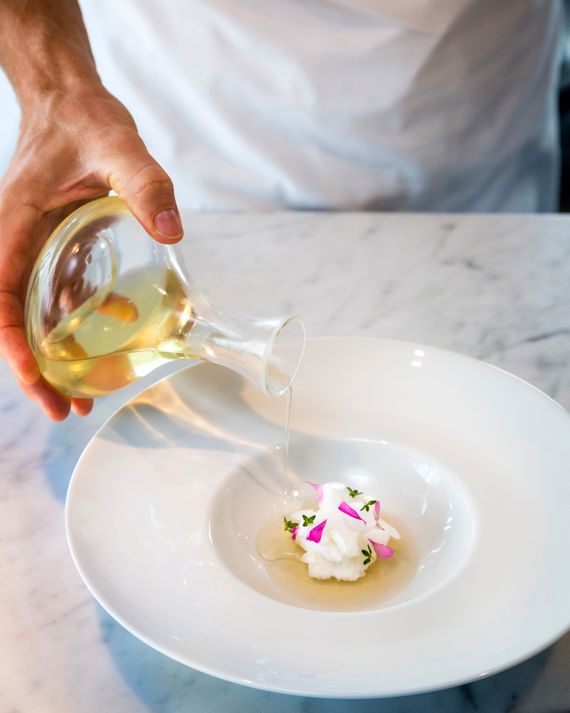 Jellied ham and tomato water at Geranium.
Photo: Yadid Levy/Anzenberger/Redux
Here we go again: The group of chefs, editors, and sponsors that assemble the yearly "World's 50 Best" restaurants list have unveiled their 2022 edition of the obsequious rankings at a ceremony hosted by none other than Stanely Tucci, in which an establishment in Copenhagen not named Noma earned the right to call itself the best restaurant in the world. The honor instead goes to Geranium, where, if you'd like, you may order a $2,500 "rare & unique" wine pairing to enjoy with your $440 "Summer Universe" tasting menu.
As always, New York is represented down the ranks a bit, by Atomix and Le Bernardin (Estela, Cosme, Chef's Table at Brooklyn Fare, and Blue Hill at Stone Barns show up on the "51–100" register of runners-up), while tasting rooms in far-flung global metropolises like Bangkok, Berlin, and Lima make up the majority of winners. Around these parts, it's become something of an annual tradition to point out that the list is very silly, despite any gravitas that Tucci's involvement may confer. Among the reasons: Voters just pick their friends, restaurants in international travel destinations inevitably rank higher as judges can more easily visit them, businesses run by men are disproportionately represented, and — not for nothing — the chances of getting a reservation at Geranium are now about as good as winning the Powerball.
In the beginning, the list was intended to be something of an antidote to Michelin's staid system of stars, but over its two decades of existence, it's begun to feel as predictable and exclusionary as the tire guide it was meant to replace. None of this is news, of course, but its flaws feel particularly pronounced and backward-thinking given the perilous state of the economy and Americans' freedoms, a pandemic that may never end, a climate crisis that is currently causing England to melt, and the ongoing war in Europe. (The W50B thoughtfully moved this year's ceremony out of Moscow, where it had originally been scheduled to take place, and declined to include any Russian restaurants in this most recent edition.)
For years, as you know, Noma dominated the list's top positions, but it is no longer in the running for consideration, having won last year and thus ascended to something like a "World's 50 Best" Hall of Fame, a separate category that has existed since 2019, when the W50B instituted a new policy wherein any restaurant to ever claim the top spot is automatically considered "the best of the best" and never ranked again. One imagines that an unspoken upside of this approach — in addition to ensuring there will always be a new winner — is that it prevents the embarrassment of watching past honorees slowly slide back down the list as tastes change and ambitious young chefs open new places to replace the old guard. Clearly, this list isn't meant to be a serious critical endeavor; it's cheerleading, which is fine — even very expensive businesses aren't immune to the effects of our ever-growing collection of global calamities and could use the extra support. But given the influence this list still commands in certain circles, it's fair to wonder about its real utility at a time when the dining public is becoming increasingly aware of the very real damage these restaurant environments can inflict on the people who work within them.
Over the past year or so, a number of detailed reports have emerged that outline the current struggles within Eleven Madison Park (another "best of the best" honoree); pre-pandemic conditions inside Blue Hill at Stone Barns (No. 74 on the long list); and the "misleading," "toxic" environment at Willows Inn in Washington State (a restaurant that W50B quite recently had its eye on). Individually, the stories contain dozens of unsettling allegations. Taken together, they illustrate the reality inside top-tier kitchens, where employees are routinely expected to sacrifice personal relationships and livable salaries in the name of some higher calling, one that often involves dry-aged duck. As an industry veteran with experience working at this level put it to me after Insider published its first Eleven Madison Park investigation, "That article basically defines the Michelin restaurant work experience."
Young cooks and servers do not seek out these jobs because they are "good" in the traditional sense; ostensibly, they endure their time in highly competitive kitchens to learn from the best of the best — to borrow W50B's own phrasing — and to build their résumés. But what happens when the myth of infallibility surrounding these gastronomic temples begins to fade, as it already has? When a Hulu comedy can mine workers' long-term trauma for entertainment — that sounds bleak, but the Bear really is as compelling as all your friends say it is — it might be time to wonder whether these places really are the be-all and end-all of culinary excellence on earth.
More than anything, the "World's 50 Best" list as it currently stands promotes the antiquated Chef's Table fantasy celebrating the tradition that creative expression and luxury values should trump all other considerations, including the health of the people who provide those meals. Here's a counterpoint: What if these are not the qualities that necessarily create the objectively best dining experiences?
This is not to say everyone working within these establishments is miserable. Nor is it to say that fancy restaurants are inherently bad. (At least some managers have recently taken steps to improve conditions for workers.) And, having been to a handful of places on this list over the years, I can confirm that, yeah, they're usually quite nice — although they aren't the kinds of meals or experiences I or anyone I know has sought out as we've reacclimated to life with the constant air of COVID hanging over everything that we do.
I had a great dinner last week, sitting outside with a friend I hadn't seen in several months. We grabbed a sidewalk table at an Italian place halfway between our apartments, shared a couple plates of pasta, and drank too much wine. The sun set over the buildings, a light breeze blew, and we decided to stay a bit longer for dessert. It was perfect, the best kind of meal I could imagine right now — and I didn't even have to fly to Denmark to enjoy it.