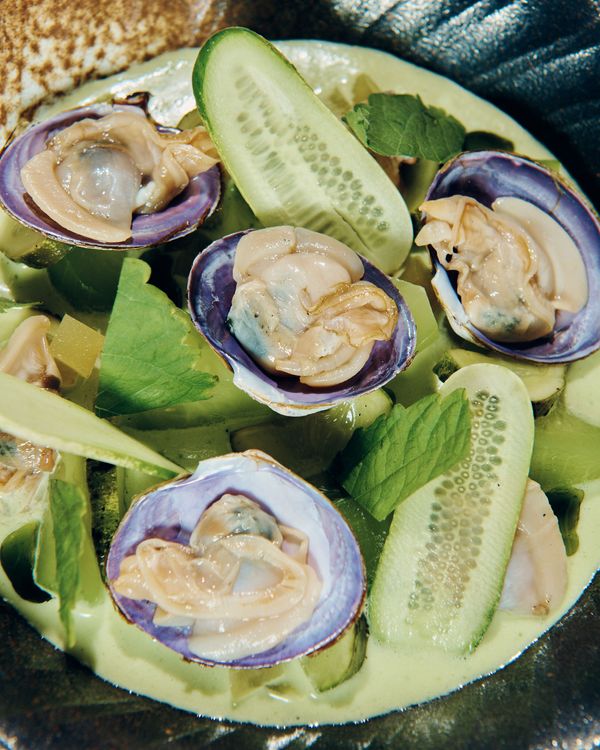 Clams and many cucumbers at Foxface Natural in the East Village. Photo: Jonah Rosenberg
Officially, autumn doesn't begin until the third week of September, and we all know that the heat and dank humidity can stick around into October, but with Labor Day looming, summer is about to be over as far as the rhythms of the city are concerned. Until that happens, though, this is the stretch of days that offers the best kind of restaurant eating.
Why? Great ingredients are all in season at the same time and half the city is still off wherever they can find refuge near some water. The weather is mild enough to enjoy the final days of street eating's Wild West era, and it's possible that your boss is on vacation so you don't have to worry quite so much about work the next morning.
It's the perfect time, in other words, to head up to the roof of the Hoxton Hotel in Williamsburg for a spread of hummus and grilled lamb and a seriously great pineapple-and-celery salad at Laser Wolf. But of course everyone knows it's impossible to get a seat there — or is it? While waiting for the elevator to take me up last week, I overheard a host tell two people that there was a 90-minute wait. This was 5:30 in the afternoon, meaning the couple had really nailed it: They could walk out and grab a drink at any of the [checks notes] 13 million nearby bars, then cruise back for salatim and spice-crusted tuna skewers in time to catch the sunset. Not bad.
I'd guess the waits might be similarly gentle at Superiority Burger, and even if they aren't, all of Avenue A feels like a better party than Dimes Square these days. I walked past the crowds the other week while walking to Foxface Natural after reading Chris's profile. A bowl of clams and cucumbers is the kind of idea I would steal (and simplify) if I were cooking dinner at a summer rental Out East, as was a fluke from Montauk, ordered at the behest of a friend who likes to fish, absolutely drenched in garlic, parsley, and oil. The meat peeled right away from the skeleton, almost unbelievably rich from its time roasting on the bones. It was whole fish that restored my faith in any entree designed for people "to share."
I could say something similar about the raw beef from Raf's, an appetizer that is so familiar on menus my eyes pass over the word tartare as if it were a comma. Someone at the table wanted it, and it's a good thing they did. Grated parmesan gave it some heft and there were crunchy bits — breadcrumbs, delightful — that made me happy. Even still, if I found myself back at Raf's (and could grab one of the walk-in two-tops up front), the thing I would absolutely order again is the "cast-iron sfincione," which was a little fluffy focaccia that tasted like deep-dish pizza flown in from Chicago. (This is a compliment.)
Everyone has a different list. What else is on mine? I really want to check out the Banchan by Sunny menu at Achilles Heel in Greenpoint, and I still haven't gotten the chance to make it down to Red Hook for hazelnut gnocchi at Bar Mario. That trip's going to become more difficult once the easy days of August are over, just like a little excursion out to East Williamsburg for the New Haven pizza at Lala's. Do I want a katsu sandwich, a weekend lunch at King, and a glass of backyard Chenin at Fausto? Yes, definitely, and sure that sounds lovely. Will I make it to all of them? No, but that's okay; the end of August also means making peace with all of the things that didn't quite happen during summer vacation.