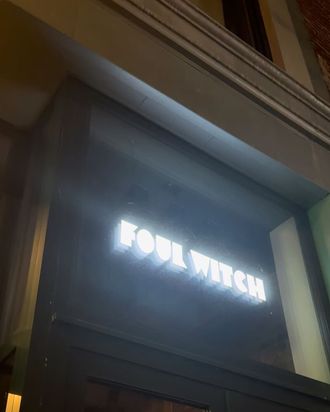 The restaurant is great — but is it really so full? Photo: Zach Schiffman`
Since it opened in January, the East Village wine bar Foul Witch has gained a reputation as one of the city's most in-demand reservations. Its fully booked Resy page helps, and in May, the booking service's own blog published a story claiming the restaurant's waiting list on a Saturday night can stretch to 1,400 people. I stopped in the other week — as part of my ongoing series to investigate the city's so-called impossible tables — and it was the first time I worried I might fully be turned away; the spot has only around 50 seats, and I figured, at best, I was looking at a two- or three-hour wait.
The parameters for this assignment stipulate that I show up at prime time, 7:30, so even if some bar stools were free for the first seating, I'd be out of luck. I advised a friend who'd be joining me that they might want to make backup plans, just in case. So when the host happily seated me immediately, I almost laughed in his face. The caveat was that they'd need my table back by 9:30 p.m., which seemed fine.
But I noticed something curious as I enjoyed my chilled red: The restaurant never really filled up. The couple next to me said they'd booked their reservation weeks in advance (and come in from New Jersey for the occasion), but a handful of two- and four-tops remained empty all night. I opened Resy to see if it had freed up, but the app offered nothing for the following two weeks. Maybe I just got lucky, I thought. But then a friend told me they'd had a similar experience another time, waiting only a few minutes before they were seated as a walk-in.
Given the relative calm in the dining room, I wasn't surprised when the 9:30 deadline wasn't enforced, either, and and after a few final bites of dessert — a pleasantly salty sake-lees cake with clotted cream and honey — I paid my bill ($313.52 for two, after tip) before setting out into the night. I made a mental note to drop in again next time I'm in Alphabet City and feeling hungry. I won't even worry about a reservation.