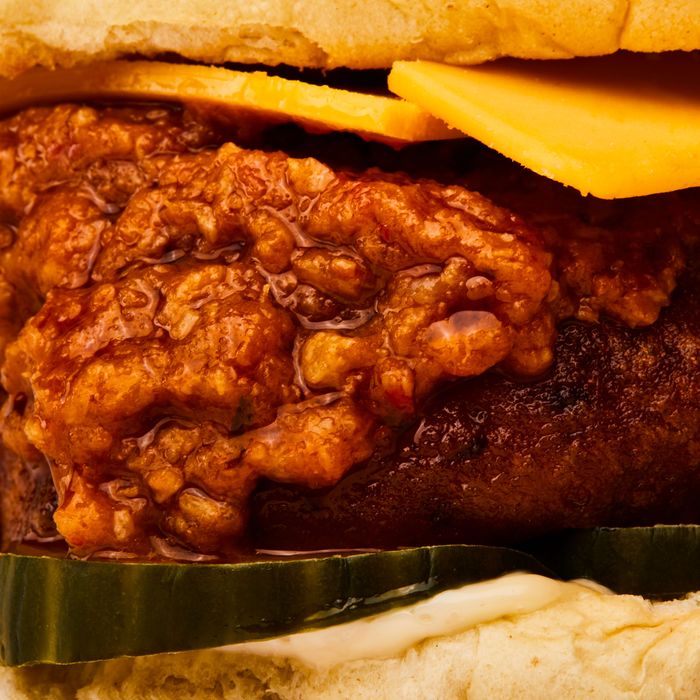 At Akara House, each of the traditional fritters is fried to order. Photo: Marcus McDonald
When Funso Akinya moved to Brooklyn from Nigeria two decades ago, his first job was cooking at a McDonald's in Sheepshead Bay. There, he gained some crucial insight into this country's palate: "Americans like mayonnaise, they like pickles, they like garlic," he says. "I studied it to know what fast food is all about."
Even still, it wasn't until 2021 that Akinya thought about opening his own restaurant, while moonlighting as a deliveryman for DoorDash and UberEats (a serial entrepreneur, Akinya also runs a medical-supplies store and, during COVID, built an online delivery platform for Nigerian groceries). Now, after a yearlong search for a space and a three-month build-out of the Crown Heights storefront, Akinya is putting what he learned at McDonald's to work at his first restaurant, Akara House, nodding to the black-eyed pea fritters that are, as the name suggests, the specialty of the house.
In addition to West African staples such as suya, moi moi (a blend of black-eyed peas, garlic, ginger, and onions steamed in banana leaf), and jollof rice, Akinya also takes akara sandwiches, common in Nigeria, and turns them into burgers, an idea he had after watching chicken sandwiches and plant-based patties explode in popularity. "It's a little Nigerian and a little American," he says.
Akinya starts by seasoning the akara with garlic and ginger, in addition to the usual onion and chile. They're fried to order and stuffed into agege, a white bread that Akinya gets from a baker in Atlanta. Next, he adds a slick of mayo, homemade pickles, and American cheese or mozzarella. On the side: the pepper sauce ata dindin, which provides a proper but not overwhelming kick. (As for the size, it's somewhere between a slider and a diner burger — more of a snack than a meal — so it makes sense to order two. There, Akiya has his customers covered: The cost is $6 each, but an order of two is discounted to $10.) The sandwiches are crunchy, creamy, and a little bit sweet; the combination will make perfect sense to anyone who has ever eaten a McChicken.
Recently, Akinya was back home for his father's birthday and he decided to offer his friends and family a taste. How did they take to the mayo and pickles? "They thought I was crazy," he says. "They were just looking at me like, 'What are you doing?'"
Each sandwich costs $6, or two can be had for $10. Photo: Marcus McDonald