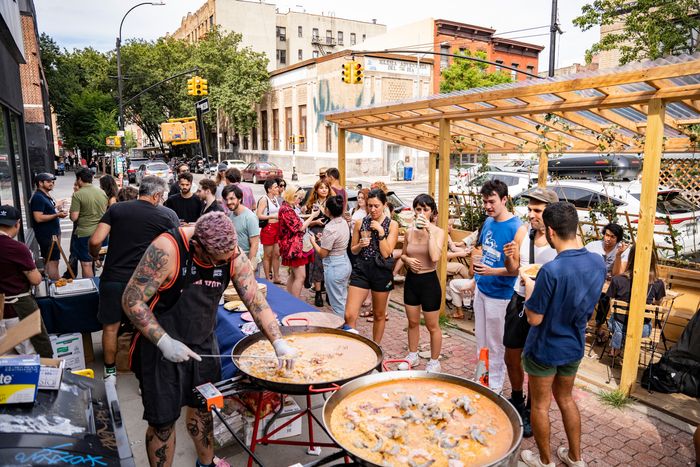 Eduardo Cuenca working the paella at an Arroces event. Photo: Luigi Morris
Last Sunday in Williamsburg — within earshot of the BQE overpass and with flood-warning alerts lighting up everyone's phones — the chef Eduardo Cuenca was focused on his rice. He was under a tent, dipping a spoon into a giant pan of paella. After a taste, his face said it all: This is good. The occasion was Arroces, Cuenca's roving paella pop-up, held this day outside of the Mexican seafood restaurant Ensenada. Rain be damned: The block party must go on. So he'd set up his two rigs — each 34-inch pan powered by a propane tank — right outside the kitchen entrance, so that ingredients such as plump shrimp and trays of split lobsters could be easily ferried back and forth.
Cuenca manned the paelleras with help from a friend and fellow cook, Orlando Guedez. Bearded, wearing a black baseball cap and teal Carhartt shirt, Guedez has the jovial look of someone who smiles with their whole face. But he was all business with the paella. While orders were shouted out, Cuenca — wearing a Knicks jersey and Pornhub socks — dispensed some savory, refreshing gazpacho from the kind of sideline cooler that usually holds Gatorade, finishing the soup with a drizzle of fresh olive oil. "I buy the best tomatoes that I can find in the farmers' market and I let them get super-ripe — until they're almost bad," he says. He'd also bought a whole leg of jamón Ibérico and shaved slices to drape over melon that had been infused with mint.
The level of care in the cooking was not exactly surprising, given that Cuenca is the chef de cuisine at Miss Ada in Fort Greene, where he was worked for the last five and a half years. Born to a Venezuelan mother and a Spanish father, his family moved from Caracas to Barcelona when he was a kid. It was there that he started cooking professionally, at restaurants like Jardín del Alma. "I grew up with Spanish culture, eating home-cooked paella, tortilla, gazpacho — that was all the things that I ate at home," he says. Even after moving to New York in 2017, he kept cooking all of the Spanish favorites for friends.
Then one day, Cuenca's friend Bryce David — an owner of Ensenada who was then a regular at Miss Ada — invited him over to make paella at his own house. So Cuenca took his pans, brought his rice and saffron and shrimp and stock, and got to work. David loved it, and he pushed Cuenca to do a pop-up at Ensenada. "I was like, 'Dude, this is banging, you should do something with this,'" David says. "A lot of the paella in New York is bad, and even a lot of the Spanish restaurants that I love — it's not really a part of the program, you know?"
Giant pans of paella aren't really part of the city's street-food scene, either, which is what makes Arroces stand out. "Making paella over an open flame for many people outside — it's really hard," says Lidia Sanchez, the founder of the importer, distributor, and wholesaler Taste of Spain. "It's difficult, and I think they're doing a great job."
Serving customers. Photo: Sarah Schneider
As Cuenca puts it, paella "is all about the rice,"  and so he sought out the best bomba rice he could find. Then, it all starts with the sofrito, which he says is his grandmother's recipe and takes two-and-a-half days to cook, made from onions, garlic, peppers, and paprika. At the pop-up, that's mixed with chicken stock, more peppers, green onion, and seafood.
Each $19 bowl is warm rice swaddled with that sofrito, some shrimp, and fresh calamari. The pop-ups have drawn Spanish expats — lured with the promise of great paella, though some (perhaps burned by too many mediocre versions in the past) are skeptical. "One guy was, like, talking shit," Cuenca recalls. "And then he tried it. He came back, asking, 'Can I have two more?' I'm like, Dude, whatever you want."
Other customers — lucky ones — just stumble upon the events, which this summer have been held once a month. (New events are announced on the Arroces Instagram account; the next one will be in August at Virginia's, details forthcoming.) Cuenca cooks and chats, and sometimes shares a bit of food with people who don't have money, like an MTA worker who rolled into an event last year. Cuenca says he gave him a plate, and the guy loved it so much that he told five friends about it (they all bought some too). "What is paella for me, and I think for a lot of people in Spain, is a moment to celebrate an occasion," he says. "And that's what I want to tell everybody."