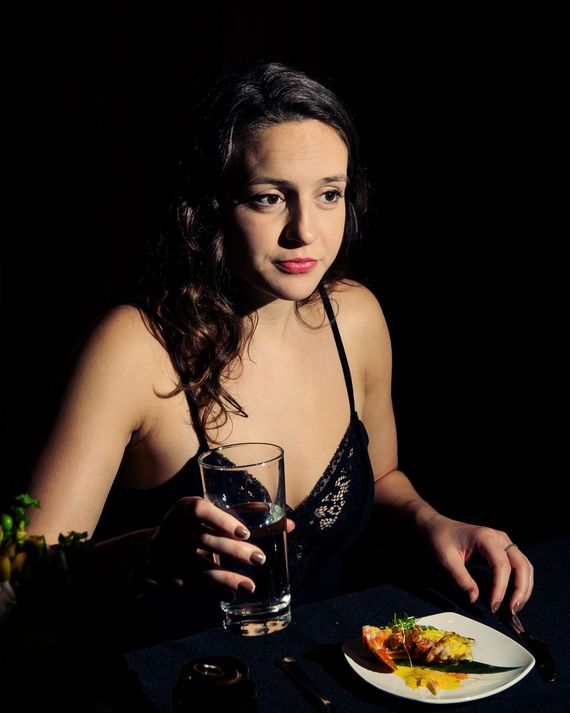 "What dosage would you prefer with your dinner this evening?" intoned my host. "We recommend 30 milligrams at most, sir." He was a goateed gentleman who bent slightly from the waist as he talked, in the practiced way I'd seen sommeliers do in grand restaurants around town a million times before. We weren't in a grand restaurant, exactly, just a small, tastefully decorated room with half a dozen marble tables. But already, glasses of Champagne were being served, and the chef — a veteran of Masa, among other decorated kitchens — had appeared in his whites to announce the first course of our $365 tasting dinner. The crowd included standard members of the city's gourmet-dining menagerie: blank-faced sushi bros with glittering moon-shaped watches, monied young couples scrolling absently on their phones, businessmen loudly exchanging notes on resorts they'd just visited.
Cannabis Fine Dining NYC was the name of this discreet little operation, which — after making a hefty deposit via Zelle and receiving a series of anonymous text-message directions — I'd found behind a door at the end of an apartment hallway in Soho. The proprietor, who asked that I keep him anonymous, told me that he'd begun a series of high-end pop-up dinners during COVID and added a pot-infused option after New York legalized marijuana in 2021. Now it was becoming so popular that he was considering bumping up the price to $420. He wanted me to know that elegant cooking was at the center of the evening's experience. "I would love this to become the first Michelin-starred cannabis restaurant in the world. That's my ambition," he said, as I sipped my excellent grand cru.
"I'll take a light dose, please," I heard myself say, and presently the first course appeared: a spoonful of golden Osetra caviar set on a tear-shaped tart laced with porcini. "Cannabinoid molecules love fat, and caviar is pure fat," said the proprietor. (I swear his Cheshire cat smile grew bigger with every tiny, pleasurable bite I took that night.) The priciest cuts of tuna belly also turned out to be a perfect vehicle for getting high, he said, and Wagyu beef too. Depending on how I felt later on, I could try the chef's special "infused Wagyu Big Mac," made with truffles and layers of foie gras and uni caviar and offered as a supplement for $250.
This was early in my tour through the antic, ever-expanding, increasingly sophisticated world of haute cannabis cuisine. I'd been hearing rumors about it for months, of course, from underground gourmets who regularly attend secretive dinners and from friends who'd dropped their cocktail rituals (often on doctors' orders) and were making pilgrimages to San Francisco and L.A., like wine lovers visiting their favorite vintners in Burgundy. They brought back expertly dosed chocolates that tasted like they'd been made in Belgium or Paris, and they told wondrous tales of weed banquets where strange elixirs focused on cannabis, not booze, were mixed at the highest levels.
Now, with New York in the grips of post-legalization mania, many of these same offerings were appearing around the city. Thanks to COVID, pop-ups were in vogue and there were plenty of empty spaces to accommodate them. New-fangled cooking techniques meant cannabis-spiked delicacies no longer tasted like chimney liner. Credentialed cooks were rushing into the culinary stoner space, some who'd trained at gourmet kitchens like Daniel. This new breed wouldn't be caught dead serving blackout brownies or munchie standards like burgers or tacos, and if you want to sit down at one of their dinners, you'd better be prepared to pay the kind of old-school upmarket prices that you'd find at Le Bernardin or Per Se.
"We've come a long way from the dark old days," John Bradbury told me. He's a co-founder of Pot d'Huile, a San Francisco-based gourmet olive-oil company that procure its olives from some of the finest groves in California's Central Valley and infuses them with hemp and cannabis. (The priciest bottle is $72 for 125 milliliters.) He and his partners started their business three years ago and now count several Michelin-starred chefs in their stable of advisers and recipe consultants, including Calvin Eng, who owns Bonnie's, the nouveau Cantonese darling of Williamsburg. Bradbury is an attorney by trade, but like a gold-rush prospector moving on to the next territory, he and his partner were now focusing on the booming New York City market. He sports a bushy, prospector-style beard, as it happens, and we'd run into each other at a $250-per-ticket gala supper club in Chelsea hosted by an upmarket cannabis-themed event company called Medly.
People at our table remembered less glamorous, more discreet family-style weed dinners back in the pre-legalization days. But Medley has aspirations to become what someone described as "the Chanel of the haute weed space," so guests were sipping pink Paloma mocktails spiked with "anxiety relief" levels of CBD, and helpings of beef tartare were being served, along with scallop crudo and a giant THC-dosed pork shoulder presented in the bo ssäm style with all the trimmings. Gourmet sophisticates were arrayed around the room: zonked-out couples dressed in throwback '60s attire, aged rock icons ("I think one of the undead Ramones is here," someone said), and online influencers posting images of performance artists who wandered through the crowd wearing clouds of flashing psychedelic cotton over their heads.
At cannabis dinners around the city, the prices and the level of service have risen to levels that match the most prestigious fine-dining restaurants. Photo: Dina Litovsky
"It turns out luxury-brand users are also cannabis users, and they have plenty of cash on hand," said the diner to my right, who described himself as a tech investor. I'd found seats to these kinds of meals through word of mouth, and on reservation services like Tock, but many supper clubs charge an annual fee to be included in their increasingly lavish events. A few years back, this tech investor had spent thousands of dollars to fly to Copenhagen for a single dinner at Rene Redzepi's famous restaurant Noma. But in this quieter, less showy post-COVID world, he doubted he'd be doing that again. Like many of his friends, he was drinking less, and he was in the market for a gentler, more curated, more "natural" dining experience that didn't involve burning fossil fuels to fly halfway around the globe.
Even before legalization, he said, alcohol consumption seemed to be going down among younger consumers as they searched for new, more exciting vices, especially those that didn't pack on the calories or produce head-splitting hangovers the next day. "I have no doubt that Coca-Cola will have a line of infused beverages very soon," I heard him say, as the magic pork shoulder began to take effect and I attempted, not very successfully, to take a soothing drink of mountain water and push my plate gently away.
"It's a more sophisticated world now than just laying people out and getting blotto," said "Hawaii" Mike Salman. "We're doctors, we're providing medicine, and it's important that it's properly controlled." Salman is one of the city's original cannabis chefs, and we were enjoying his signature fried-chicken sandwich — a dish that looked (and actually sort of tasted) like something you'd order at Popeyes, but thanks to a layer of honey laced with habanero pepper and THC, carried the pleasant kick of a glass or two of fine Bordeaux.
Salman had begun experimenting with pot brownies and infused omelets at age 12, he said, and started an underground supper club back in 2015. Legalization meant that this formerly private, illegal scene was becoming increasingly raucous and public, and these days he charged up to $325 per head for dinners that might include rainbow beet tarts and various crudos to begin, followed by roast duck and an apple crumble infused with cannabis butter. Dosing had never been more precise, Salman said. Like yeast for the master baker, it is the key to a pleasant gourmet cannabis experience. These days it comes in a variety of ingenious, generally palatable forms (butter and oils, laborious emulsions, perfumed mists), some of which could taste a little funky, if that's what you desire, or like nothing at all.
"I've always been a user, never a pothead," said Miguel Trinidad, who runs 99th Floor, one of the city's oldest and most prominent cannabis-themed supper clubs. Trinidad, who grew up in the now mostly vanished Dominican community on the Lower East Side, can now charge upward of $250 for a seat at one of his supper clubs and much more than that for a private event. "These days, a lot of chefs are applying concentrate to their food and calling it a 'cannabis meal,'" he said. "But there's much more to this kind of cooking than that."
Over the years, Trinidad's 99th Floor dinners have taken place in lavish private dining rooms and deep in subterranean warehouse kitchens in outer-borough hinterlands. Depending on the season, they might include a chilled split-pea soup sprinkled with crabmeat, or twirls of halibut garnished with magic THC foams touched with lemons, or carefully steamed duck tamales laced with spoonfuls of lard that the chef and his cooks infuse with gently toasted buds of famous old strains with names like "Skittles" and "Wedding Cake." Unlike my caviar at Cannabis Fine Dining NYC, which was spiked with a perfume-style atomizer, Trinidad's infusions take hours of careful preparation. He uses a special device called a tCheck to calibrate the THC levels in his cooking, and before each course the dosage of every dish is announced to the table. Cannabis wasn't the only point of his dinners, he said. It was another refined element of the experience, like white truffles in the fall or a good bottle of wine.
"You don't open your wine at the beginning of dinner and chug the whole bottle," Trinidad said. "You sip it and savor it and make it last. We want to make sure that you're still functioning and in an elevated, happy state when you leave here."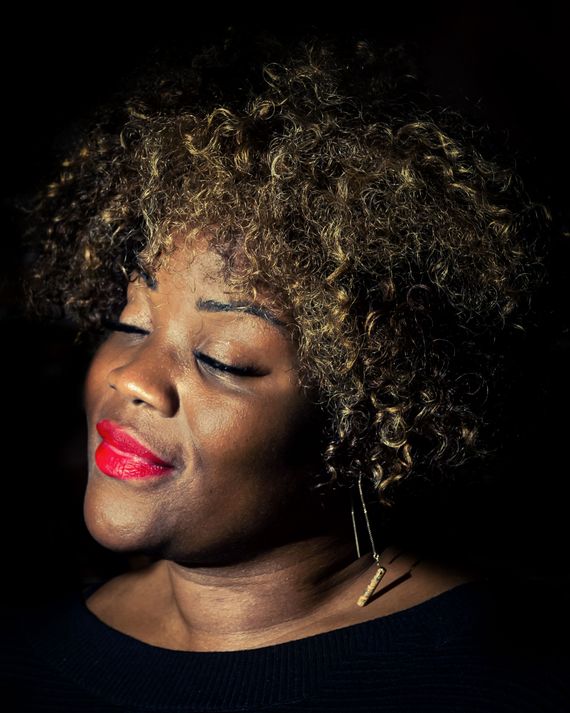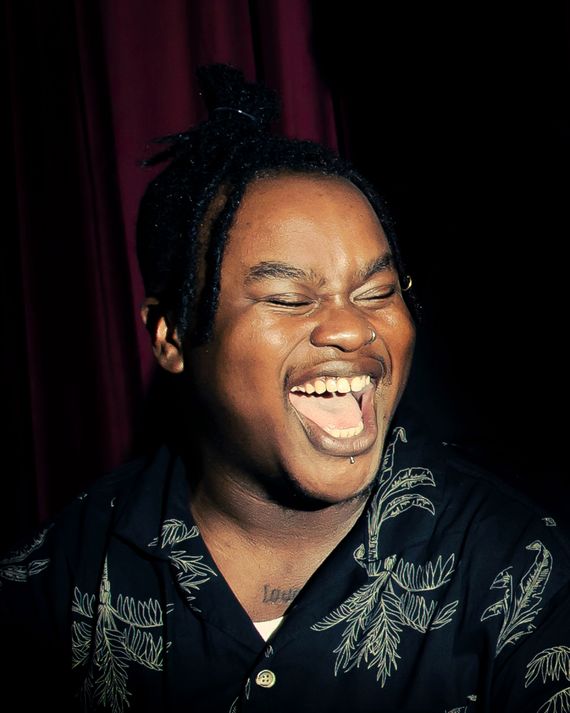 On the evening I dropped in, Trinidad and his team of cooks were set up in a large open kitchen and dining space at the bottom of a gleaming little condo in south Williamsburg. There were plans for two seatings, each one for 42 people. My dining partners at the chef's table included a TV producer and graffiti artist of national reputation, and as one polished course succeeded another (Cornish hen with foie gras, duck tamale, a delicious crêpe layer cake topped with nuggets of poached pear), a photographer from the Times snapped pictures of this suddenly trendy cuisine. It felt less like we were in an illicit, underground supper club than at the buzzy opening of one of the trendier new restaurants around town.
What kind of state was I in after several multicourse cannabis dinners? "I guess this is a longer nap time than usual," one of my daughters said when she saw me stretched out on the couch one afternoon between meals, although to be fair she'd said the same thing many times during my restaurant-critic days. There were no vicious hangovers in this world, I discovered, although THC tended to linger dreamily in the system, and for novice potheads, just like for novice wine drinkers, it was prudent to schedule elaborate tasting banquets several days (or even weeks) apart. Three or four bottles of wine will create a sense of convivial merriment at any table, but cannabis is an inward-looking, contemplative drug, and I noticed that as courses (and dosages) accumulated, even the most seasoned potheads would wander off, or begin scrolling dreamily through their phones. I also noticed, not surprisingly, that food most definitely seemed to taste better in this altered world, although whether this was because of the drugs or the quality of the cooking, it was sometimes hard to tell.
I pondered this weighty question as I peered dreamily out the window on a flight to L.A., which of course is a few years ahead of New York in building a vibrant cannabis-connoisseur dining scene. After landing, I called Chris Sayegh, a.k.a. the Herbal Chef, to get a seat at one of his famous Secret Supper Club dinners. "There are high-level cooks who want to get into this world but don't understand the science of dosing," he said, "and there are plenty of dosers who don't know how to cook. But you won't find many who know how to do both." Sayegh grew up eating Jordanian home cooking, and when his parents split up, they both married Italians, so he likes to say that his California childhood immersed him in not one but two great culinary traditions. Sayegh studied molecular biology at the University of California, Santa Cruz and has worked in many top kitchens around L.A. and New York. He lists Thomas Keller among his culinary heroes, along with Noma's Redzepi and Cesare Ramirez, the mercurial, exacting proprietor of the multi-starred Chef's Table at Brooklyn Fare.
"The vast majority of our clientele come for the food," he says. "Without the backbone of high-level technique and hospitality, this world doesn't exist. It just becomes a gimmick." Sayegh and his team have put together cannabis-laced banquets for several thousand people, and deeply researched "History of Edibles" supper club events with dishes inspired by ancient China and the Middle East (roast lamb, a dosed shumai), then running through the cuisines of India and Greece and into the modern gourmet gadgetry of today. He has a new cookbook coming out next year (Sugar High: 50 Recipes for Cannabis Desserts), and he and the members of his Psychedelic Hospitality Group have recently opened a new venture in Santa Monica called Nostalgia Bar & Lounge, which serves CBD-laced mocktails with a roster of elegantly rendered comfort foods during regular hours, along with private THC-oriented events for close to $400 per seat.
During my time on the West Coast, I Ubered up and down the palm-lined boulevards, perusing depositories and weed stores that looked like Starbucks operations compared to the ramshackle bodegas and head shops that were popping up around my neighborhood back in New York. They offered TH- infused "gourmet cake bites" and elaborately packaged strains of indica that cost as much as a fine bottle of wine and came with the same kinds of snooty, faintly ridiculous backstories ("this is from Sonoma County by the grower who used to harvest the vegetables at French Laundry") that I'd heard from vintners and wine-sellers for decades.
One of these stores, in East L.A., not far from Echo Park, was a favorite haunt of the chocolatier and pastry chef Vanessa Lavorato, a former host on the great stoner cooking show Bong Appetite, and who has more than 80,000 Instagram followers. Before taking me to her favorite local dispensary, she offered a demonstration on the proper way to prepare that most iconic of all culinary edibles, the pot brownie.
In the old days people often used the excess trimmings from their weed bags — called "shake" — to spike their mossy green, barely edible brownies, Lavorato said, but now the buds were refined into a kind of resin that can be made to taste light and faintly herbal or like nothing at all, and was much easier to manipulate. Lavorato was working on a cookbook too, and for this recipe she used a strain of weed called "Chocolatina" that she infused into brown butter and then combined with melted chocolate, molasses, cocoa powder, flour, sugar, and whipped eggs, all poured into a baking pan and dabbed on top with peanut butter and spoonfuls of marshmallow fluff. The result was a perfectly weighted brownie, with such a deep chocolaty taste that I was moved to wash it down with a tall glass of milk.
"The private scene is booming out here. Everyone wants to get high, no one wants to drink anymore," said Vanessa. Among celebrities in Cali-sober L.A. (Justin Bieber, Seth Rogen, Mike Tyson) it was fashionable to endorse your own brand of cannabis, the way they were doing with bottles of tequila just a few years ago. But despite legalization back in 2016, the thicket of California laws and regulations made it difficult to do business, especially in the realm of restaurants and hospitality. Manufactured cannabis products like drinks and cookies were legal, but you couldn't have a liquor license and sell THC at the same place, and if you wanted to sell fresh pot brownies at a pastry store, each one had to be laboriously government tested and inspected. "And who wants to eat a week-old brownie?" Vanessa said.
When I arrived at Sayegh's Nostalgia Bar & Lounge, the sun was setting down Pico Boulevard and the restaurant's mission-style exterior was strung with lights, like at a festive barbecue or an evening church picnic. Tonight's password was "Project Bluebook," and the hospitality director had told me earlier that if I planned to ask for a dose of more than 50 milligrams with my dinner, I'd have to sign a legal waiver. "The first cannabis meal I ever did was a ten-course tasting menu in Santa Barbara. It was a honeymoon couple who just loved cannabis. They were making good money, so we served them caviar on buttered toast, truffled risotto, and certified Japanese Wagyu. We even presented them with the certificate of the cow at the end, it was so over the top."
Sayegh is a bluff, garrulous character, and he greeted his guests at five cocktail tables that were pushed together in the center of the room. The evening's theme was Halloween, so the ten courses on the $295 tasting menu had names like "Beef and Brains," "Truffle Potion," and "Zombie Toast." Next to me were a chatty cardiologist who didn't smoke and her husband, who very much did, and two glamorous women who seemed to be on a date, dressed in high heels and nearly matching red dresses. The cardiologist's husband asked for 30 milligrams with his meal (she asked for exactly seven), and as we waited for dinner to arrive, he showed me a tincture product his company was attempting to market like fine single-malt scotch. It came in a black case and a large whiskey-size bottle ("Single-Strain Distilled Cannabis — Ultra Pure, Ultra Potent") for the trophy price of $250.
Most of the dishes we sampled were trophy-level too: aiolis whisked with a THC-tinged avocado oil, little pots of dosed egg custard garnished with bits of snow crab and uni from Hokkaido, a delicious medley of squab and foie gras laid out in the shape of a rainbow on the plate and finished with a rich chestnut-flavored reduction. Between courses, glass containers of bubbling dry ice appeared at the tables, scented with what smelled like juniper leaves and different exotic strains of weed. I dimly recall a soft slice of chicken basted in brown butter, and a fine beef course that we enjoyed the way you would at a top Michelin establishment, with a glass of jammy Côtes du Rhône.
As the evening wound down, a group at one end of the table began to sing "Happy Birthday" to each other and the chef stopped by to say that demand for this kind of experience had never been higher, and he and his team were now operating private satellite kitchens in haute-cannabis hotbeds like Miami. After a while the tables emptied out and I wandered outside, under the strings of lights, where the two women in red dresses were sharing a cigarette. As I fumbled with my Uber app, they said that they'd enjoyed their refined dinner, but now they were in the mood for a more traditionalist stoner nightcap that didn't involve cocktails or even another dose of THC. They'd probably be stopping at In-N-Out Burger on the way home, one of them said, because everybody knows there's nothing like a good cheeseburger when you're high.