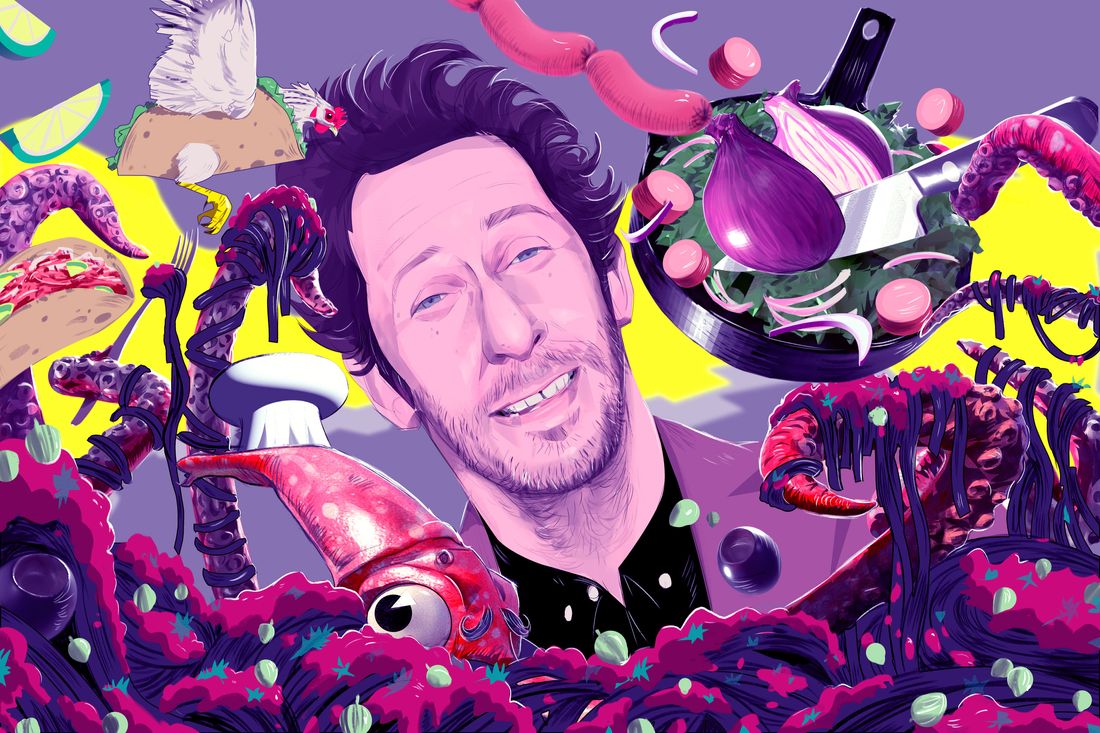 Tim Blake Nelson amid the squid.
Illustration: Ryan Inzana
If it feels like Tim Blake Nelson is everywhere, that's because he is. Since August, he has starred in the soulful Western Old Henry; he has a "nice supporting role" in National Champions, out today; and then, of course, there's his turn in Guillermo del Toro's psychological thriller Nightmare Alley (which is out next week). But what he is really excited about is the movie he's collaborating on with his son — the younger Nelson is writing and directing — which starts filming at Oberlin next month. "In a lot of respects, the spirit of that movie emanates from our nightly dinners," he says. This week, those dinners included pasta with sausage, beef-short-ribs adobo, and a "bucolic" Upper West Side pizza right out of a remote Italian village.
Thursday, December 2
When I was growing up, my mother cooked sit-down breakfast for my father and siblings and me each morning. She normally made fried eggs, and I loathed them. Love her, abominated the eggs. This never ceased to startle because her nightly dinners were extraordinary. In northeastern Oklahoma, she put foods from all over the world before us: stuffed game hens, stir-fry, steak au poivre, oxtail soup, chicken Marengo (conceived by Napoleon's chef to commemorate the decisive battle there). And speaking of Napoleon(s), she concocted those from scratch, with puff pastry she rolled herself. But the fried eggs? No. I vowed never to put a first meal of the day in front of our three boys they didn't want. There's one left in the house — the other two are off in college — an 11th-grader named Eli partial to pancakes with semisweet chocolate. I woke him at 6:30 a.m. after greasing the skillet, then returned to pour the batter, marooning about half a dozen chips in each of the three pancakes just as they started to show bubbles. I'm hit or miss with the flipping, and on this morning, it was more of a miss, with an archipelago of splatter off the largest pancake. At least I didn't burn the chocolate.
Opposite him, I had what I have every morning: a small bowl of granola mix — half from the Kind cinnamon-seed variety, half from the Silver Moon Bakery across the street on 105th and Broadway. I mixed in some Trader Joe's trail mix and about a dozen roasted pumpkin seeds. I accompanied this with a four-shot espresso in a mug made back in the fifth grade by the young man who sat opposite. Over breakfast, we read an article together, which I've done daily with all our boys. This morning, it was an op-ed about the Russian-troop buildup on the Ukrainian border and the possibility of a coup in Kyiv. After a brief discussion, I asked what he wanted for dinner. Pasta with sausage. Then he was out the door, and I was into the living room to learn lines.
A busy morning had me late for my 11 a.m. workout, which consists of rowing on an erg in front of part of a movie or the news for 40 minutes each day. I then eat after a quick shower. Today: a smoked-salmon sandwich. We splurge and get our fish and meat from Citarella on 77th and Broadway. The bread was Pepperidge Farm multigrain. I toasted two slices and added fresh tomato and fresh jalapeño. To drink, I mixed half a glass of grapefruit juice with seltzer.
The University of Oklahoma lost its football coach just days ago to USC, so between and during bites, I scoured the internet for news of who'll replace him. My anxiety over this impending appointment inhibited any real enjoyment of an otherwise excellent sandwich.
After lunch daily, I have tea, which I brew from loose leaves in a Chinese clay pot. I learned this ritual from Ang Lee while editing my first film in the same facility in which he was cutting The Ice Storm. My preference is Lapsang souchong, a smoke-dried variety made from camellia sinensis leaves that dates back to the Qing dynasty in the 17th century. I drink it solely now from a cup Marc Maron gave me for doing his podcast. The tea is strong, and the cup is large, so I usually sip it for a few hours while I work, and today was no exception.
At about 5:30, I always have red wine from one of three countries: France, Italy, or Spain. I also put out a couple of cheeses: This night, it was a drunken goat and a Comté. The wine was a 2010 Château Ferran from Listrac-Médoc. I buy my wine from a store in Brooklyn called Moore Brothers with a superb curation of old-world sustainably farmed reds. Family dinner helped shape my siblings and me, and it remains important now as a parent. My wife, Lisa, went to the theater, so Eli and I ate alone — pasta with chicken sausage, as he requested.
The actress Frances McDormand taught me to cook pasta not in water but in chicken stock, and Lisa keeps us with fresh stock constantly, saving bones from every chicken we consume. I used a quart and a half, ladling out gradually, to boil a box of fusilli in a low frying pan. In another (this one part of a Calphalon set I got from my grandmother when I graduated college), I poured olive oil I heated at medium. A driver on a show I did in Vancouver who was a trained chef instructed me never to apply high heat to olive oil. I put in two crushed cloves of garlic before adding four chopped Aidells habanero-and-green-chile sausages. Meanwhile, I stirred the pasta in the stock, adding ground black pepper and about a teaspoon of tomato paste. When the sausage was cooked and the pasta was about half done, I added chopped kale and diced tomatoes and a bit more olive oil to the sausage, stirring it all together over the flame. By the time the pasta was finished, the stock that remained had mostly cooked down. When it was al dente, I dispensed the sauce over it and mixed it all together.
I poured a second glass of wine and joined Eli at the table. He recounted an argument he had with a teacher in his economics class about neoliberalism, citing Reagan, Bush 41, and Bill Clinton as historical figures. I realized that when Reagan was elected, I was Eli's age, and that was 41 years ago. An analogy would have been me at 17 speaking about FDR.
Friday, December 3
This morning was chocolate crêpes for Eli. I should also mention these were accompanied by a multivitamin and a fish-oil tablet, as were yesterday's pancakes, along with a glass of V8 Fusion. In this way, my wife and I balance the diet of a 17-year-old. We read an op-ed about the Mississippi abortion case. Both of us are pro-choice, but I disputed a comparison made between gun rights and abortion rights since the Constitution mentions "arms," but it's silent on terminating pregnancies. He rightly observed that the Constitution doesn't address "conceal and carry," which is presently under dispute in New York. I had my granola and espresso, and he was off to the subway. My Sooners still had yet to hire a coach.
For lunch after rowing, I scrambled two eggs (in olive oil, not butter) with smoked salmon and a chopped jalapeño. I accompanied this with a slice of toast. On top of the eggs: a pinch of salt and my favorite hot sauce, Melinda's XXXXtra Reserve. My friend Willie Reale and I have joked for years, wondering if it's worth the extra buck-fifty to splurge for more Scoville units and the brand's "Reserve" tier. What I like about Melinda's, which can be found most anywhere, is the extreme heat without diminution in flavor. It's a good, rich sauce, absent the preponderance of vinegar that can mar lesser brands. Case in point: It enhances eggs with smoked salmon and jalapeños. The lunch itself was also its own metaphor for our home: I'm a Jew married to a Mexican American. Regarding spice, it's often remarked by our boys and me that food itself is just a delivery system for heat. There was still no coach for Oklahoma, though it had been narrowed down to four options.
I had dinner out with the director of a film I did in New Orleans a few years ago based on Don Quixote, set in St. Bernard Parish, Louisiana. I chose one of my favorite restaurants in the city: the family owned Gabriel's on Central Park South. The food is Northern Italian, and it's prepared simply and impeccably in a beautifully lit, spacious room about five steps below street level. The walls are adorned with seven Roy Lichtensteins that Gabriel bought himself from the artist in 1994. I prefer a waiter named Arber, there from the restaurant's previous incarnation off Columbus Circle, not just because he's inordinately friendly but because he completely gets my wine tastes. He said he had two bottles of a 2011 San Felice Pugnitello from Tuscany; it's a grape about which I know absolutely nothing: "You're gonna love this, I promise. I've been saving these two bottles." The price was within range, so I said yes. It was gorgeous dark purple, and with ten years of age, it went translucent at the edges. I'll not burden readers with an uninformed description other than to say it was extremely rich to the taste but soft-edged, with dark fruit and the minerality I love. My friend and his wife were late, so I wrote in my journal and enjoyed a glass.
When they arrived, Arber described the specials, and all I needed to hear was "squid-ink tagliatelle with shrimp and scallops in a fra diavolo sauce." My pal Chris got the pasta Bolognese, and his wife, Georgia, the branzino. We didn't order an appetizer, but Arber brought us his favorite: artichoke heart in a cream sauce. As I don't like mixing red wine with artichoke, I abstained. Chris and Georgia happily made short work of it. My pasta, perfectly al dente, made from scratch by a pasta-maker who's been working with Gabriel since 1984, took me back to my honeymoon nearly three decades ago with my wife, Lisa, in Porto Venere, where I first had black pasta with seafood at lunch on the sailboat harbor among more cats than I've ever encountered.
Chris is an LSU fan, so we discussed coaching hires. His Tigers poached Brian Kelly from Notre Dame. Chris and I both wondered how the Northeasterner by way of South Bend will do recruiting in the South. Still no word who will coach Oklahoma. Georgia didn't finish her branzino, so I took what remained for fish tacos the following day.
Saturday, December 4
I ate alone at 8 a.m., letting Eli, as well as our middle son, Teddy, who's in for the weekend from Sarah Lawrence, sleep in. Breakfast rarely deviates for me when I'm home: granola and trail mix with a four-shot espresso. I love the juxtaposition of sweet and bitter, but the granola mustn't be too sweet, which is why the mix of Kind brand and Silver Moon Bakery works — the result of much experimentation. On the road, I find substitutes, and for the espresso, I go with Illy coffee in a Bialetti stove-top espresso-maker. It was looking like Oklahoma was down to four options: Luke Fickell from Cincinnati, Brent Venables from Clemson, Dan Lanning from Georgia, and Dave Aranda from Baylor.
All morning, while writing and learning lines, I thought about my fish tacos by way of leftovers from Gabriel's. I knew that no matter how much I adulterated the branzino with chile powder and peppers, the results would be spectacular. I heated olive oil in a pan — a quick credit to my sister, Pam, who has caused me to want olive oil involved in every meal — and infused it with about a tablespoon of chile powder, a technique I learned from the Senegalese mom of a kid on our oldest son's soccer team I coached about 15 years ago. Her mom taught her to do this with curry powder, so I now do it for curries, chili, and tacos as well. Once the oil had heated with the spice for about 45 seconds, I added the fish I'd removed from its skin and torn into pieces. It had come with some sautéed spinach, so I tossed that in as well along with some dried chile pequin from our friend Danny's backyard in Austin, Texas. As this all heated, I tossed a Mama Lupe's low-carb flour tortilla directly onto another of the gas burners and heated it directly over the flame. At the table, I poured my seltzer and grapefruit juice, topped the taco with Melinda's, and began lunch. It was a big day for the Oklahoma coaching vacancy, as all four contenders had conference-title games. I was hoping for Brent Venables, who once coached the defense at Oklahoma before decamping for Dabo Swinney's staff at Clemson.
This evening, we had a dinner party with eight guests. I'm heavily overextended these days by a couple of parts coming up, as well as a book I'm writing that'll be published at the end of next year, plus a film I'm making with our oldest son in January, so what to serve and how had become a source of stress. Lisa thankfully convinced me not to cook but to have a low-key caterer-chef come in. Our guests consisted of an attorney friend from college and his French Iranian wife; three film directors and their spouses, one of whom is an actress, another a screenwriter, and another a film editor. I did what I've never done before, which was to set out place cards to avoid that awkward jockeying that can occur when everyone gets to the table. This was tough with three directors, one of whom exchanged his card when he scoped the situation. I overruled him and was called a tyrant.
Dinner conversation centered mostly on film, and in particular Stanley Kubrick's Eyes Wide Shut. The table-arrangement usurper and his screenwriter wife admired the movie; the rest of us, not so much so. There was veneration of Kubrick all around, and that led to a discussion of the use of humor in his entire filmography. It struck me that other than the lawyer and his wife, everyone at the table has seen every Stanley Kubrick film. Other topics: My lawyer friend clerked for RBG, so we discussed the Mississippi abortion case along with the court in general. As if we'd all read the same articles during the week, we also got to the troop buildup on the Ukrainian border. This led me to tell the story an actor friend shared about Vladimir Putin purloining his watch, to which my lawyer friend displayed such consternation that one of the directors asked for his info should he ever need a litigator.
We went through five bottles of 1990 Musigny I've been cellaring for about 20 years. For entrées: a seared (but rare) fennel-and-pepper-crusted salmon and an herb-crusted filet mignon (also rare) with a truffle jus. With this, quinoa with beets and asparagus. I had the filet mignon, which had been sliced into medallions. I also took a good helping of the quinoa. For dessert, my lawyer friend's wife, owing to her Parisian roots, brought macarons and chocolate truffles from La Maison du Chocolat. These were enjoyed with more wine … on to a bottle of 2001 Ladoix. The name-card usurper, who prefers port, continued making his way through a bottle of 1994 Dow's. The dinner lasted more than four hours. With Eli at the table for all of it, this was the highpoint of my week. Anyone who eats at our table signs the bottom of it, and only the screenwriter had not done so — everyone else a recidivist.
Sunday, December 5
Lisa and I slept in, so I wasn't with my granola and espresso until nine, which felt absolutely decadent. Over breakfast, I called a friend in Oklahoma about the Oklahoma coaching situation. Conflicting reports had come in: One had Brent Venables of Clemson taking the job, the other Dan Lanning, defensive coordinator at Georgia. I put my pal on speaker so I could eat while talking, and our anxiety was loud and voluble. Lisa reminded me Eli was taking a practice SAT behind a closed door off the kitchen, so I quieted down immediately, more than a little embarrassed. I'd not raised my voice like this over any topic all month.
Last night, Lisa and I had done our best to clean the remnants (others had done most of the work during the party itself), but the kitchen was shambolic. I addressed the battalion of wineglasses lingering bloodied by the sink and saved the rest for later.
For lunch: fish tacos with salmon left over from last night. Jalapeños can vary wildly, and the one I lucked into today is through the roof hot. In fact, having used the whole pepper, including the seeds, plus a bit of Scorpion Salt from the Bitterman Salt Company in Oregon, the heat was almost too much for me … which meant this lunch was the best of the week. A surfeit of news sites had it that my first choice, Brent Venables, Defensive Coordinator for Clemson, would be named the next coach of my beloved Sooners.
It was the seventh night of Hanukkah, and we had our youngest son's godfather, JD, over for gifts and dinner. He's one of my wife's oldest friends and now one of my closest as well. I collect watches, and I gave him a pocket watch from the 1880s with an enamel face and silver case I found at the 77th and Columbus Street flea market. Our middle son, Teddy, who has been skateboarding all day, ate with us before heading back to Sarah Lawrence.
At least once a week, we order pizza from a place that seemed to materialize without warning across the street a few years ago called Mama's Too!, which, to me, constitutes the best pizza in the city. It serves by the slice and has claimed top spots on most recent lists in that regard, but since we're so close, we can order entire pies. To get a pizza by 6:30, I needed to order on the site by five, which I did. At 6:15, I sautéed spinach in garlic as a topping. What makes Mama's Too! such spectacular pizza? Perfectly crisp, thin Neapolitan crust; a sauce that's more tart than sweet, thick with tomato, rich with garlic; a savory mix of cheeses without a hint of any processing, as if each were sourced from the outskirts of Italian villages. Also, though it's from a slice joint, the full pie looks artisanal, with an uneven bucolic shape and oven burns around the edges. With it, I had the remains of the 2001 Ladoix we didn't finish last night. This Burgundy, with forward tannins and a rich dark-cherry taste, goes perfectly with the pizza I top with red-pepper flakes and spinach.
Monday, December 6
Up at 7:30 with Eli — late for him, but he didn't have any early obligations at school. Last night, our friend JD gave us meats and produce from our local farmers' market, including duck bacon from Hudson Valley Duck Farm. I made Eli a sandwich of scrambled eggs with chile pequins and Scorpion Salt with a challah roll from Silver Moon Bakery. I had my granola and espresso, and we read an editorial about the challenges Biden faces from Russia, Iran, and China. When he was already out the door, I realized I'd not asked him what he'd prefer for dinner, though I saw my wife had taken beef short ribs from the freezer last night, so perhaps I needn't have queried.
I had fight training today for a role I'm going to play in January, so I went there after rowing. It was thrilling and humiliating and exhausting. Chloë Kerwin, the wonderful young actress who will play my daughter in the movie, joined me for a joint session, and it's the first time we've met. After an hour of Krav Maga, we could barely breathe, but at least we'd planned to have lunch together. We did so at Noche Mexicana 2 on 102nd and Amsterdam, which serves the best street tacos in the neighborhood. They've also got fresh jalapeños and a fantastic restaurant-made hot sauce. I ordered two chicken tacos in soft corn tortillas without lettuce; Chloë ordered hers with. After the double workout I'd just had (rowing, then fighting), I ate as a dog would. I felt for Chloë having to behold this, but I couldn't help myself. She ate only one of hers, and over lunch we got to know each other a bit. In the film, we're to be directed by my son Henry, who is her age. We sent him photos of ourselves from the table. At that very moment, Brent Venables was appearing in Norman, Oklahoma, as the new Sooners head coach.
It was a good night for Eli because Lisa indeed made beef-short-ribs adobo. The recipe, from the Philippines, calls for an entire head of garlic, coconut milk, apple-cider vinegar, soy sauce, bay leaves, pepper, and salt. I heard her at it in the kitchen by 4 p.m. because it also involves a good two hours of braising. It was ready by 6:30. I paired it with the remaining half of the bottle of 2010 Château Ferran left over from three nights before. The wine stood up beautifully to the beef; in fact, I couldn't imagine a more suitable pairing since the wine still had enough structure and tannin not to be overpowered by the savory richness. Eli lives for my wife's rendition of this recipe, and I cannot say I blame him. She just nails it. Yet even on this night, I wondered how he'll endure another year and a half alone in the house with us. As if on cue, he rose after 15 minutes to assay another chapter of Moby-Dick. With but a few weeks remaining in the semester, Ahab, the Pequod, and its crew near their demise.
Lisa and I sat alone, a couple of candles burning on the table, and I marveled at how easy it remains to be with her after 30-plus years together, 27 as husband and wife. No doubt a love of food and family along with books, and theater, and movies, and tennis, and travel, and humor, and a thousand other tastes and pursuits I could name have a good deal to do with this. At our wedding, the rabbi adduced the table as a metaphor for marriage, and a table has always centered our home — a round one, where we come together to hash it all out over meals at the beginning and end of each day. Guests welcome. I couldn't imagine it better.