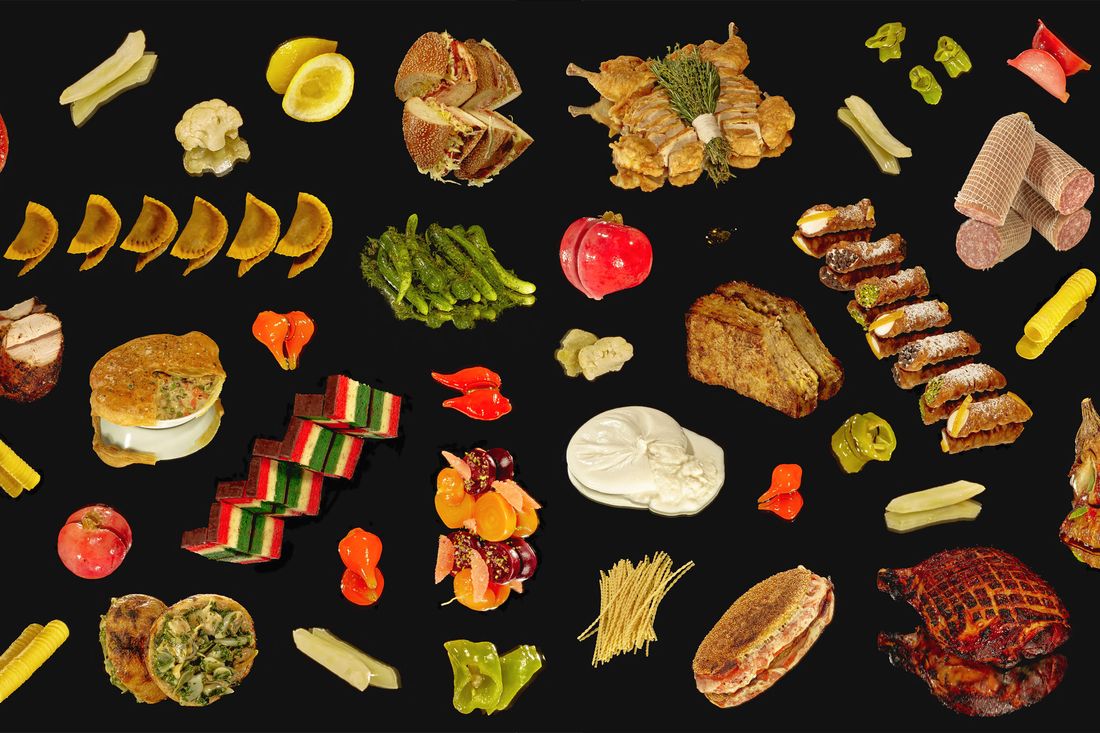 A few of the things you'll find on the menu at Torrisi Deli and Restaurant.
Photo: Marcus McDonald
Along with chicken parms and rainbow cookies, one of Rich Torrisi and Mario Carbone's biggest obsessions is a row of modestly appointed tables for two. The tables reside at Roscioli Salumeria con Cucina in Rome. They're narrow, wood-topped, and simply set. What's unusual about them is that they've been shoved up against a glass retail case loaded with cheeses and prepared foods. Behind and on top of the deli case lie enough cured pork products and assorted Italian foodstuffs to stock a Luciano Pavarotti panic room. Abundance is everywhere. During the day, the tables are removed to make way for shoppers, but at night they get put back. What's the appeal? Well, it's always a bit of a thrill to have a meal in a setting not designed for that purpose. But eating dinner in a place where you shop for dinner elicits an almost Pavlovian response. You see the salumi. You get a whiff of the Parmigiano-Reggiano. Your mouth begins to water. Suddenly, your appetite knows no bounds.
"That dynamic is the thing," says Torrisi. "It's something that really resonates with us." So much so that 11 years ago, the chefs opened their own salumeria con cucina on Mulberry Street: sub-shop-Italian-deli by day, prix fixe restaurant by night. They called it Torrisi Italian Specialties, and it launched their careers. The place fused the chefs' French training and their love of old New York food shops into something new and exciting. But the room was too small, the partners' ambitions too big, and they closed the restaurant in 2014, always intending to resurrect it at a later date.
That time has come. This fall, Torrisi, Carbone, and their partner, Jeff Zalaznick, will unveil Torrisi Deli and Restaurant in the former Chefs Club space at the Puck Building, a block north of the original. An elaborately stocked deli case will conceptually define the space — which accommodates a long bar and a 50-seat back room — and as in Rome, dinner tables will be set up alongside it. Lunch and dinner menus will be distinct, with dinner launching first. During the day, the menu will draw from the deli with antipasti (tuna-stuffed peppers, Sicilian beets with pink grapefruit, Grandma Angie's baked zucchini), daily rotisserie meats (honey-glazed ham, prime rib), and the sort of high-grade heros on which the chefs built their reputations. At night, says Torrisi, "We'll drop two-tops down in front of the deli cases and around the bar and serve a separate bar menu, and in the back room, we'll put some tablecloths down, become a little more fine-dining, and go back to some of that kind of New York City–centric Italian American vibe." This time, the dinner menu will be à la carte, but with dishes ranging from Jamaican beef ravioli and Sammy's Roumanian chopped liver to whole chicken francese, it still reads like a tribute to the chefs' hometown and its polyglot terroir. It's a culinary philosophy you might sum up as "when not in Rome."
275 Mulberry St., at Jersey St.; October.
More From fall preview 2021