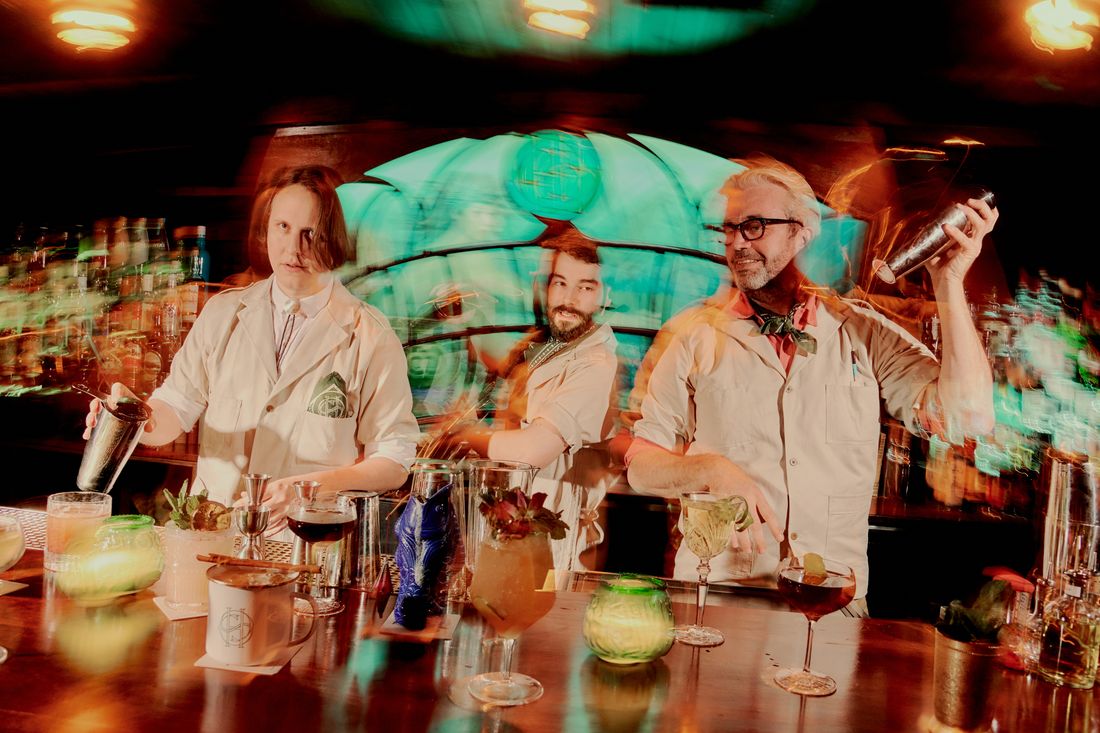 At Sunken Harbor Club, from left: Garret Richard, Stephen Bielawski, and St. John Frizell.
Photo: Victor Llorente
In the realm of pandemic origin stories, the Sunken Harbor Club has a doozy. Those who remember the joint as a weekly tiki night operating for nearly seven years in the original location of St. John Frizell's Red Hook bar, Fort Defiance, only know the half of it. When the onetime pop-up resurfaces November 13 in a former hair salon above the resurrected Gage & Tollner, it will have gained a brand-new centuries-old and completely fabricated identity: the headquarters of a Victorian-era explorers club, revealed during renovations of the landmark restaurant.
As Frizell — a writer before he became a bartender, which helps explain this elaborate yarn — tells the tale, the club's members traveled the world, searching for the most mouthwatering, life-changing libations and bringing the recipes home. These formulas were recorded in secret code in a set of leather-bound volumes, the so-called Compendium Bibendium, that the new owners of Gage & Tollner unearthed and deciphered. Legend has it that an 1872 Brooklyn Eagle ad solicited "interesting people" to join "a social aid and pleasure club … dedicated to the advancement of human society through exploration and experiment in arts and sciences." Its successor offers memberships too: Frizell says that applicants will get their club-issued passport stamped each time they order a spirit from a different country, and after 23 stamps, they earn the right to compose a sea shanty, a requirement for admission.
All this might sound like the lunatic ravings of a shipwrecked sailor (or an overly quarantined writer-barman). The sunken-ship design and surreal atmosphere borrow from influences as eclectic as the New York Yacht Club's dining room, the Molokai Bar at Fort Lauderdale tiki temple Mai-Kai, the paintings of J.M.W. Turner, and the mid-20th-century adventure and travel writing of cocktailist and bon vivant Charles H. Baker Jr. But beyond the intricate concept and nautical décor, Sunken Harbor Club is an ambitious contemporary bar. Frizell and the club's veteran head bartender, Stephen Bielawski, have evolved the original tiki-inspired focus via a menu that channels that genre's immersive fantasy elements into something less geographically and culinarily constraining. With new hire Garret Richard, a tiki scholar and avid student of cocktail scientist Dave Arnold, the team is applying modern techniques to tiki and other classic cocktails. For his part, Frizell had never dabbled in forced carbonation, acid adjusting, and rapid infusion, but he calls these methods "a means to an end, not the showcase. We're doing it because we want the drinks to be super-delicious, not because we want to be clever."
The bar's reputation precedes it, of course, so tiki and tropical classics can be had on request. But the menu highlights new creations like the Bridge of Sighs, which builds on two legendary drinks — the Jungle Bird and the Black Magic — using three Jamaican rums and an Italian bitter, plus cold-brew coffee, ginger, lemon, and falernum. It's frothed in a Hamilton Beach milkshake-maker and served in a ceramic fish. "We didn't want every drink to be just a big bucket of rum and juice," Frizell says. "There's a bitter drink, a spicy drink, a smoky drink, a Manhattan-style drink, a gimlet-style drink, an old-fashioned." Something for everyone — or everyone who can gain entry to the 35-seat no-reservations room, situated up two flights of stairs and behind a beaded-wood curtain. The pandemic has presented challenges to small, windowless, concealed venues like this. Frizell, though, found it afforded a benefit. "I was playing Dungeons & Dragons with my 12-year-old son and his friends every week over Zoom, and it really got my creative juices flowing," he says. "As the dungeon master, I had to come up with a lot of characters and scenarios on the spot. The Compendium Bibendium, the secret codes — all of that is so D&D it's ridiculous."