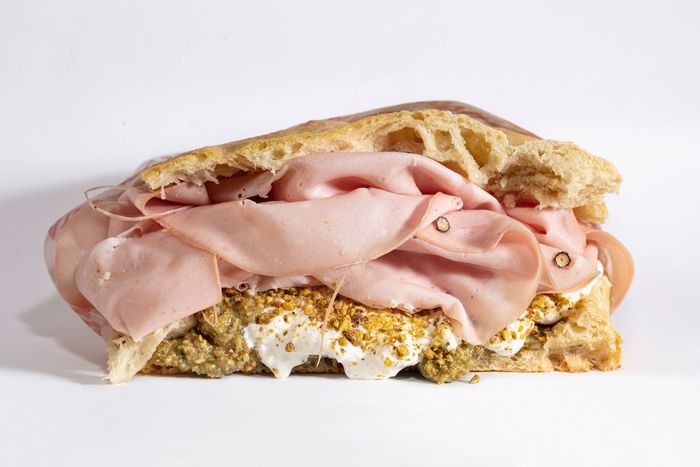 All'Antico Vinaio's La Paradiso.
Photo: Melissa Hom
There's a sandwich on the menu at All'Antico Vinaio (729 Eighth Ave., nr. 46th St.; 917-970-0033), the new midtown branch of the Florentine panini parlor, that will shock and delight you and take you back to your carefree childhood days. Well, it took the Underground Gourmet back because after a Proustian whiff or two, we recognized this sandwich for what it was: a variation on the theme of peanut butter and bologna (a PBB), the pinnacle of a fourth-grade UG's experimental-sandwich phase and the talk of the schoolyard.
The sandwich in question is called La Paradiso, but before you get the wrong idea, we should clarify. All'Antico Vinaio does not traffic in Jif or Skippy or Oscar Mayer mystery meats. Ditto any of the known associates of the PBB, including Hellmann's mayonnaise, French's mustard, Kraft Singles, and sweet pickles. Rather, it specializes in top-shelf salumi and roasts sliced paper thin, then slung lustily between hot and crusty slabs of the Tuscan flatbread schiacciata along with Italian cheeses and a bevy of quirky embellishments. La Paradiso mingles yards of mortadella with gobs of stracciatella. As with all great sandwiches, God is in the condiments — in this case, a fiendish, spreadlike flavor enhancer known as pistachio cream that gets a textural boost from a dusting of chopped pistachios, the combined effect of which eats like a chunky pistachio butter. In short, this sandwich is porky, nutty, oozy, creamy, and crunchy in equally mouthwatering measure — a PBB to end all PBBs, even if it's more accurate to refer to it as a PBM (pistachio butter and mortadella).
All'Antico Vinaio's 15 other sandwiches are built along similar lines. Nearly as good as La Paradiso are La Favolosa (fennel salami and spicy eggplant slathered in artichoke and Pecorino creams) and the pork-on-pork L'Inferno (porchetta paired with 'nduja cream). Recently introduced to this location is the deferential and delicious New Yorker, combining roast beef, tomato, arugula, and an onion-porcini cream that reminded us of French onion dip. All of them come on that same sturdy house-baked flatbread, which is something of a mystery unto itself: Depending on which Tuscan you happen to ask, schiacciata is like focaccia, or it isn't anything of the sort. Whatever it is, the All'Antico Vinaio version makes for superb sandwich bread — a thin and crunchy crust combined with a cool and creamy crumb. When aficionados muse on the notion that a good sandwich is all about the bread, it's likely they've just encountered something stuffed into a horizontally split schiacciata.
As for value for money, AAV's schiacciata sandwiches are hard to beat. They range in price from $9 to $18, which may seem high, but they're huge. We referred to them earlier as panini, but we take it back. There's nothing "ini" about them. One is lunch for two. Two is a large-format feast. And three is a Super Bowl party. In spirit, they remind us of the sandwiches at Alidoro crossed with the ones at the late great Saltie. In size and scale, they have more in common with the Italian American behemoths at Red Hook's Defonte's or Astoria's Sal, Kris & Charlie's.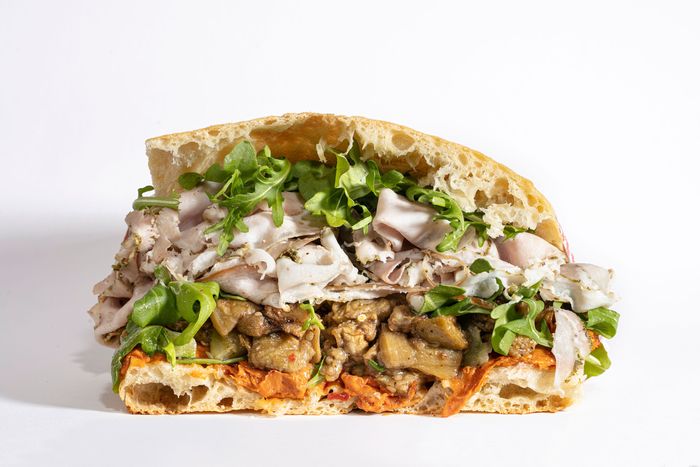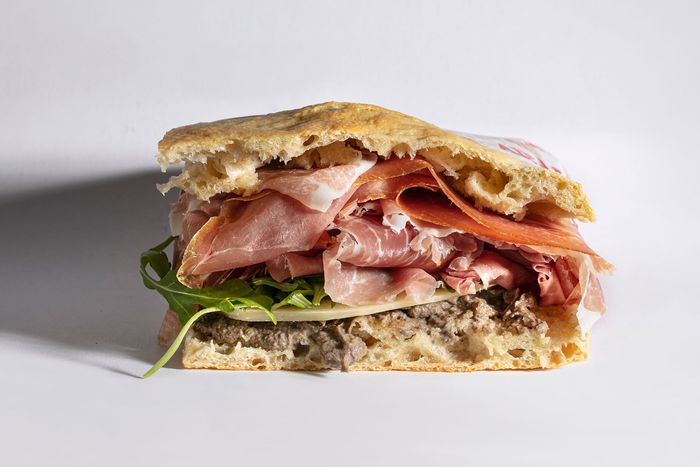 For now, you have to take your schiacciata to go or eat it at a narrow feeding ledge inside the shop. But Tanya Bastianich Manuali, a partner in the New York branch along with her brother, Joe Bastianich, and AAV owner Tommy Mazzanti, says an adjacent dining room — and, with it, a beer-and-wine license — is in the works.
There's some good bread downtown at Galioto's (131 Mulberry St., nr. Hester St.; 212-518-7046) but no meats or cheeses — just their quotation-marked simulacra: "ham" and, oddly, "corned beef" on the muffuletta, almond-milk "mozzarella" on the caprese, and so on. According to the owners, who are affiliated with the vegan Mexican chainlet Jajaja and the neighborhood mainstay Da Gennaro right next door, this counter-service, retro-modern "plant-based Italian delicatessen" is the first of its kind in Little Italy. Some folks reading this may hope it's the last. And if all we had sampled was that thick, rubbery stand-in for ham, we might agree.
But, in fact, there were many pleasant surprises, like crisp rings of fried calamari fashioned from hearts of palm and comforting cold pasta salads from the deli case. Even pork-store purists may want to consider the "meatball" parm: With its persuasive firm but slightly crumbly texture and classic Italian seasoning, it just may be the best use of Impossible meat we've tried — an achievement enhanced by zingy tomato sauce and a nice crusty roll. The custardy "mozz" doesn't add anything, but it doesn't ruin it, either. That's a good thing because it shows up in another winner, the eggplant and harissa aïoli on springy pizza bianca, a sandwich that proves that vegetables when done well — in this case, allegedly roasted but as rich, oily, and succulent as in fried form — need no meat, or even "meat," to triumph.