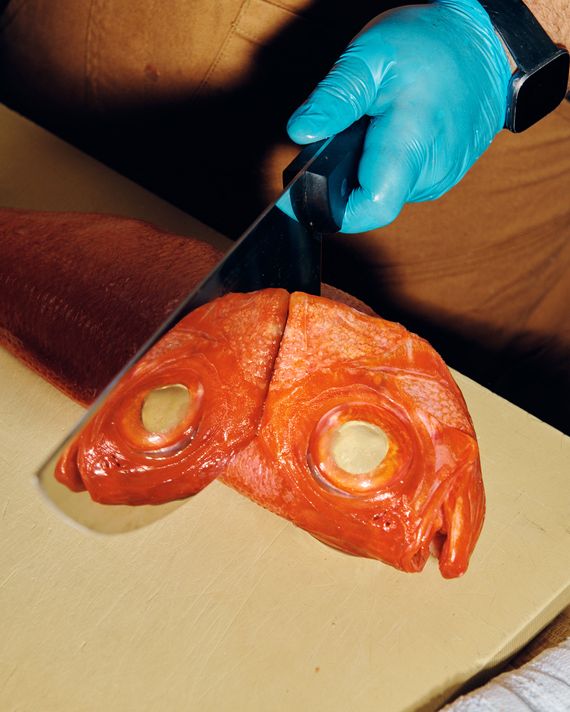 In the kitchen at Foxface Natural. Photo: Jonah Rosenberg
In the East Village, there's a pasta unlike any other. A single long raviolo, called girella — saw-toothed and coiled like a snake — is surrounded by a wreath of pea shoots, some peas, and a tableside bath of mint-peapod broth. Inside, the pasta is plump with clove-and-cinnamon-spiced blood sausage. As the broth mixes with the sausage, it becomes rich and bloody, which may make you think of nam tok, the blood-enriched Thai soup. But the peas and mint lighten it, and it becomes something else entirely.
This dish is served at Foxface Natural, a two-month-old restaurant near the upper boundary of Avenue A. Skaters, aging punks, and college kids pass by the storefront's windows while, on the night I was there, "I Fucked Yr Mom," by the band Sorry Mom, played on the speakers inside. Friends of the owners popped by for a glass of Hudson Valley pét-nat, and I overheard another customer tell their friend that, these days, they really aren't eating anywhere else.
That's likely because the owners, Sivan Lahat and Ori Kushnir, along with their chef David Santos (who worked at places like Bouley and Per Se), are actively trying to avoid falling into a trap of sameness. (How many "coastal Italian" restaurants have opened this year?)
"I think, for me, the perspective is what do I have to offer?" says Kushnir. "If I want to just open another restaurant in New York that's like everybody else's, what's the point?"
Kushnir and Lahat aren't chefs or restaurateurs by training. They were active on the earliest digital food forums — Chowhound, eGullet, Mouthfuls — but in the late '90s, they worked at a start-up that developed automated stock-trading software in New York. A brief stint followed in Minneapolis, where they worked for a company then called Walleye Trading. As a founder, Kushnir got an equity stake that gave the couple real financial security. They lived in Japan for a bit (where they ran their own wine bar) and in 2017 moved back to the East Village.
Their landlord at the time knew they were food obsessives and asked if they were at all interested in taking over the small space downstairs. They had debated a restaurant "for years," according to Lahat, and the commute — a few flights of stairs — made the idea irresistible. In late 2018, they opened Foxface Sandwiches and quickly gained a reputation for their unlikely fillings: camel kebabs, elk osso buco, bison heart with tahini. At the time, Kushnir told New York Times critic Pete Wells that the unifying theme of the ever-changing menu was "dishes we like to eat, reimagined as sandwiches."
One Mouthfuls user named Dennis Lopez was curious because he had followed Kushnir's posts on the forum for years, finding him to be outspoken and happy to explain his high standards. Naturally, Lopez wondered, How would that translate to a sandwich stand? He says, "I was like, I think this is going to be awesome, but wouldn't it be a laugh if it wasn't?" Lopez discovered that it was, in fact, awesome: "It was ultra-epic."
In 2019, Lahat and Kushnir announced they would be turning a space on Avenue A into a provisions shop; the targeted opening was set for spring 2020. It didn't happen, of course. Instead, they waited for COVID restrictions to lift, closed the original sandwich shop, and made a big pivot. The provisions shop was scrapped. "We changed our minds about three times but eventually said, 'Okay, New York is back, and people want restaurants,'" Kushnir recalls. "We wanted a restaurant," Lahat clarifies.
Thanks to their past lives in the finance world — they recently purchased the St. Marks building that housed their original sandwich shop for nearly $9 million — they had access to something most budding restaurateurs do not: capital. Between construction, permits, and the entire drawn-out process of opening a restaurant, the cost of running one can sink an owner early. "The whole framework is making people streamline, not innovate," Lahat says. "By the time you open, you're so much in debt that what can you do, you know? This is a tough reality about New York right now." But without having to worry about outside investors — who often arrive with their own ideas and expectations — Lahat and Kushnir can essentially do whatever they want. "There's no pressure to be open seven days a week, lunch and dinner, brunch, maximize revenues today," Kushnir says. "We don't have to do any of that before we're ready."
And it means that if they want to serve purple clams from Oregon in cucumber gazpacho, or quail (plated claws up) with carrot-coriander purée, there's nobody to tell them they should really consider adding a smashburger or a $120 shellfish tower to the menu. Where other chefs' creativity can be hemmed in by financial pressures, Lahat and Kushnir don't have anyone breathing down their neck to make the menu more conventional. Santos has free rein to cook what he feels like; all his bosses want is to collaborate. "People keep asking me what type of cuisine this is," Lahat says. "And I'm like, 'I don't have a PR sentence to describe this in a concise, two-word way.'"
The menu features few conventional proteins. Instead, there is Boer goat from upstate, smoked and served with sourdough pita that soaks up all the juices. A few weeks back, a plate of tonnato sauce was topped with bluefin-tuna confit and pork tongue. "Except for pantry staples like canola oil, you know, I mean really we try to get every ingredient directly from the source," Lahat says. The couple takes on the extra work that comes from avoiding third-party distributors because it means they can build relationships and ultimately secure better products. "The tragedy of the New York restaurant scene is that almost everything here goes through a warehouse, maybe more than one warehouse," Lahat says. "By the time you get it, it's already been sitting there for a while. Probably in a big, gigantic pile, which does not support quality. It supports the middleman."
At work. Photo: Jonah Rosenberg
They'll get the call from a day boat that found only a few striped bass in Montauk. That's enough for Foxface, so they'll plate it with chraime, a spiced tomato stew from North Africa that's also associated with Israel. The food is a hodgepodge by design — "When you see a menu that's the same old chicken, beef, salmon, it's boring as heck," Lahat says — and a testament to the work that has to happen behind the scenes to offer something that has been missing from Manhattan dining for a while now: a real sense of adventure.