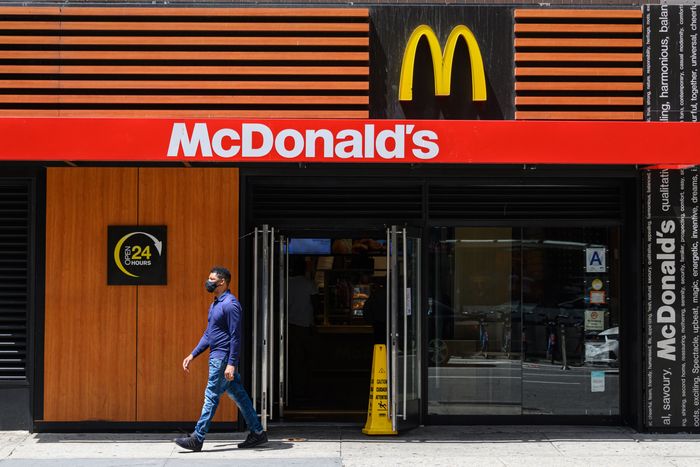 Photo: Noam Galai/Getty Images
McDonald's is partnering with the federal government to spread the word about the COVID-19 vaccine, on the theory that you've got to reach people where they're at — and, given that there are nearly 14,000 locations in the U.S., it stands to reason that at least some people are at McDonald's.
In July, the chain will roll out redesigned McCafé hot-coffee cups and delivery-box seal stickers emblazoned with the U.S. Department of Health and Human Services' "We Can Do This" slogan, with text directing diners to vaccines.gov, where they can make their vaxx appointments. "Ending this pandemic requires all of us working together to do our part, including encouraging our friends and family to get vaccinated," said HHS Secretary Xavier Becerra, praising the McMeasure. "This effort will help more people make informed decisions about their health and learn about steps they can take to protect themselves and their communities."
If you can't wait until July for the McStamp of vaccine approval, don't worry — starting this month, the restaurant will also dedicate its Times Square billboard to displaying vaccine information. For what it's worth, a source told CNN the government didn't pay McDonald's for the promotion.
McDonald's, one might note, is not obviously well-suited to public-health messaging, on the basis of both its menu (processed, fried, not especially immune-boosting) and its labor conditions, especially in the first months of the pandemic. Last May, employees in 20 cities went on strike over the company's early COVID-19 response, demanding adequate protective gear and guaranteed access to paid sick leave, as well as hazard pay. But you can't argue the megachain doesn't have reach.
And at this point, that matters. So far, 46 percent of people in the U.S. have had at least one shot, according to the New York Times' tracker, and the numbers are even better in New York City, which was up to 55 percent last week. But the rate of vaccinations is slowing down, with disparities falling along racial and economic lines, as well as partisan ones, with Republican men being the least likely demographic to get vaxxed. If free Krispy Kreme doughnuts couldn't sell hesitant Americans on vaccines, perhaps branded fast-food cups will do the trick?