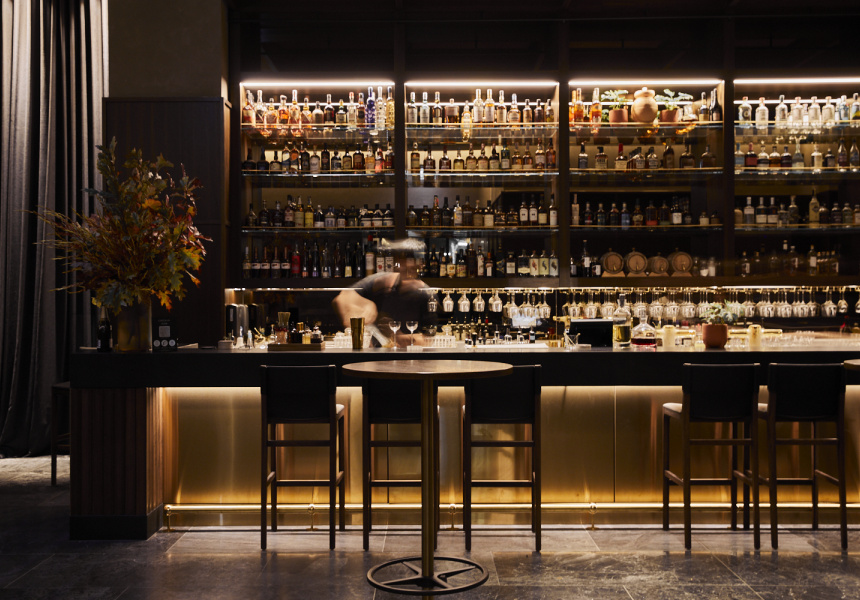 After a long lockdown, Danny Natoli (Zia Rina's Cucina co-owner and ex-Neptune Food and Wine head chef) and Adrian Li (also of Rina's, Tokyo Tina and the now-closed Saigon Sally) were in awe stepping into the cavernous, golden-lit space that is Next Hotel's third-floor restaurant and bar. Natoli's response was "La Madonna!" – an exclamation his Sicilian father uses that means something like "Oh my God!" Hence the restaurant's name.
It's an understandable reaction. When you enter the 80 Collins-precinct space, you're struck by a sweeping marble staircase (with a dramatic chandelier made from hundreds of gold chains); artist and geologist Jodie Gray's suspended ceramics installation; a grandiose, four-metre-high glass cabinet for cheese and charcuterie; and an area cornered off by a wall of barrels filled with aging cocktails, spirits and herbal liquors.
The idea behind the barrel room is there'll be a playful, evolving list of barrel-aged booze. Start at the bar with an amphora-aged Negroni, which swaps out Campari for St George Spirits' Bruto Americano, blended with Widges gin and Mancino rosso vermouth. Or there's a Martini matured for two weeks in ex-chardonnay barrels, and a Manhattan that's spent four weeks in new charred-oak barrels.
"Spirits master" Phil Smithers put some blanco tequila on oak for six weeks, and it came out more like a deep toffee-coloured reposado. "When you barrel something … it's like waiting for Christmas to discover the final properties," Smithers says. "You get to see what the profile is like and allow it to grow and build and become something that is completely different from the base product. You can't buy that tequila anywhere else."
Next, move on to the restaurant, which features classics from Rina's – "stuff we have cooked over the last three years that worked really well for us and [is] delicious", says Li. There are riffs on traditional Italian dishes, as well as some less obvious offerings.
Natoli and Li are such seasoned kitchen companions that their synergy is palpable. They make snacks together that often end up as dishes (and have a habit of finishing each other's sentences).
"Right now we know that figs are good, so I've put them with pine nuts, spiced leatherwood honey, gorgonzola," Natoli says. "I've smashed it out like it's a carpaccio because Melbournians like smashed things." There's also an oxheart tomato compressed in white soy, stuffed with stracciatella and sitting in basil and yuzu kosho oil. Other highlights include smoky ox-tongue skewers with salsa verde; crisp chicken-wing parmigiana; and pappardelle with slow-cooked beef, pork and fennel ragu.
"I wanted to learn [to make] Peking duck over Covid," says Li. "And I [did], after 80-something ducks." The dry-aged iteration here isn't traditional, though; it's glazed with Campari, rice-malt syrup and coriander seed, hung, and then roasted so the skin turns glassy and crisp. It's served by the whole or half with seasonal sides such as brussels sprouts in brown butter with hazelnuts.
For dessert, there's a decadent ice-creamy riff on cannoli. Li makes a Valrhona dark-chocolate shell and fills it with frozen chocolate mousse made with chocolate from the Mornington Peninsula's Cuvée Chocolate (as well as bitter Fernet-Branca).
Natoli has had a lot of involvement with the wine list, favouring southern Italian varietals – "people shouldn't be drinking so much pinot noir; they should be drinking a sagrantino or a nero d'Avola" – with restaurant manager Dom Getson broadening the offering. He opts for smaller-run bottles, such as the Stoney Rise chardonnay from the Tamar Valley and the Inkwell Road to Joy shiraz primitivo from McLaren Vale.
La Madonna

Level 3 103 Little Collins Street, Melbourne

03 9118 3333
Hours:

Mon to Wed 7am–10am, 12pm–3pm, 6pm–9.30pm

Thu 7am–10am, 12pm–3pm, 6pm–10pm

Fri 7am–10am, 12pm–3pm, 6pm–9.30pm

Sat & Sun 7am–11am, 12pm–3pm, 6pm–9.30pm