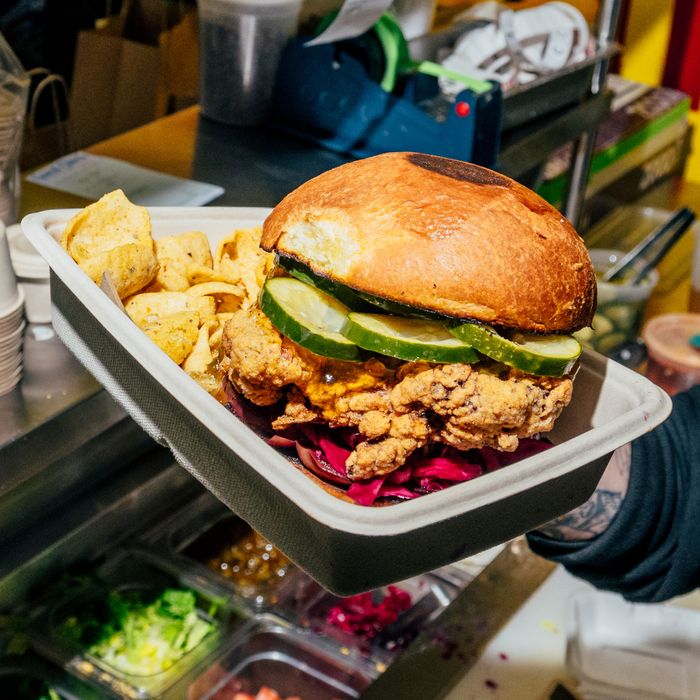 The green chile fried chicken sandwich.
Photo: DeSean McClinton-Holland
On a recent weekday, Eric See was sitting outside Ursula, the tiny Crown Heights café he opened in the fall of 2020, wondering what would happen to it. Ursula is, by all outward appearances, as successful as any business can be: praise rolling in, lines regularly stretching out the door, its cheerful workers serving as many people as the space can physically handle. But now things must change. In January, See posted a GoFundMe campaign outlining the situation: "Ursula Brooklyn has to find a new home," he wrote, setting a target of $50,000, which is quite a bit of money, objectively, and also very little money in the world of New York City real estate.
In some ways, this necessary move couldn't have come at a worse time. Ursula is currently nominated for the James Beard Foundation's Best New Restaurant award, a big honor for such a small business. (Past winners include Frenchette, Le Coucou, and David Chang's Momofuku Ko.) A victory for Ursula would mean the kind of national acclaim that tends to ensure longevity within a notoriously fickle industry, even if the restaurant, in its current form, was never designed to stick around.
Ursula's days at its current home, 724 Sterling Place, were numbered from the start. See closed his previous restaurant, the Awkward Scone, in the summer of 2020 and wasn't looking to make long-term commitments. He drove around the country with his Doberman. He thought about moving out of New York until he got a deal on an apartment — a friend leaving the city grandfathered him into her old lease — so he signed on and started to think seriously about his next moves.
He had met restaurateur Claire Sprouse through mutual-aid work, and they'd worked together on a pop-up at her bar, Hunky Dory. See knew that Sprouse had signed the lease at 724 Sterling for a wine-bar project that, because of the pandemic, was put on indefinite hold. "I was like, 'Claire, I want to be here for a year. What are you doing with that space?'" He had an idea he wanted to try. "If it works out," he told her at the time, "then it works out, and I move on to a new space. And if it doesn't, then at least it wasn't a big space I had to dump a ton of money into."
Ursula is a celebration of the "hyperregional cuisine" that See grew up eating. "It's a bit of a love letter to my childhood," he reflects. "And also just me wanting to introduce Brooklyn to New Mexican food, which goes far beyond the breakfast burrito." There are breakfast burritos, obviously, as well as sopapillas, fried pastry dough stuffed with beans and rice or meat and bathed in red chile; green chile fried chicken sandwiches; sweets like blood orange–almond pastelitos and blue corn-pine nut chocolate chip cookies; and a rotating list of specials, often developed by his staff. "The idea was that this was going to be a journey for me," says See. "Kind of going back through my family's heritage." Every few weeks, his parents in Albuquerque ship him another batch of beans.
By design, it is modest. Nothing on the menu costs more than $15. The restaurant is open Wednesday to Sunday, from 8 a.m. until 4 or 5 p.m., and has no indoor seating, no phone number, and no burritos past noon. "We were very fortunate to have a line the day that we opened," says See.
One year turned into two. See's staff grew from 4 people to 14. Now to support that team at the rate See feels is ethical ($18 to $22 an hour for the kitchen; $15 to $16 plus tips for baristas), he says, "We need to sell a lot more food or sell alcohol," and there is no way to sugarcoat it: "We're at our maximum." The tiny walk-in makes storage difficult and buying in bulk nearly impossible, and the kitchen is too small for the volume of food they're already churning out. "We physically can't move any faster or sell anymore food than we already are," See concludes. "I'm ready to put food on plates. My staff is ready to put food on plates. We can't do it here. I don't have the space to put plates anywhere." There is fundamentally only so much you can do with a restaurant that See estimates is "maybe" 600 square feet before there's nowhere else to go.
Not that any of this is a surprise. "It was always the understanding that Claire was going to take the space back at some point," See reiterates, and besides, it's time for Ursula to go. He wants to do dinner service. He wants some indoor seating. There are whole swaths of New Mexican cooking he'd like to explore but hasn't touched at Ursula 1.0: "We don't have a big enough business for lunch for me to want to invest the money into playing with game meats like elk and bison," he says wistfully. "That's absolutely something I want to implement."
He also wants to ensure he won't lose the essence of what he has built. How do you grow and stay true to who and what you are? With Ursula, the little version, See has been trying to build a model that is fundamentally humane, paying staff livable wages, giving them consistent schedules — "I am very, very cognizant of trying not to alter their hours whatsoever" — and offering them a real creative outlet. "They jump in on developing the specials or are able to impart some of their ethnic or national background or, like, how they grew up," he says. Ursula has also become known for its queer pop-up series, in which See hands over the kitchen to a rotating roster of up-and-coming chefs.
Many of the decisions he has made so far would not necessarily be the choices you would make if your goal, above all else, was to maximize profits. You might sell your incredibly successful burritos all day long, for example. But that wouldn't be creatively fulfilling, so at Ursula, that isn't what they do.
To grow, See knows he'll have to take on investors, which is something he has never done before, but which, it has become clear to him, is necessary now. "You've got to have $40,000 up front just to sign the lease," he says, and then there are fees (legal, architectural), plus the cost of the build-out. "I mean, my family doesn't have that," he concedes. "I don't, and that's not in my friend group. We're all a little scrappy."
Then there is the issue of actually finding the space. So far, See hasn't had any luck, and the prestige of a James Beard nomination doesn't carry as much weight with potential landlords as he might have hoped. Recently he made an offer on a space; the broker, he recalls, was very excited about the nomination: "She was like, Oh my fucking God, you have to put that on your application. That's so exciting." That was three weeks ago; he hasn't heard back about the lease.
In the meantime, See is preparing his first pitch deck. He has had interest; there are meetings. And he's still trying to figure out how to make everything work on his terms. He wants investors who can contribute skills and knowledge that he doesn't have — "You can look at it like finding mentors," he reasons — or alternatively, silent partners who "aren't going to try to dabble or tell you what to do." In many ways, Ursula's charm stems from the fact that See steadfastly avoided building the kind of business that Ursula could now become. He is committed to making sure that doesn't happen, that whatever happens next stays true to the original spirit of the place: "I'm not looking for somebody who's gonna lend me their money on the contingency of selling burritos all day."