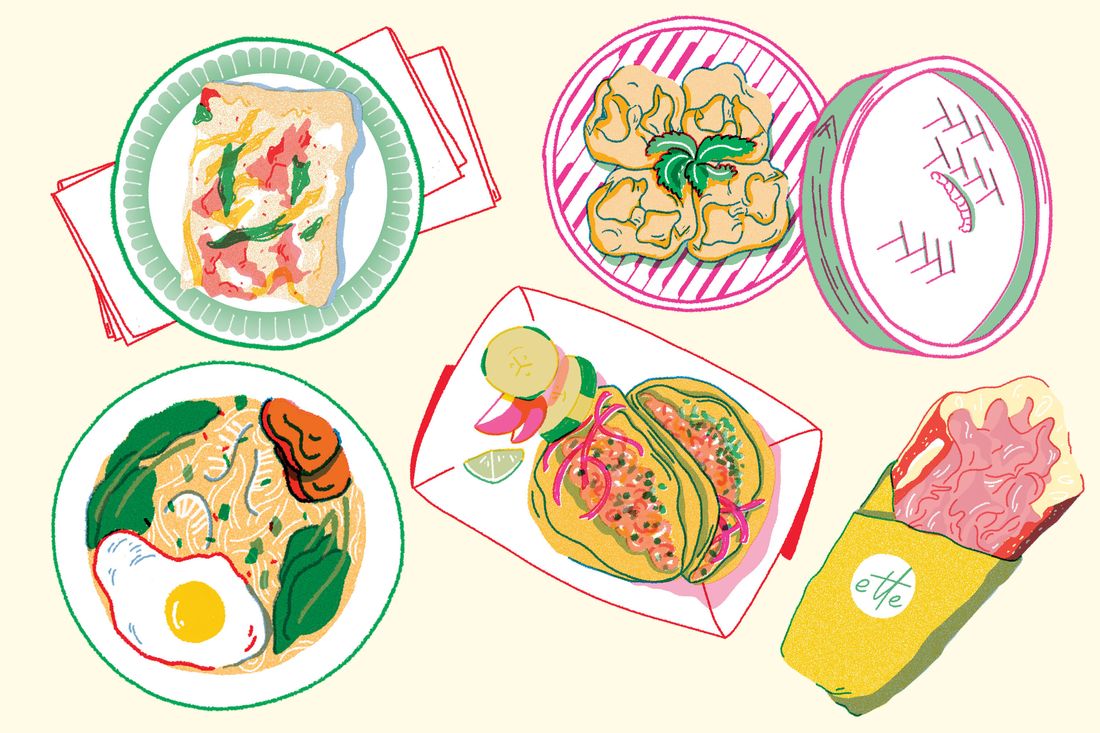 New York State has accelerated the vaccination pace, but snagging a spot is still a battle of reflexes and endurance: Whoever's quickest on the click or longest on the telephone hold line triumphs. When you do succeed, your appointment may take you to a part of the city — or even of your home borough, in the case of geographically restricted megasites like Citi Field and Yankee Stadium — where you don't spend much time. Why not make an outing of it and mark the momentous occasion with a pit stop at a nearby streetery or takeout joint or fabled taco truck? A destination shot calls for a destination nosh.
If you're getting the shot at …
600 11th Ave.; takeout and outdoor dining available
For a celebratory slice (or pie), head to the Gotham West Market stall where grandma-pizza specialist Mike Bergemann combines slice-joint nostalgia with toppings-combo whimsy. Besides the classics — red, white, cheese — there is often a sandwich-inspired special (the muffuletta, the meatball parm, and lately the cheesesteak).
10 Hudson Yards; takeout, outdoor dining, and indoor dining available
According to José Andrés, Spaniards, with the exception of Jacques Pépin, are the greatest egg cooks in the world, a half-jokey boast substantiated here by the stupendous Huevos Rotos Casa Lucio: olive-oil-fried eggs plopped on a pile of fat fries. Cut into the eggs and let the runny yolks ooze over the potatoes.
498 Ninth Ave.; takeout, outdoor dining, and indoor dining available
There are so many delicious Central Asian dishes on the menu you'll want to come back the next day. If it's your first Javits jab, get the Uzbek-style stuffed dumplings called manti and a nice beefy bowl of lagman soup. If you're a second-shotter, why not live it up and order the kebab party platter?
2795 Frederick Douglass Blvd.; takeout, outdoor dining, and indoor dining available
Ethiopian restaurants abound in Harlem, but Benyam benefits by proximity: Any Bronxite feeling energized post-shot can leg it over the Harlem River–spanning Macombs Dam Bridge. Grab a sidewalk seat or take your vibrantly seasoned veggie sampler to go, folded up in a spongy swath of the flatbread injera — a portable work of edible origami.
2129 Amsterdam Ave.; takeout, outdoor dining, and indoor dining available
Amy Pryke debuted her fast-casual Singaporean menu at Queens Night Market and opened shop close enough to the stadium's Concourse home to merit a cross-river drive. The liberties she takes with her homeland's specialties — rendering laksa less soupy, translating chile crab into a crustacean dip — prime them for takeout and delivery.
188 Bakery Cuchifritos
158 E. 188th St., the Bronx; takeout and indoor dining available
Since 1982, this bustling Latin lunch counter has been sizzling pig parts in hot fat with great panache. But there is more to eat here than that, including a slew of fritters and the house-special mofongo: a garlic-infused mash of fried plantains and chicharrones molded into a ball the size of a pomelo. Puerto Rican soul food at its finest.
Roosevelt Ave., at 78th St., Jackson Heights; takeout available
New York's birria-taco craze can be traced back to this trendsetting truck, where the Tijuana-by-way-of-L.A. style finds its apotheosis in a heady beef stew, meat-flecked consommé, and corn tortillas baptized in the chile-spiked jus before being warmed on the griddle. Evenings only.
40-46 Main St., Flushing; takeout and indoor dining available
Forced by the pandemic to close his Singaporean restaurant Yummy Tummy, chef Richard Chan rallied with a quick-serve cheung-fun shop that recasts the Cantonese rice roll with the flavors of multiple Asian cuisines. Try a "destination creation" like Malaysian chicken curry or build your own with mix-and-match fillings, toppings, and sauces.
Roosevelt Ave., nr. 108th st., Corona; takeout available
If you want to mark the occasion with a sandwich, it ought to be big and it ought to be special. Neza's kitchen-sink torta, the Pumas (essentially a torta Cubana), fits the bill: eggs, beans, chorizo, lettuce, tomato, hot sauce, mayo, avocado, jalapeño, headcheese, ham, queso, a hot dog, a chicken cutlet, and — believe it or not — gravity-defying balance.
81 Division St.; takeout available
The reborn Chinatown tofu factory has modernized the equipment but clung to its culinary roots. There is fresh soy milk and blocks of tofu, but the real treat is custardy tofu pudding either savory (with pickled radish and dried shrimp) or sweet (crowned with red beans, grass jelly, and tapioca balls).
220 Church St.; takeout and indoor dining available
Even through two COVID masks, still the best-smelling vestibule in town. Last fall, Lee Hanson and Riad Nasr took over the ovens in the office-building lobby where Roger Gural once ran his semi-secret Arcade Bakery. In a nod to the old menu, they have added pizza and a jambon-beurre on a crackly baguette that would do their predecessor proud.
1 Doyers St.; takeout, outdoor dining, and indoor dining available
As the name says, hand-pulled soup noodles are this undersung spot's raison d'être. But the kitchen's "knife-peeled" variety deserves at least a co-star credit: thick, chewy shards of starch furiously whittled off a block of dough into a pot of boiling water. Get them pan-fried with roast pork and eat them in an outdoor noodle hut on the street.
Fifth Ave., nr. 54th St., Sunset Park; takeout available
The original truck that spawned a mini-empire draws late-night crowds with a full menu of tortas, burritos, and tacos but is perhaps best known for its al pastor, carved off the spit in full, glorious view, and its indispensable green salsa.
5121 Eighth Ave., Sunset Park; takeout available
Vaccines are well and good, but the hearty fare at this Yunnan-province rice-noodle specialist provides health-giving benefits of its own. A bracing bowl of the Dumpling With Noodle in Hot & Sour Sauce,
for instance, could clear a sinus at 60 paces.
7523 Third Ave., Bay Ridge; takeout and indoor dining available
Yes, this mecca of meze is 20 blocks away from the Terminal, but what's a city mile when you're talking about some of New York's best Middle Eastern cooking — everything from baba ghanoush to Brussels sprouts to weekend specials like a life-affirming lamb shank.