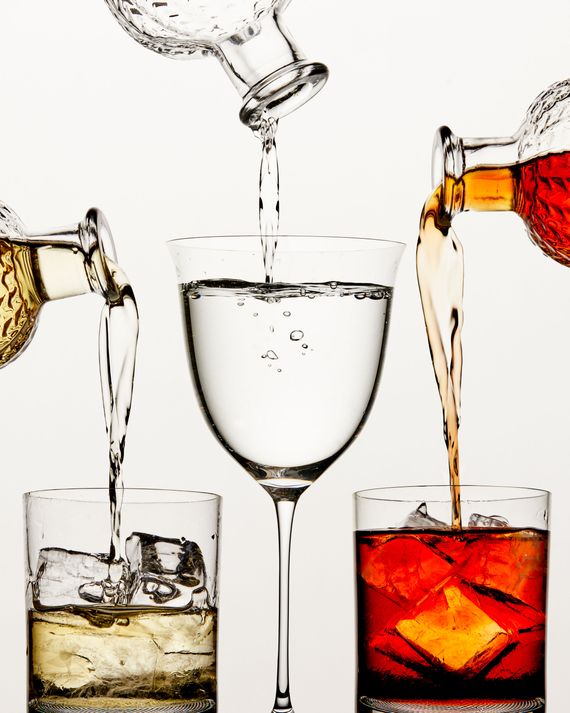 Photo: Marcus McDonald; Lobmeyr glasses, Courtesy of Stillfried
It takes planning to grab a bar seat at Via Carota. Somewhere in the past few years, the rustic Italian restaurant, which Rita Sodi and Jody Williams opened on Grove Street in 2014, transformed from a well-liked, critically appreciated neighborhood place (always busy, rarely mobbed) to a full-blown phenomenon — fueled in part by TikTok fame, naturally — where celebrities casually fill the outdoor seats and waits for a table stretch to multiple hours as tourists and New Yorkers alike put down their names in hopes of being able to try the svizzerina or that green salad.
The bad news is you'll still have to endure the crowds if you want to eat Via Carota's fried rabbit, but at least now you can get a drink without so much effort. This week, Sodi and Williams are launching Via Carota Craft Cocktails, a new line of pre-bottled drinks. To start, the duo are offering six classics: a martini, Negronis both red and white, a Manhattan, an old-fashioned, and, yes, even an espresso martini. Premade cocktails have a dubious reputation, but a recent taste test suggests Via Carota is onto something: The old-fashioned is stiff, the Manhattan is sharp, and the martini is surprisingly gentle (while not branded as such, it leans heavy into 50/50 territory — so don't leave it in the freezer too long). The Negroni, perhaps the drink that lends itself most to bottling and storing, is more complex than the usual Campari-based drink with a noticeably mentholated undertone. As one taster put it, "If I got this at the bar at Via Carota, I'd be happy." ("Of course that's the goal, to make bar-quality cocktails," says Williams. "If we couldn't do it, we wouldn't be here.")
The real appeal for Carota-heads might be the bottles themselves, bell-shaped vessels of chevron-patterned glass that would be at home in the finest hotels bars of Milan, with a tan-and-gold Via Carota label that will shine on social media.
The drinks, which are available on the Via Carota Craft Cocktails website and cost $39 per 375-ml. bottle (enough for about four to six martinis, depending on your pour), are the first foray into home products for Sodi and Williams, who say they launched the company with "friends from Via Carota": The CEO is Bart Silvestro, who has decades of experience working for food and beverage companies, and the VP of operations is Isaiah Sager. Both worked at ROAR Organic, a beverage company, until 2021. They're offering glassware to go along with the drinks, and — if this first rollout goes well — have their next product lined up. "We want to offer a spritz — Negroni sbagliato," Williams says. "That's what we're working on, that sort of completes it."