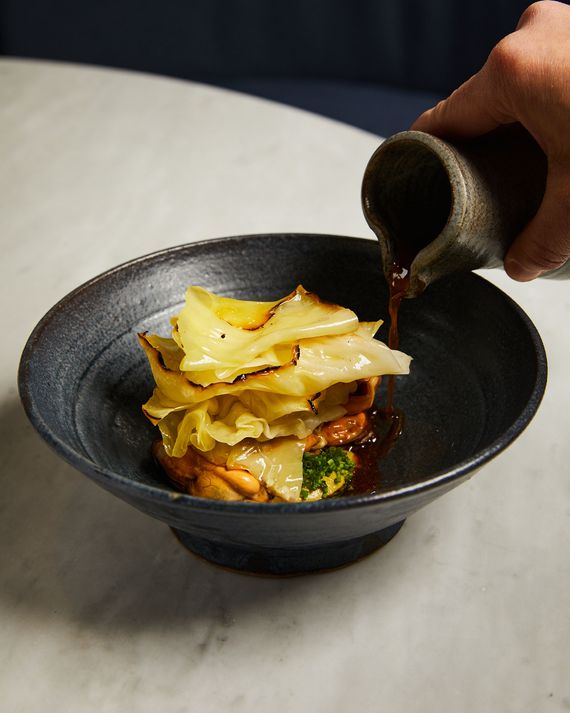 Maine mussels with cabbage and onion reduction at Mena.
Photo: Colin Clark
Restaurant cooking is an itinerant business, especially these days, and over the past several years, few cooks have traveled more widely around the city (or had their travels chronicled more avidly) than Victoria Blamey. After working in a series of high-profile kitchens, including Corton and Atera, the Chilean-born chef made her mark the way many chefs used to do, with an elegantly imagined beefburger at the reboot of the old West Village bar Chumley's ("an erotic poem on the theme of fat," Pete Wells called it). From there, it was on to Gotham Bar and Grill for a brief but well-reviewed stint, followed, once the COVID tsunami hit, by a series of "residencies" — one in Connecticut, another at the Fulgurances Laundromat in Greenpoint, and a third at the Stone Barns Center for Food and Agriculture out in Westchester.
Now comes Mena, a shoe box of a place off the lobby of the Walker Hotel in Tribeca, which possesses that particular sense of style and permanence that, for one reason or another, has eluded Blamey during the course of her peripatetic big-city career. The tidy 45-seat establishment (named for the chef's great-aunt) features clean marble tabletops, whitewashed walls, and a comfortable banquette covered in blue felt running the length of the room. Modish South American tunes mingle with the comforting sound of cocktails being shaken at the bar, and if you happen to come in from the discreet entrance off Cortlandt Alley, it feels like the type of sophisticated, unexpected place you might have stumbled on, back in the carefree pre-pandemic times, after a pleasant day wandering the streets of Lisbon, say, or Barcelona or Santiago.
Blamey's compact menu, which is a modified prix fixe costing a little over $100 for three courses with options plus dessert, exudes a similar kind of quirky, ambitious pre-COVID charm. To the disappointment of some of my guests, her crowd-pleasing burger is nowhere in sight. Instead, there is a silvery Japanese sardine paired with wiri wiri peppers and potato salad, and South American locro chowder served in an earthenware bowl. If you had visited recently, you might have chosen from carefully sourced shellfish (mussels, oysters, and cherrystones) or blood sausage or an entire roasted squab for two, glazed with honey and presented deconstructed, including the heart and neatly spliced head, on a square of black slate.
The aforementioned silvery sardine from Tokyo Bay tasted of comfort and the sea, and it was plated for extra freshness with a decorative thatch of cool sliced daikon on top. There were also strips of surf clam in a broth layered with citrus (Seville oranges and Nagami kumquats, for the record), and mini doughnut rings made of scallop with pickled sunchokes in the middle, placed, a bit awkwardly, in a vividly orange leche de tigre sauce. The next wave of dishes included Spanish lentils topped with frizzled shavings of trumpet mushroom and a play on the French version of stuffed cabbage (chou farci), which Blamey and her cooks expertly construct with a smooth ivory-colored scallop mousse squeezed between discs of green sea lettuce (it's a kind of algae) and rest on a foamy, chowder like reduction.
Blamey has a fondness for spicy, bitter, artfully earthy combinations in this new, more challenging post-burger phase of her career, and inevitably some of her experiments work better than others. On one of my visits, the Japanese sardine was replaced by milder slices of kuromutsu bluefish, the subtle flavor of which was mostly obliterated by a giant dab of smoked-avocado purée. A perfectly cooked leg of pheasant was overwhelmed in a similar way by a great pasty pool of red mole, and if you're a fan of the noble, simply cooked carrot, I suggest you avoid an overworked dish called "Kyoto Carrot," which was muddled with so many aggressive flavors and textures (bitter chicory, wheels of vinegary pickled carrot, a heavy mayonnaise-sauce garnish, this time spiced with chiles) that I quietly pushed it aside.
The proprietor of this posh little restaurant has earned the right to experiment, however, and some of the best of her creations are worth the price of admission. On the current menu, these include that blood sausage, enlivened with bits of bread fried in pheasant fat and plated in a lavish potato foam, along with that nourishing, funky chowder, which was folded with generous amounts of snow crab and thickened with black beans and fermented squash. If you want a taste of southern Chile refracted through an innovative, modern sensibility, call for the plump cholgas secas (Maine mussels and soft, barely charred fronds of cabbage poured with a delicious onion reduction), a dish that was followed on the night I had it by a dessert of chewy, creamy Pavlova flavored with pomelos, pink lemons, and a sweet angel-hair-squash confit and stuck, like a small brightly colored bird, with decorative wings of meringue.
Recent restaurant reviews