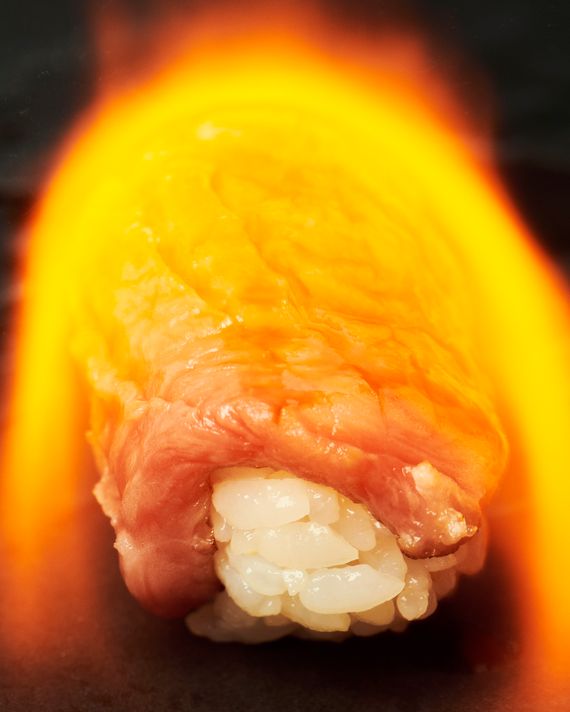 A 13-course omakase from Taikun Sushi typically includes uni, toro, and this final bite of torched Wagyu beef. Photo: Hugo Yu
It was somewhere around the eighth or ninth of a 14-course dinner at Sushi W on the Upper West Side that I realized something new was happening. The restaurant, which opened in 2021, was more ambitious than the standard neighborhood maki hub, but it wasn't a four-figure luxury tasting den. Instead, my meal — $53, tip included — was as much about the efficiency of the experience as the quality of my kanpachi. What I would come to learn later is that it would be the first of many quickie omakases I'd encounter over the next few months.
To anyone who has ever waited an hour or more to eat at Sugarfish, the format makes sense: It strips away the luxury trappings of a traditional sushi-bar experience for something more expeditious, where the quality of the fish is the focus and reservations are so carefully orchestrated that you're all but guaranteed to be done in an hour.
This month, Sushi W is expanding to the Upper East Side, but the quickie-omakase scene is particularly concentrated in downtown Manhattan: 12 pieces of nigiri and a hand roll is $69 at Shinn East near Tompkins Square Park. Soho's Shiki charges $65 for a 12-piece tasting or $100 for a flight of 17. Thirteen Water is a relatively new arrival in Alphabet City, and my favorite of these spots — Taikun — occupies an impossibly small space off Delancey Street. (It's a literal closet on nights the restaurant isn't in service.)
My most recent quickie omakase was a $69 lunch at Sushi by M, and the meal followed a progression that is similar at all of these spots: light-fleshed hamachi and kanpachi to start, followed by lean tuna painted with soy. Then snapper, scallop, and salmon with a dab of chile-garlic crunch. Raw sweet shrimp before the de rigueur Santa Barbara uni, followed by toro with caviar, a chopped-tuna hand roll, Wagyu with uni, and barbecued eel with avocado for dessert. I was done in 25 minutes. I couldn't resent the meal's brevity, because it didn't come at the expense of the chef's care. The loose pack of the rice and the ideally tempered fish were just right, and I think I enjoyed it more because the meal was so comfortable. (Even if you're late to your reservation, as I have been, the counter chefs will capably speed up your meal so that you may still make it out at the appointed hour).
Since almost everything is raw — or, at most, flamed with a blowtorch — and prepared to order, these restaurants can be set up without much in the way of hardware or kitchen infrastructure beyond refrigerators, electric rice cookers, and talent. Some chefs are chattier than others, but the best experiences are at the smaller bars, where the interaction feels more personal.
The trade-off — lower prices, higher seat turnover — is worth it, in my opinion, although this is still New York City, so there is always an opportunity for an upcharge. Wagyu beef is not uncommon, a thin slice that's quickly torched as it sits atop the rice, and for anyone willing to pay, it can be topped with foie gras, uni, or caviar. At Shinn East, an optional roll called the "super sexy max" includes all three plus some additional toro. The add-on bites hover around $25 each, diminishing some of the value proposition but not by much.