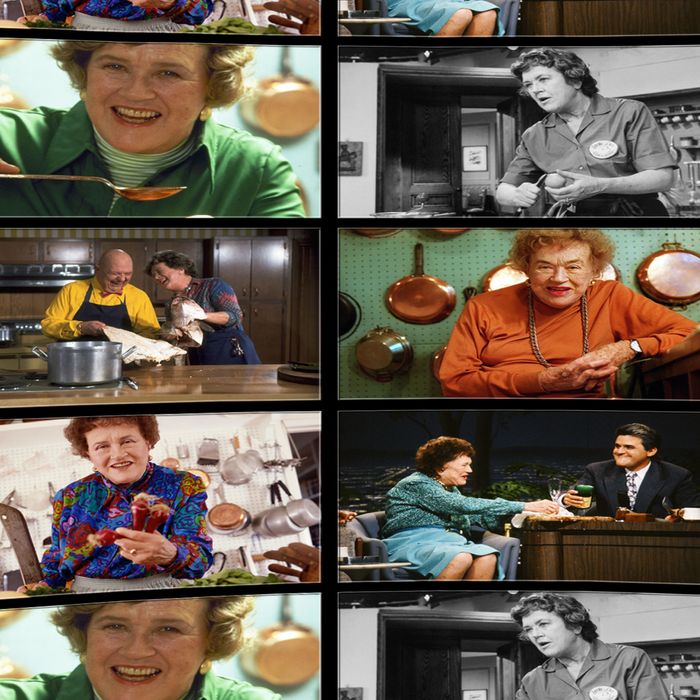 Julia Child, Julia Child, Julia Child, and Meryl Streep as Julia Child.
Photo-Illustration: Grub Street; Photos: Getty Images/Columbia PIctures
Before Julia Child died in 2004, there was a brief period in which both she and Oprah Winfrey lived in Montecito, California. And one day, Child said, "You know who I really want to meet? Oprah. She seems like a very interesting person." Her friend, Eric W. Spivey, chairman of the foundation that Child established in 1995, responded like most of us would to the world-renowned chef and television host: "Just pick up the phone, Julia." It would be several years before Child's famous beef bourguignon recipe would appear on Oprah.com, but there is little doubt the billionaire talk-show host would have been familiar with The French Chef, which Child hosted, and Mastering the Art of French Cooking, one of the most important cookbooks in American history, which Child co-wrote. Instead, Child's response was, "Why would Oprah want to meet with me?"
Why Winfrey would want to meet Child is clear to anyone who has ever seen her on television, and equally apparent when you consider her enormous body of work. Child is responsible for no fewer than 21 television series, 17 books, and one iconic catchphrase ("Bon Appétit!"). Yet during her lifetime, she was adamantly against commercialization, a fundamental desire that the Julia Child Foundation for Gastronomy and the Culinary Arts, which now manages the late mogul's estate, has tried to maintain, at one point even suing Williams-Sonoma after marketing copy for the cookware company seemed to imply an endorsement from the late chef.
This is not to say that the Foundation prevents Child's name from appearing on new products. Five years after her death, Nora Ephron's film Julie & Julia got its blessing. That movie, which featured Meryl Streep as Child, may have kick-started a new era for the Julia Child Economy, one that features a number of prominent new film and television projects, including a recently announced HBO Max series; a yet-to-be-announced project with Food Network that Spivey describes as a "reality cooking-competition show;" and the documentary Julia, from RBG directors Julie Cohen and Betsy West, which will be released in theaters on November 12.
Julia isn't an exposé by any means. It is a glossy celebration of Child's life, and though there are some forays into the margins, as that comes baked into Child's authenticity — including her initial homophobia and a gendered approach to marriage that she embraced with the mantra "feed, fuck and flatter!" — the Foundation was largely hands-off with the project, except to open the archives for Cohen and West (including a quite beautiful black-and-white nude of Child, which was taken by her husband Paul and which is lovingly included in the finished film), and to make some connections to Child's associates.
"She was just, like, born to be a TV character," says Cohen. Archival French Chef footage in Julia shows the host as everyone knows her, with that voice, those movements, and the mistakes that are handled so smoothly they seem to be part of the script, but are instead simply in there because programs at the time were far less edited. The snafus endeared her to the viewers.
"It wasn't the executives who said, 'Oh my God, we think we have a star on our hands here,'" explains West. "It was the audience that just went nuts over Julia — and I think she understood that that was a huge advantage for her." At the time Child was on air, women felt she spoke for them when no one else did. This was despite the higher-ups' continued lack of trust in what she was doing. Soon enough, however, it was impossible not to notice that French Chef was becoming the most popular series on PBS "kind of by a mile," in Cohen's words, not to mention the ongoing sales of Child's book.
Even the show was something of a fluke. The advance for Mastering was small and the publishers didn't do much to promote it, so Child decided to demonstrate its recipes on talk shows, including one that aired on WGBH, Boston's public broadcaster, which landed her The French Chef in 1963, on which she made just $50 an episode. "At first I'm not sure if Julia was thinking so much like a businesswoman," says West. But that didn't last long. While Mastering had become a best seller, riding the wider wave of interest in French culture at the time, it was the series that really made Child a household name — and also made Child more financially proactive.
First, she sought to reduce co-author Louisette Bertholle's share of royalties in Mastering the Art of French Cooking because she had contributed so little. Child also left PBS in 1973 — though reruns ran throughout the 1980s — to become Good Morning America's first cooking anchor. As Simone Beck, the other co-author on Mastering, puts it at one point in Julia, "She's a businesswoman now."
Beck is not being particularly positive here — she is reacting to being cut out of images she took with Child — but whatever you think of Child's protection of her television image, she was not on a quest to rule the world in economic terms. In fact, Child balked at endorsements of any kind beyond the odd appearance on the cover of People or an episode of The Tonight Show to bolster her ongoing work. "She could have made a fortune," says West. But Child — who grew up with money — did not, as meticulous branding, ironically, has never been part of her brand. Even when she first established the Julia Child Foundation for Gastronomy and the Culinary Arts, her lawyer at the time suggested she just name it after herself to make things simpler. Instead, according to Spivey, the Foundation's chairman, Child wanted it "to be this big, long name."
Besides protecting Child and her work, the Foundation is primarily known for giving grants to other nonprofits — by the end of this year, its donations will have reached almost $3 million — through efforts like the Julia Child Award, an annual grant of $50,000. Spivey adds that the Foundation is a lean operation (he does not take a salary), and that the group's closest relationship is with the Smithsonian, which houses Julia's kitchen and gets millions of visitors annually, though the Foundation also maintains educational ties to Boston University and Harvard, which hews closely to Child's primary ambition to teach as well as to learn.
Since Child's passing, the Foundation has been determined to carry on her legacy the way she lived her life, Spivey explains, which means decisions regarding new projects are less about  "the dollar but more about the impact." But in some cases, the impact and the dollar are inseparable. The fact remains that Child didn't make her name in academia — she made it in popular culture, and she just keeps popping off.
Julie & Julia, the 2009 film adaptation of Child's final book, My Life in France, as well as Julie Powell's memoir Julie & Julia: 365 Days, 524 Recipes, 1 Tiny Apartment Kitchen, proved that Child's popularity could transcend television. The foundation's support for Nora Ephron's project was, however, perplexing considering the scene in which a journalist effectively tells Powell that Child hates her. But, according to Spivey, this isn't actually accurate. He says he and his wife were with Child when she received that journalist's call about Powell's blog. All that happened was that Child didn't really understand what blogging was, nor why anyone would cook one of her recipes every day. "Julia was a very humble person," Spivey says.
Regardless, the success of Julie & Julia, which was tied to the reissue of the 40th-anniversary edition of Mastering, caused the chef's magnum opus to once again become a best seller. It also reinvigorated interest in Child at a time when other celebrity chefs had become internationally recognized celebrities in their own right, and coincided with the dawn of the streaming era. Last year, original episodes of The French Chef streamed on PBS as well as Amazon Prime, while various other Child cooking programs appeared on the Pluto TV service this year. More surprisingly, the gaming site Twitch streamed every available episode of The French Chef over four days in 2016 to launch its food channel. (This is less surprising when you realize Twitch has 40 million monthly viewers, which means 40 million chances to land a younger audience for Child.) Two years later, the Foundation launched its own podcast, Inside Julia's Kitchen.
Now, besides the Julia documentary, there is the upcoming competition show with Food Network and, more in line with Julia & Julia, a scripted series on HBO Max that will star Happy Valley's Sarah Lancashire as Child, and David Hyde Pierce as Paul, with a central plot revolving around the power dynamics of the Childs' marriage. No doubt more pots are on the boil, so to speak, as the chef has become one of those rare icons whose comfort-providing appeal never seems to deflate. She provides such cultural succor that each new film or series just generates an appetite for more. Spivey understands this as well as anyone: "There's no better salesperson for Julia than Julia herself."
This post has been updated to reflect a new release date for Julia.