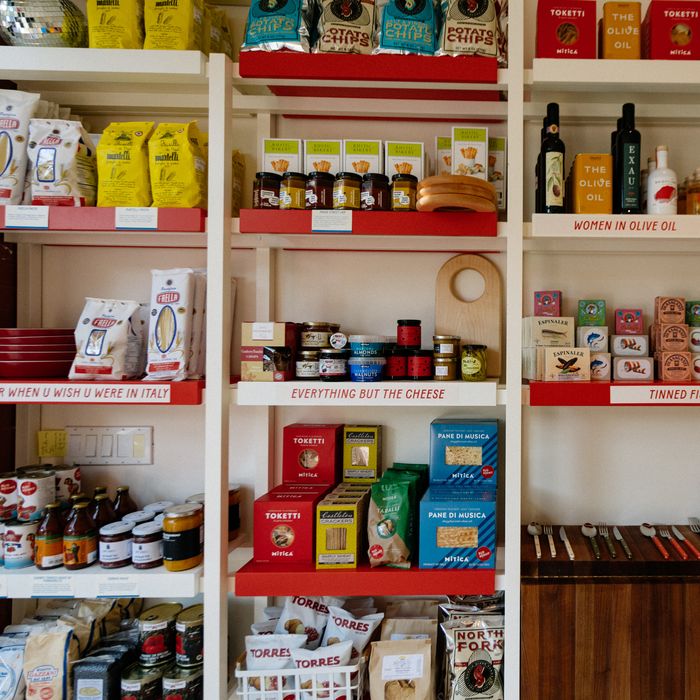 Inside Brooklyn's Big Night. Yes, it has fancy anchovies. Photo: Teddy Wolff
This article was featured in One Great Story, New York's reading recommendation newsletter. Sign up here to get it nightly.
At some point in the past couple of months, I began to wonder why my coffee shop was trying to sell me olive oil at 7:30 in the morning. You know the brand: It's packaged in a cheerful green squeeze bottle with a comforting label that looks as if it could have been drawn by the same illustrator who did those Mr. Men books from the '70s. It's called Graza, and at the shop in question, it's stocked next to clear jars of dried spices and colorful little tins of preserved fish.
Graza is only about a year old, but if you shop at a particular type of boutique grocer, you may feel like it's always been here. That is part of the plan. "The small stores were very much a part of our launch strategy and go-to-market strategy," said Allen Dushi, Graza's COO. "We wanted to look like an online brand and smell like an online brand and talk like an online brand but build the business through retail." Dushi founded Graza with Andrew Benin, who, according to his LinkedIn page, was previously head of special projects for the fancy cereal brand Magic Spoon and before that spent three years working for that mattress brand, the one everyone thought they loved a couple of years ago, which Dushi told me had directly informed Graza's growth. "I think Andrew's experiences at Casper — they saw the limits of what you can do just online," he said. "It took most DTC brands a very long time to realize that they truly needed retail, and you're seeing it happen more and more now."
I scrolled to the bottom of Graza's website to see where I could find the oil in Brooklyn. Among the dozens of names — and every Whole Foods location — I saw Good Friend in Gowanus, Poppy's in Cobble Hill, Dépanneur in Williamsburg, and Big Night in Greenpoint.
"Very early on, we were seeding independent shops," Dushi said. "We made a list of 50 independent shops we thought our product would do well in, not just pantry stores and grocery stores like Big Night but also bookstores, coffee shops, and places like that. We did New York, L.A., Austin, and made a list of a few cities, picked ten stores in each, and reached out to them cold to ask if we could send samples."
Big Night touts itself as "a jewel box of a shop" that carries pantry items "from all over the world," tableware, condiments, and, yes, olive oil. It's the kind of store that gave rise to the great tinned-fish renaissance of the late '10s. It offers all the essentials you need for a fabulous dinner party — including this $145 caipirinha pitcher — but more than anything, Big Night feels like a place where you can touch all of the products you see on Instagram. (There was a night this past December when I was going to scream if I saw one more gift guide encouraging me to buy that cute green squeeze bottle of olive oil for my loved ones.)
"I have heard it so many times," said Katherine Lewin, Big Night's founder and CEO, when I asked if she thinks her store feels like everyone's Instagram feed. "I can remember the first time someone said it," she recalled, before explaining she did not set out to do that. "I just so happened to hit the store at the same moment when Fishwife was building this massive following, Omsom was building a massive following. Graza hadn't yet launched, but we know how that story goes."
Neil Shankar, a designer at the company formerly known as Square, has a term for these types of stores: shoppy shops. He told me the name resonated on his TikTok page, which dissects the consumer-packaged-goods industry. "There didn't really seem to be a name for all these artisanal markets that are popping up that carry these brands," he said. "You could walk into any one of these shoppy shops and you see Graza, you see Brightland, you see Diaspora, you see Fishwife. So there is kind of this symbiotic relationship between these modern brands and the curated shops that carry them."
Even though the companies sell different products, some similarities are impossible to ignore. "We need a new term for 'internet-based small businesses that still use global supply infrastructure,'" said my friend, the culture writer Kyle Chayka, when I told him about this story. "We know these minimalist-ish generic aesthetics are not connected to any true local origin, but we see them as indicative of some kind of authenticity. My current thought is that they don't feel local to a place, but instead they feel local to the internet, which is, after all, where we all live."
Successfully marketing a product so that it feels local everywhere is an art. I've started calling this crucial step in a product's development "smallwashing," i.e., when a brand positions itself as a small business and shows up on shelves as if it were small, even though it has probably been through at least one comfy fundraise and a hotshot General Catalyst VC sits on the board. (Bonus points if the company in question hires Gander to handle the design.)
It's up to the actual companies to decide on their values — Will the jarred condiment be woke, aligned with a cool chef, or "artisanal" in some way? — but regardless of the chosen messaging, Instagram then takes over, drilling its users with targeted ads that help build a company's story (Omsom lets you cook faster, for example; Momofuku's noodles let you cook like David Chang). By the time a customer discovers an Instagram brand in a shoppy shop for the first time, it may even feel like a mirage: This chile crisp really exists just for me — it's not only a story on my phone! 
"These curated mini-markets and hotel gift shops have been a lifeline for indie brands that launched in late 2019 to 2022," says Amrit Richmond, founder of the Indie CPG newsletter. "For a fan of the brand on Instagram, sometimes these small stores are the only place in their neighborhood where the customer can buy it. Strong sales data in these mini-markets can also help a brand get comfortable with wholesale economics and leverage their sales data to pitch to larger retail accounts." Richmond explains that 2022 was a "big year" for direct-to-consumer Insta-brands that made the jump to retail: "Graza, Brightland, Kosterina, Omsom, and Immi all launched in Whole Foods Market."
If L.A.'s Atwater Village has a cultural center, it's Wine + Eggs, a bright, blue-tiled provisions shop — shoppy shops love the word provisions — that opened in 2021. I asked Monica Navarro, the CEO and owner, how she decided to balance the merchandise between local products (like fresh bread from Bub & Grandma's and Malibu Honey) and Instagram brands (Fishwife and Fly by Jing). "I think the product mixes all complement each other and add to the sales of each other's products," she said. "You may come in for some local bread and pick up an avocado from a local farm and add some tinned fish and olive oil for a delish lunch spread."
Then she mentioned Faire.
Faire is one of the true decacorns — with a $12 billion valuation, alongside household names like Shopify — in what's known as the "e-commerce enablement space," that is, the collection of companies that build the infrastructure allowing you and me to buy things on the internet in the first place. Founded by a group of former Block employees (that's the company that used to be Square), Faire is a digital marketplace that makes it seamless for store owners to find new products and buy wholesale. And before you even ask, yes, of course, it's algorithmic: Marketing copy on the site excitedly proclaims, "The more you shop our wholesale website, the better recommendations you'll get." Cha-ching!
"Faire's mission is to empower entrepreneurs to chase their dreams," said Lauren Cooks Levitan, the company's CFO. According to her team, the specialty-retailer category is growing; specifically, grocery and food shops on Faire have grown by 130 percent year over year. I asked what businesses did before Faire existed. "Retailers spent a lot of time on the road every year," she replied. "They'd go to trade shows in various parts of the country. They'd spend a lot of money on travel, lodging, and tickets, not to mention the time away from their business, and they would sometimes end up buying new products many months in advance and wouldn't necessarily know how the trends might match up to them by the time they were in store."
In other words, Faire is a website where people can purchase products; then those products are delivered to the purchasers. I asked how Faire is different from, say, Amazon. "It's literally night and day," Levitan said. "We only sell wholesale, so our customers are all retailers, as opposed to end customers like you or me, and we're selling to these retailers who are really — I always say they're the original influencers, the local store that has a shopkeeper with a great eye who really understands the pulse and the interest of their local consumer, and they curate unique products for that community."
For the products being curated, placement on Faire can fuel explosive growth. "Right when we hit the 100-store mark that I was going for, we got onto Faire's marketplace and basically loaded all of our accounts into there," said Dushi of Graza. "It's very much a discovery tool. Faire is a machine. I think we just passed 500 accounts." He broke it down for me: Faire handles the payments for the orders, charging a small fee ("I think it's 3 percent," he said) for one-day delivery of the funds or paying within 30 days for no charge. Faire takes a commission for any sales it brings in but not on accounts Graza finds. "Just the fact that we ship and collect 100 percent of the dollars from these independent stores is incredible for a business," Dushi said. "If we didn't have that, I would have to hire someone to be doing outreach, calling these people and making sure we get a credit card and can get paid, and chasing them if we don't."
I told him Graza was no longer sounding like a small business to me. "Look, we're not shy about saying that our goal is to get this product into as many people's hands as possible. Of course, that's what we're trying to do," Dushi said. "We're a 'small business' because our business is small. We would love to be a bigger business." He mentioned Walmart as a potential spot for his olive oil: "We really see and are trying to call bullshit on the quality of product that's out there and to show that you can deliver a really, really high-quality product to the masses."
To be fair, what is a small business where boutique spices or condiments are concerned? "Perhaps we as an industry need to rebrand the term," suggested Richmond, the CPG researcher. "Compared to a food corporation, these brands are small," but when "compared to a farmers' market almond-butter stand, they are the corporation. At what annual-revenue threshold or retail distribution is a brand no longer considered small?"
Sana Javeri Kadri, the founder and CEO of Diaspora Co., is less eager to see small disappear from the description of her popular spice company. I asked about a 2022 Forbes story that championed a $2.1 million financing deal with Pentland Ventures. Via a PR rep, Kadri told me, "We are absolutely still small! When we were hawking turmeric and cardamom only, we were pre-small." Though pre-small was a new term to me, Kadri did concede that her business is growing quickly: "We now have sustainable capital from values-aligned investors. We have a board! But those things only came five years in, last year. But when you think about the systems and 'industry' that we work every day to disrupt — pardon that term — we're still very much David with a well-aimed slingshot." I noticed the careful wording she used to finish her message. "I feel confident that Diaspora will feel like a small business for a long time because community building takes a long time."
As I talked to people for this story, Diaspora was among the names, along with Fishwife and Graza, that came up repeatedly. I asked Navarro of Wine + Eggs if she was concerned about the potential for a homogenous landscape of specialty stores. "It is a little scary, but I think it's never been my main source of discovering new products or sourcing," she replied. "I love finding brands by word of mouth, by meeting people or stumbling upon them at a market." But if every market starts to look like hers, where will any of us go to find something truly new?
"The rise of fancy pantry in just about every retail environment is something I've been watching closely," said Big Night's Lewin. She said she had seen Fishwife for sale at a textile store in Hudson, an observation that stood out because I had seen the same seafood for sale in the same store and similarly clocked it. "I was flabbergasted," Lewin said, "not just because so many shops on that street carry Fishwife but because it's a rug store."
This post has been corrected to reflect the fact that Faire does not handle product delivery for its orders.