The service crew wear floor-length white aprons, a nod towards the old timey, bourgeois bistros of the 7th, but they wear them with sneakers and jeans.
The chef is clearly experienced, properly trained. His name is Tim Breden. He has teamed up in this enterprise with brother Rob Breden and sister-in-law Michelle Natta, both hospo newbies. The team is rounded out by well-known Perth wine guy and front-of-house boss, Jack Miarro.
Loading
It began at the oysters. Chef's mignonette dressing is unlike any other we've had in Perth. Typically, this mix of red wine vinegar and chopped shallots is wincingly acidic. Breden adds masses more than the few scant shards of shallot one often gets with this dressing, which results in the onion taking on the vinegar cure, and, in turn, giving back loads of sweet shallot sugars to the vinegar. We've never tasted a mignonette so naturally sweet and well balanced. Best ever.
Terrine de rilettes de canard was a superbly light, compressed terrine served simply with mustard, cornichons and baguette. It had the slight undertow of charcuterie spice mix, quatre épices, and a well-modulated fat content, a gentle smear as opposed to a greasy mouthful.
The duck prep is meticulous. The whole bird is mildly cured in a delicate eight per cent brine for an hour. It's then dried in the cool room for 24 hours followed by a 60 degree sous vide for one hour, then finished on the grill for service.
These timings and percentages might not mean much to the average diner, but in commercial cookery they demonstrate a light and deft touch which means the breast meat gains all the benefits of brining and sous vide-ing, without being belted over the head by long cooks and strong brining.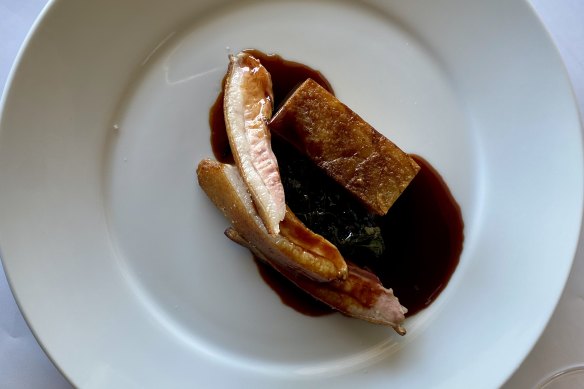 In other words, you can taste the duck. It is, the most tender duck breast we've eaten in decades.
The gravy is made from a blonde stock made with (unroasted) duck bones and chicken wings which goes into a separately made dark stock (roasted bones), the combination of which builds flavour on flavour on flavour. It is finished with a wine, madeira, shallot and spice reduction. For service it is completed with a Cointreau gastrique for sweet tartness and butter for gloss.
The duck was served with a tiny pavé of dauphinoise potato, cooked with cream and pressed. Chef's secret is a dusting of potato starch between each layer so it doesn't slide apart when cut. Brilliant. Perfect.
Steak is grain-fed for the last 100 days of its life and air dried for a day or two before cooking. It's served with La Bastide's own brand of Café de Paris butter without the curry powder but with all the herbs, anchovies, capers and lemon juice one expects. It dissolves into a wonderful mess of herbs and flavour on the meat.
Even the way chef slices the meat is different and much welcome. He slices deeply on the bias, so you can see the colour of the meat as it sits on the plate. It eats better this way too.
Tim Breden's dishes are a masterclass in bistro cookery, with techniques and prep as old as Escoffier but as relevant and modern as the most chichi Parisian bistro. And like all proper bistros there's a good selection of vegetable dishes to suit those of the vegetarian persuasion.
The room too has had a much-needed makeover from its Star Anise and Petite Mort days and exudes the mannerisms and energy of not only a bistro, but bistro life.
La Bastide
225 Onslow Road, Shenton Park
0422 269 991
Open: Lunch and dinner, Thursday-Saturday; breakfast, Saturday-Sunday
Prices: entrees, $24-$28; caviar service, $135 per 30g; mains, $38-$45; sides, $12-$16; desserts, all $18.
18/20 (highest score in 2022)