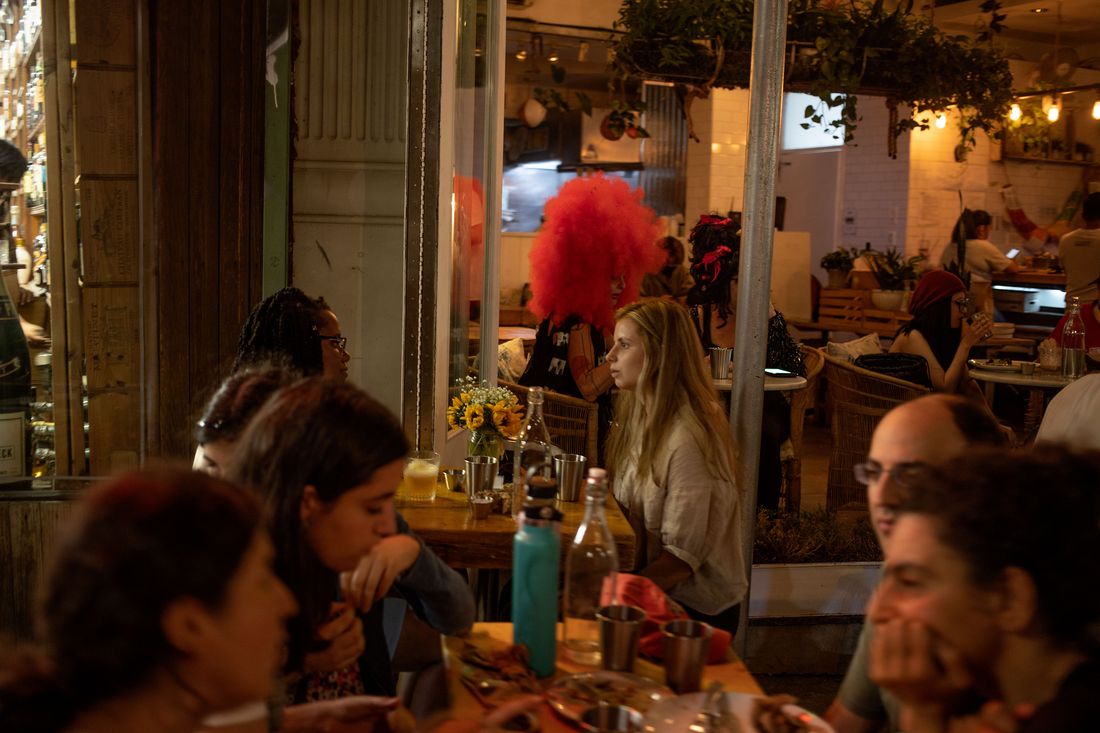 New Yorkers out for dinner during the summer of 2021.
Photo: Andrew Lichtenstein/Corbis via Getty Images
Next week, life in New York City will inch a little bit closer to its pre-pandemic self when the citywide mandate that requires anyone eating in a bar or restaurant to be fully vaccinated — in place since August — will in all likelihood end. Mayor Eric Adams says that a final decision will be made Friday and that the mandate will be lifted provided "our numbers continue to show a low level of risk." Is it the right time? Adams says yes: "The goal was to put in place ways to encourage people to get vaccinated. I believe we've accomplished that."
Here is what we've accomplished following the implementation of vaccine mandates for public-sector workers and anyone going into restaurants, bars, gyms, or indoor performances: According to city data, the vaccination rate in New York has risen from 59.5 percent of the overall population on August 9 to 76.9 percent, and 86.8 percent of adults are now fully vaccinated. The decision to lift the vaccine mandate comes as COVID-19 cases have declined dramatically since the peak of the Omicron surge — even if that surge is still very fresh in people's minds.
"Let's call it seven weeks removed from Omicron running rampant," says Elijah Servance III, a bartender at Queensyard in midtown. "I don't know what data or what stuff y'all are seeing that makes you feel eight weeks later like, No, it's all good — just get rid of the masks. Don't worry about the unvaccinated." At his bar, he says, he'll often do 300 covers a night. "What if 100 of those people are unvaccinated?" he asks. "I just think it's foolish to open that Pandora's box without a different safeguard in its place."
Heather Rush, a co-owner of Pine Box Rock Shop in Bushwick, was also surprised by the suddenness of the announcement. "After having had my business survive and my staff and myself go through several surges, it is disheartening to see them lose the mandates so quickly," she says. Still, she knows the existing mandate is far from perfect: difficult to enforce, inconsistently applied, and relatively simple to circumvent. "I never felt that it was a good system," Rush explains. "But I do understand that there wasn't really any other way to do it. People wanted to go out." Rush's biggest criticism is that the hospitality workers charged with enforcing the rules were often on the receiving end of customers' complaints. "It just felt like the city said, 'You have to do this. We're not going to tell you how, and we're not going to tell people why.'"
For some operators, the lifting of the mandate comes as a relief. Omar Canales says workers at Seis Vecinos, a Honduran restaurant in the Bronx, will stop checking customers' vaccination status once the mandate ends. "It will be one less thing for our staff members to be concerned about," he says. "We continue to suggest to our staff to wear masks as that's something we've gotten more used to accepting than asking for proof of vaccination and dealing with confrontation from new customers."
While some operators say they will discuss it with their staff before making a final decision, others are already looking forward to the mandate's end. "We likely will stop asking for vaxx," Haik Sulaimani, a co-owner of Bay Ridge's Yafa café says. "I think everyone is excited to start feeling some type of normalcy return." And at Fish Cheeks in Noho, vaccinations will still be required among staff — a city requirement that remains in place for now — but they will no longer check customers' status. Others expressed anger about the vaccine mandate, blaming it for bad business and lack of tourists.
This is hardly a universal feeling, though, and several owners I spoke with say they'll continue to require their guests to be vaccinated if they want to eat indoors. "We don't see any need to stop," says Ed Szymanski of the Greenwich Village seafood restaurant Dame. "We still think it's very selfish that 15 percent of New Yorkers have chosen not to get a vaccine," he continues. "If we can keep our fully vaccinated and boosted staff slightly safer, then we'll choose that over a selfish minority every time."
Szymanski is in a unique position: His restaurant is easily one of the more popular businesses to have opened during the pandemic, and the place is always packed. Owners of less visible establishments say they worry about what will happen if they voluntarily institute a vaccine requirement when other nearby businesses may not. "I would be in an awkward position, having to compete with businesses that don't require vaccine status," says Rush, acknowledging that positivity rates in her bar's Bushwick neighborhood are quite low and that she wants to do everything she can to ensure her business's success. "I definitely, after the last few years, don't want to put myself at a disadvantage."