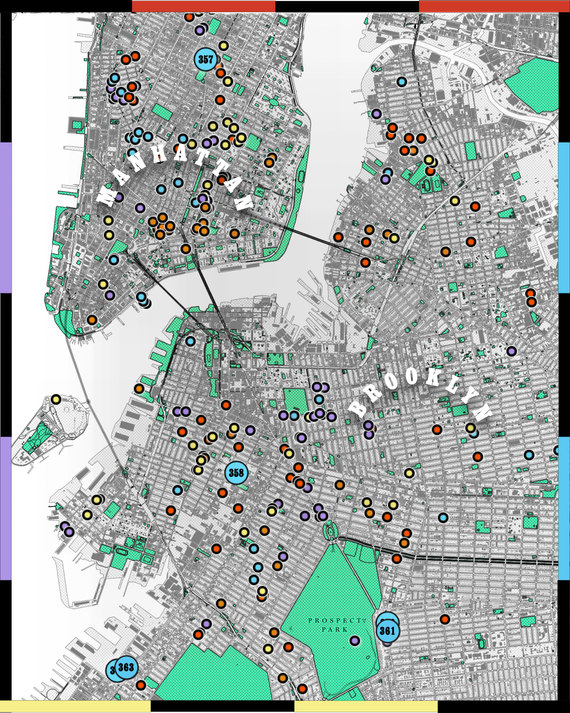 A running list of everywhere I've been, week 36: 357. ABC Kitchen 358. Public Records 359. De Hot Pot 360. Rolo's361. Flatbush Bagel 362. Patok by Rach 363. Makina
The most fabulous thing you can do in New York for less than $100 is take the ferry to Governors Island and book the "wellness experience" at QC spa. At this multilevel complex of thematic saunas and steam rooms of varying humidities, you can drink your volume in infused waters and meditate in a suspended chair that evokes the womb. Or you can do like most of the visitors I saw on a recent, still-warm Friday afternoon and drink some Aperol Spritzes next to a pool.
Floating in bubbling water from a perch that's high enough to offer an unobstructed view of Wall Street left me mentally restored, but not very well fed: Even if the cold chunk of poached salmon on greens that I ordered was virtuous by a dietitian's calculations, it mostly reminded me of the kind of lunch you'd get from a dull office cafeteria.
With my mind clear — the buzz of the cocktails had worn off — I wondered what had become of the wellness cuisine we all heard about so much a couple of years ago. Not to be overly broad, but when a restaurant promises its food will be good for you, it's a sign that it will taste bad. Lots of cuisines and dishes are incidentally healthy, but self-identified clean-eating spots just lean into fast-casual tropes, or they're vegan in some way that sacrifices food's necessary carnal pleasures.
Salmon and a spritz. Photo: Tammie Teclemariam
But Goop has been around for a while now, so it seems like someone must have figured out a way to make this kind of stuff taste good. And I was optimistic as I walked into Gowanus's Public Records, a vegan restaurant housed inside a multiuse space with an incredible sound system diffusing electronica and reggae to carry diners through the night. It felt like a little bit of Williamsburg moved several neighborhoods south, and the vibes were immaculate.
The food was less so. Chicory salad with taut little grapes, bits of citrus, and hemp dressing offered a touch of intrigue, but an undercooked hasselback potato bathed in vegan sour cream was unforgivable. Kimchi gazpacho felt like a disservice to both of its namesake recipes, and cold mushroom larb was more conceptual than edible.
I have no problem accepting that this flavor of vegan eating could please someone more ascetic than myself, but I don't see how anyone could enjoy the too-soft texture of the restaurant's semolina cake. In some ways, the meal reinforced what I'd already feared: that these businesses simply ape ideas from other cultures while stripping them of the qualities that make them appealing. Is anyone actually fooled by shiitake bacon?
I debated a visit to abcV — Jean-Georges Vongerichten's riff on the genre — but ended up choosing the slightly more ramshackle vibes of ABC Kitchen, the farm-to-table spot on the other side of the building.
Dinner was whole-wheat pizza with black truffle, followed by the steamed black sea bass in tomato-fennel broth. The best thing I can say about the food is that it was inoffensive, but there's something to be said for the longevity of this place, which was primarily full of big, chatty tables of beautiful people. In the bathroom, I ran into Huma Abedin reapplying her lipstick, and I wondered if whole-wheat pizza crust could be the secret to her unbelievably shiny hair.
ABC bass. Photo: Tammie Teclemariam
I had planned to end my week of wellness on Monday with a nutritious, omnivorous dinner at Ayat, a popular Bay Ridge Palestinian restaurant that recently opened a second location in Industry City. But when I got to the corner of Third Avenue and 36th Street, the block was closed off, and I realized I had inadvertently found myself at the entrance of the Brooklyn Night Market.
This felt like a sign. When the party comes to you, it must be explored, so I tabled Ayat for another day and made my way through the crowd until I reached a stall with an awning that read "Best Porking Lechon in Town." Then I saw the thing, an absolute unit of rolled pork belly, crisp skin, and crackly salt. In the interest of saving myself from a future of regret, I chose a different sort of wellness and got some lechon with an order of lumpia, which they said was their last. Somehow I knew that it was meant to be.