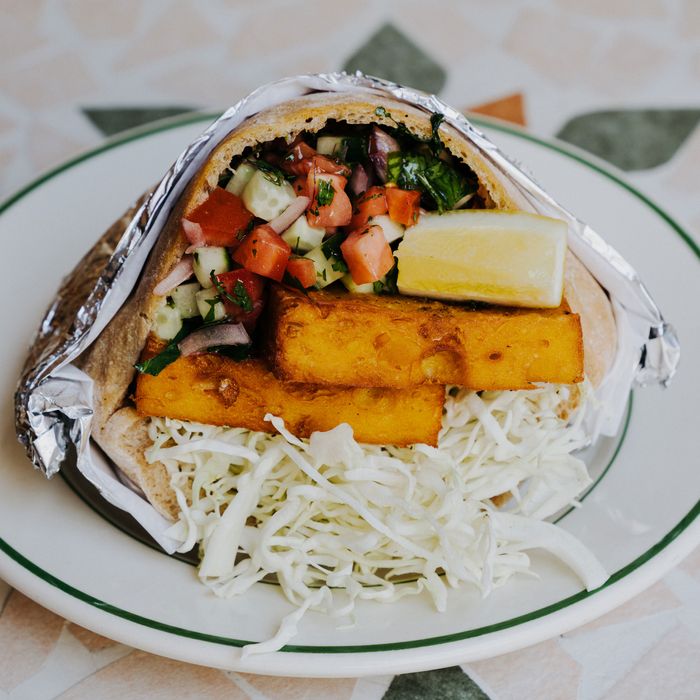 A sandwich of chickpea schnitzel, green cabbage, Israeli salad and garlic aioli, from Edith's in Williamsburg.
Photo: Janice Chung
This past March, Elyssa Heller opened Edith's in Williamsburg. Three weeks ago, while sitting at the sandwich counter, I had an epiphany, one that forced me to reconsider my long-held belief that bagel sandwiches are terrible. Bagels are wonderful, of course, but they are too much — too chewy, too thick — for sandwiches. At Edith's, the homemade bagels are smaller, lighter. Eating the shop's smoked amberjack with scallions, radishes, labneh, and trout roe was one of the most enjoyable experiences I've ever had smooshing together two halves of a poppyseed bagel. The revelation was not necessarily that bagels can make good sandwiches; it was more that somebody had taken the time to rethink what a bagel could be, and had, in turn, made me rethink one aspect of my culture's food.
I've come to appreciate my Jewishness through food more than anything else. As a writer, I'm sometimes given the opportunity to explore topics like how bialys help me calm my nerves or the sadness I and every person who ever stepped into Sammy's Roumanian felt upon hearing the news that the beloved spot would no longer be clogging the arteries of locals and tourists. But I don't write about "Jewish" food. To say I write about "Jewish food" would put me in a box where I don't want to be. It would also be at odds with my thinking that Jewish food can be whatever a Jewish person happens to be cooking or eating.
The only thing I know for sure is that "Jewish food" is not one thing — it isn't just bagels or bialys or pastrami — but, lately, that is too often what I see when a new Jewish restaurant opens. It had started to feel like all you need is an account with Acme Smoked Fish, somebody with a brisket recipe, and a few vintage glass seltzer bottles for decoration and really anybody can open up a "Jewish restaurant." It's the goleming of my culture, soullessness dressed up in white subway tile. And it's a problem that other cultures face as their food makes its way into the American diet. It's Indian spices co-opted by wellness influencers. It's "clean" Chinese food and "improved" congee. It's the frustration that immigrant communities feel when the food of their ancestors gets "discovered" and "updated" for a largely white, American-born audience.
I thought about all of this as I finished that bagel sandwich at Edith's, and then started on my way home. My wife texted to remind me that we had food delivery on the way. It was Friday, and while we aren't observant, we like our Friday nights to be full of great food. That week, we had ordered from chef Erez Blanks's small upstart, Parchment. The menu was challah, a couple of Middle Eastern sides, and a harissa-smoked chicken that we would go on to devour before freezing the leftover bones to make stock.
If there is such a thing as Jewish cuisine, it has to take into account the entire Jewish experience, yet, as a people, we've been scattered all over the globe. However, I've noticed lately that more people are trying to explore that ancestry in meaningful ways. It's reading Michael W. Twitty connecting the stories of the Black and Jewish diasporas through food; it's the folks behind Gefilteria obsessively searching out the lost history of shtetl food; it's Einat Admony at Balaboosta going back to her family's Persian and Yemenite backgrounds, or Trina and Jessica Quinn, the married duo behind Dacha 46, paying homage to Jessica's Russian-Jewish background with pelmeni and new takes on whitefish.
And it's Heller, at Edith's, trying to broaden the definition of "Jewish" food beyond what she ate growing up in the suburbs of Chicago, or while living in Montreal and New York. "I know that there are other people that have gone through my experience where they grew up, went to Hebrew school and got a bat mitzvah, but, like, didn't really know that there was so much more to Jewish history, culture and storytelling," she says. "All of these colorful things that I think were totally missed."
The food at Edith's, admittedly, does start with the sort of cooking that Yiddish-speakers brought over to America around the turn of the 20th century. Bagels are at the heart of the enterprise, but the rings are closed with a twist, how bagels used to be done. That's shtetl stuff. It's also a sign that everything at Edith's has been thought through and considered.
Edith's got its start right before the pandemic, when, with $10,000 to her name after a tough divorce, Heller decided to bet the house and start her own business. She found chef Christina Jackson, they started messing around, and Heller, who decided to try her idea as a pop-up, started calling pizzerias because she knew one would have the kind of oven she needed, and probably wouldn't be using it early in the morning when her team would be baking. Nobody returned her calls except Paulie Gee, the slice king of Greenpoint.
Paulie Gee has a great reputation, and the connection to his place, Heller admits, probably helped initially: Word of mouth spread, and Edith's became one of the few bright spots of a horrible time for a lot of people. In March, they moved to the old Meat Hook space in Williamsburg on Lorimer. From there, Heller and her team started to put together a menu based on a lot of research. Heller mentions books by David Sax and Leah Koenig as inspiration, but also found herself gravitating toward the Persian menu at Sofreh in Prospect Heights. That opened something for her.
Heller admits that growing up in the Midwest didn't afford much exposure to the Persian Jewish community, but she never had twisted bagels, either. She knew there could be room for all of it on her menu. "I'm like, Why aren't these flavors being celebrated?" she says.
So, at Edith's, there's brisket, but it's served on a challah kaiser roll with labneh. There's a Portugese-Alheira sausage that has a connection to Sephardic Jews' time in Spain before the Spanish Inquisition. There are flavors from different countries and continents that mingle together in a dazzling, comfortable way. Edith's certainly isn't kosher — they serve a bacon, egg, and cheese with a latke — and there are purists who would take umbrage with a few of the menu's choices, but purists are boring.
Edith's is not from one place, and it's certainly not a single flavor. Right now, it's exactly what I want to eat.