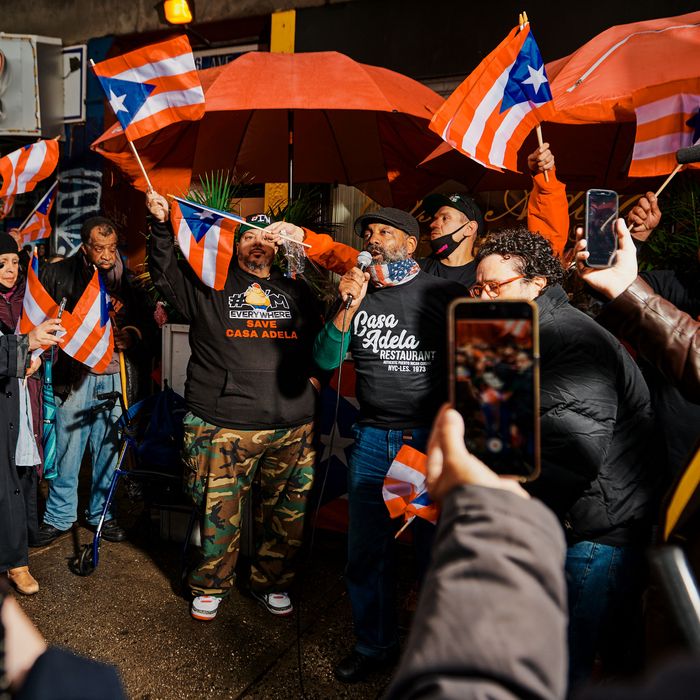 On December 11, a rally was held to offer support to the longtime East Village restaurant.
Photo: Christian Rodriguez
When I was growing up in the East Village — in the Jacob Riis Houses on Avenue D, specifically — there were only a few things we knew we could count on: The steady arrival of new, ever wealthier neighbors was one. Casa Adela was another.
My mom, my sisters, and I would ride the M14D bus, hop off at the Avenue C stop, then run toward 5th Street. We would go when my mom had a long day and wanted to save herself the work of making dinner, letting Adelita cook for us instead. So we'd pass the murals that anointed the avenue as Loisaida and the street signs that made the designation official in the eyes of the city. On summer nights, the block was always hot with energy, and Casa Adela was no different. On winter nights, the restaurant's windows would fog over from the warmth inside.
Univision would be playing on the TV above the refrigerator, which was stacked with Snapples and Malta Indias. Adelita was almost always working, and I loved to watch her break open the shells of beans, something my grandmother did over conversations with us back home in the Dominican Republic. The first thing you might see would be the rotisserie chickens radiating a golden hue, or maybe you'd notice Fat Joe sitting across from you while you ate some rice and beans.
But there is nothing more authentically New York than a rent struggle, and now Casa Adela — which has been open since 1976 — faces its own.
Earlier this month, Nicolas Heller posted the details of this rent battle to his popular Instagram page, @newyorkico:
The restaurant was opened by Adela Fargas in 1976. She quickly became the Godmother of the Loisaida. In 2018, Adela passed away. It ripped a huge hole in the heart of the neighborhood, but thankfully the restaurant was taken over by her children. They are striving to keep the legacy alive. 

According to Adela's son, Luis: The old lease expired a few years ago. Under it, they were paying $1350 per month for the 715 sq ft space. They offered their landlord, a limited equity HDFC cooperative, that they would start to pay $3000 per month, plus 3% increases for each year for 10 years. The landlord refused the offer: their bottom line is $4000 in year one (backdated to august) and $6,750 starting in year two of the lease, and 3% increases after that, which is a 480%+ increase in rent and sure to force the business to close.
The post goes on to say that instead of a fundraiser page, Luis organized a rally this past weekend to support the restaurant. As soon as the news got out, my inbox was filled with notes from friends and family who were worried this spot — which they'd relied on in some way or another for their entire lives — would disappear.
It was raining Saturday, the morning of the rally, but the enthusiasm glowed with Puerto Rican flags, big hugs, songs, and speeches. People queued up to get their hands on some food well into the afternoon. Another business, next to the restaurant, allowed a muralist to graffiti an homage to Adela and her place. Below her face in bold text read, "#SaveCasaAdela." Having grown up in the neighborhood and on Casa Adela's food, I felt somehow blessed to photograph all the people who had shown up to support this restaurant and to share memories of a place that predates my entire life.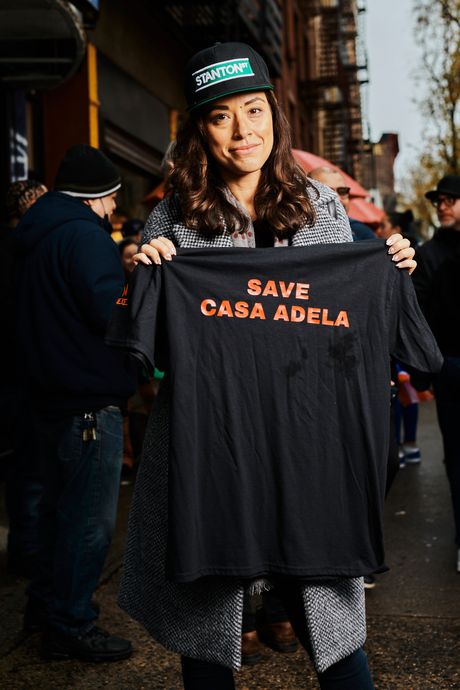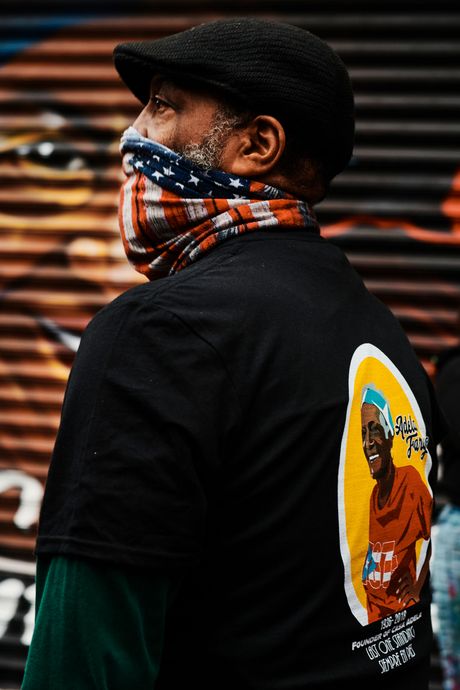 The businesses within this city's walls are meaningless without us. It wasn't any physical structure that turned Avenue C into Loisada. It was Adela Fargas and her customers. Anytime someone must fight to preserve a space, they are doing it not only for themselves but also for everyone who has wanted to be there.
What happens if Casa Adela goes away? If it becomes a fancy sandwich counter or, more likely, some outpost of a convenience-store chain? At the rally, we weren't just trying to protect Casa Adela; we needed to protect the neighborhood's overworked parents who want a place where they know they can take their kids on the nights they're too tired to cook. Nobody rushes to 7-Eleven to feed their family.