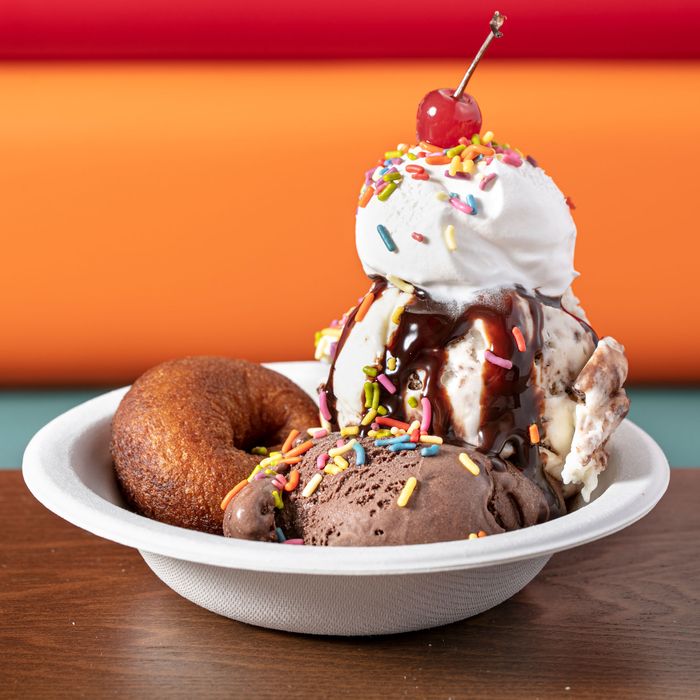 A sundae with homemade doughnuts.
Photo: Melissa Hom
As the founders of Ample Hills, Jackie Cuscuna and Brian Smith, know how to open a scoop shop. But this past weekend's opening of the Social, their new storefront in Prospect Heights, was different: It's a fresh start and a true second chance after the couple filed for bankruptcy and was forced to sell Ample Hills in 2020. And, in a way, it's a return to the hands-on approach that made their very first shop such a success. After all, it's still ice cream, and Smith, ice-cream visionary, is still ice-cream obsessed.
At the Social, all the flavors are original — even the vanilla has gotten a revamp — and many of them incorporate Smith's newfound passion for blending. "I have a Vitamix at home, and I just started trying stuff," Smith explains. "I was like, 'Oh my God, this can pulverize anything.' It opened up a whole new world." Soon, he was whizzing monkey bread into coffee ice cream and doughnuts into maple ice cream; Morning in Paris features whole fresh croissants blended into the base. The results, he says, were "mind-boggling" — perfectly smooth but with body and bite.
Call it "new, but familiar," a description that might apply to the Social in general, a just-opened shop from people who know the neighborhood, and who are in turn known to anyone with even a passing interest in ice cream. But this is still a new shop, with a new menu (doughnuts!), and new flavors, and Grub Street stopped in last week to sample (almost) everything on the menu. Here, a look at what you can expect when you swing into the Social at some point this summer.
Chocolate Fudge
An all-encompassing chocolate experience. It is like being lost in a chocolate forest. It is like drowning in a chocolate sea. It is overwhelmingly smooth but with body and chew. Not for chocolate lightweights.
Cocoa Mallow Pop
At Ample Hills, Smith made Snap Mallow Pop — a marshmallow-flavored ice cream with Rice Krispies mixed in, like an inverted Rice Krispie treat. But the Rice Krispies, back then, had always gotten a little bit soggy, which, at the Social, could no longer stand. It's still triumphantly fluffy marshmallow ice cream, but this time, Smith coats the Krispies with a cocoa-and-coconut-oil shell to preserve the crunch.
Go Go Bananas
An old-time classic, banana ice cream has fallen out of favor in recent years. This is our collective mistake, which the Social aims to correct. Smith's version is fruity — distinctly banana but not oppressively banana — and unexpectedly nuanced, the Platonic ideal of banananess, only much creamier. "At Ample Hills, everything had mix-ins," he says, "but here, I wanted to have a number of flavors that were just pure so that people could pair them with each other."
Orange Dreamsicle
You might think you don't remember exactly what orange sherbet tastes like, but you do. It is this. "It's a flavor that was on every Howard Johnson's menu in the '70s," says Smith, who set out to capture the flavor "the way you remember from childhood," only using real juice from actual oranges. The precision is uncanny.
Peanut Butter Double Dutch Fudge
The name does not lie: This is peanut-butter ice cream — mellow but profound — studded with chunks of peanut butter and chocolate fudge.
Mint Chocolate Flake
If Smith's ice creams have a trademark, it is perhaps their ease: They are easy to like and easy to eat, agreeable and comforting, like golden retrievers. There is, perhaps, no better example than his latest take on mint chocolate chip, which is gentle and well balanced, like a mint-chocolate hug.
Double the Dough
"If you have an ice-cream shop, you have to have a cookie-dough flavor," Smith explains reasonably. Most cookie dough is vanilla ice cream with occasional dough gobs — a brilliant innovation, he agrees, but no longer enough. "How do you take it to the next level?" he wondered. The answer was: Blend it. Smith purées plain cookie dough into the ice cream itself, then mixes in great gobs of chocolate chocolate-chip-cookie dough, for a result that is, very literally, double the dough.
Hydrox Cookies & Cream
There was an ice-cream shop at this location before, in the 1940s, and while Cuscuna and Smith are not sure what it was called, they do know one thing from the pictures: It sold Hydrox ice cream. In a nod to both that past and the crunch superiority of Hydrox over Oreos (they tested), Smith mixes substantial cookie chunks into a Hydrox-infused ice-cream base.
Oh Captain, My Captain
Infused with emulsified Cap'n Crunch and studded with clusters of white chocolate-bound Fruity Pebbles, this is cereal with milk, if the milk were ice cream. Nostalgic and sweet, in all senses.
Fudge Crackle
A vegan chocolate with a coconut-milk base and mixed-in Rice Krispies for volume and subtle crunch.
A Cool Breeze
"It's really trying to be Sprite or 7UP as a sorbet," Smith explains, only instead of straight lemon and lime, it has a hint — a whisper, if you will — of peppermint extract, to give it "that cool-breeze kind of experience."
Mix It Up
One of a small handful of nondairy flavors (they'll rotate), the version you see pictured is a classically summery four-berry sorbet. (The eponymous "mix": blackberries, blueberries, raspberries, strawberries.)
Old-Fashioned Doughnuts
"I just knew I wanted to do one significant thing that was obviously different from what we'd done at Ample Hills," Smith says. "Something that was decadent or over the top, that you could pair with ice cream." That thing is doughnuts. For now, Smith is limiting the menu to four cake varieties: old-fashioned plain, old-fashioned glazed, cinnamon sugar, and "cookies and cream" coated with a sugar–ground-Hydrox blend.
Already, though, there are more in the works: a chocolate doughnut with chocolate glaze ("Fudgetaboutit"), and a Fruity Pebbles–encrusted doughnut with a Cap'n Crunch glaze ("Captain Donut"), with other ice cream-inspired iterations on the way. "Obviously, we're an ice-cream shop that sells doughnuts, not a doughnut shop that sells ice cream. That's an important thing for us to remind ourselves so that we don't get crazy and try to offer 30 different kinds of doughnuts," Smith says, trailing off, before adding, "I mean, if people start coming here for the doughnuts instead of the ice cream, it's not necessarily a problem …"
Ice-Cream Sodas
In addition to milkshakes and egg creams, the Social is leaning hard into ice-cream sodas, featuring homemade syrups and homemade whipped cream (vanilla or chocolate) so thick it's served with a scoop. "It's more like schlag," Smith explains. "It's the Peter Luger experience." The flavors lean classic: chocolate with cherry soda, or orange with vanilla soda, or — most controversially — orange with chocolate soda, which Smith admits is divisive. "People have a real love-hate with orange and chocolate, but I love the combination," he declares, noting its rarity. "It's just like having banana ice cream: You don't see it very often anymore."
The Doughnut Sundae
The doughnuts also serve as the base of the Social's Sundaes, a luxury ice-cream experience featuring two scoops of any ice cream over a warm doughnut (or, should you prefer, butter cake) topped with the schlagish whipped cream and hot fudge, and, if you want, for $2 more, they'll make it an affogato and bathe whole thing in espresso.