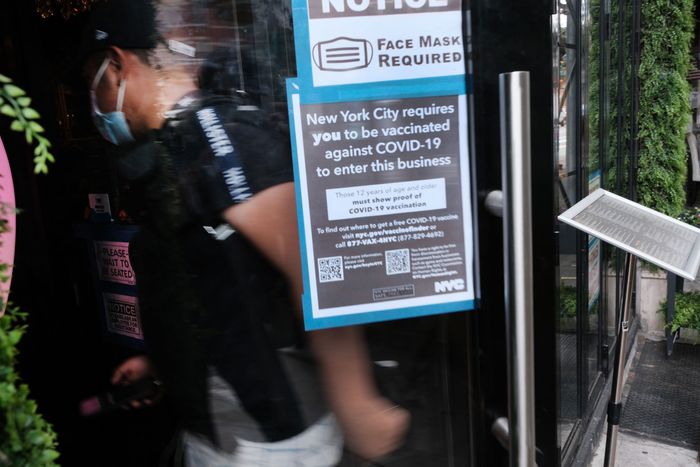 Photo: Spencer Platt/Getty Images
On Saturday, a group of angry protesters took a stand against New York City's vaccine mandate by … sitting down to eat at a food court in the Staten Island Mall. The rally was captured on-camera by independent reporter Oliya Scootercaster and picked by the New York Post, which described the crowd as "storming" the food court.
The event had all the essentials. Chants of "USA! USA!" and "Fuck Joe Biden," because of freedom. An American flag, also because of freedom. A MAGA hat. A cowboy hat. And a man who looks not unlike professional wrestler Ric Flair wearing a teal "TRUMP WON" tank top. As for the storming: The crowd took their seats after being instructed to "go get food and eat; that is what we're here to do." Strong language was used, as when a young lady told the crowd to "sit [our] butts down." They then proceeded past security and ate their food, reciting the Pledge of Allegiance, even though these individuals had not — prepare yourself — shown any kind of vaccine passports to mall workers.
More than anything else, this particular protest strikes me as somewhat limp. Who protests anything by eating an Auntie Anne's pretzel? But this is not to make light of hostile reactions to the mandate that are aimed at service workers, and the fact that they've been put in the position of having to enforce these COVID-19 policies, smack-dab in the middle of a culture war over masks and vaccines. Sometimes this has resulted in violence or in intimidation and threat of violence.
I've spoken to more than a few service workers about workdays in which they feared for their safety just for doing their jobs. (Here's the thing: This isn't new, exactly. It's a heightened version of the abuse that has been doled out toward service workers for years; if you've ever worked in a bar or restaurant, you know that.)
The thing about these attacks is that New York City's hosts, bartenders, and servers aren't the people instituting the mandate. Taking anything out on them because they're asking for a vaxx card, because the city tells them to, isn't about anything other than a potential customer's own sense of entitlement.
Regardless of anyone's feelings about vaccine mandates — and polling has shown that most Americans support them, with the most recent Gallup poll finding that 63 percent are in favor — this shouldn't affect the people who have to enforce the rules, after what has been for many a long, grueling, depleting year and a half. Concerns persist about another bleak winter. When I asked one server how she felt about this upcoming winter, she told me that she simply tries not to think about it.
Even New Yorkers in favor of mandates should now ask, what will it take to actually end the vaccine mandates? (The journalist Ross Barkan raised this question recently, adding a note of caution about "indefinite measures and security theater" as has happened after September 11.) Will the city end the mandate once a certain level of vaccination is reached in the city? Or will that threshold have to be met nationally? Will there be a vaxx mandate for tourists from states with lower vaccination rates?
To answer these questions, Grub reached out to a representative for Mayor Bill de Blasio's administration, but so far, the office has given no clear guidelines for any possible end to the mandates.
For now, 69.9 percent of all New Yorkers have gotten at least one shot, and 62.9 percent are fully vaccinated, with numbers going much higher for adults specifically — 82.2 percent of whom have gotten at least one shot and 74.4 percent of whom are fully vaccinated. (That's compared to 56 percent of the overall population who are fully vaccinated.) The Delta wave may have peaked in states like Florida, which was the epicenter of the surge but has seen hospitalizations decline by more than half over the last month. Still, there's concern going into the winter as the weather cools and unvaccinated children attend school in New York. The country has been been averaging over 2,000 deaths a day since September 18, and will soon surpass 700,000 deaths. (Hospitalizations, however, have declined significantly since August.)
Insofar as the mandates are a cudgel to get holdouts vaccinated, they appear to be working: As the vaccination deadline has approached for New York health-care workers, thousands more have gotten vaccinated, the Times reports. In the NYC public-hospital system, the number of unvaccinated workers dropped from 8,000 to 5,000 in a week. Statewide, 92 percent of hospital workers have received at least one dose. What would actually end the vaccine mandates? Hopefully, it actually takes into consideration the people working in these businesses — unlike, say, when former governor Andrew Cuomo announced the reopening of indoor dining — and what's right for them.