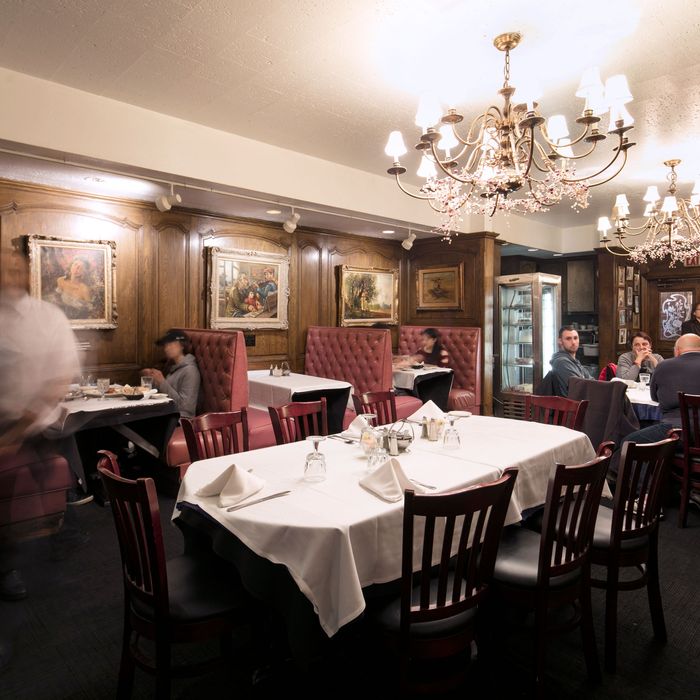 A typical night inside Forlini's, which closed for good last week.
Photo: Melissa Hom
In one sense, Forlini's — the classic Italian American restaurant on Baxter Street, its location notable for being on the Chinatown side of that neighborhood's border with Little Italy — opened its doors in 1956. But for many of the people who mourned the restaurant's closing last week, Forlini's didn't really begin to exist until the night of May 5, 2018, when Vogue threw a party there ahead of the Met Gala. Suddenly, the fashion crowds descended, and by the time the New York Times wrote about Forlini's new, young, rich, and almost-famous clientele four months later, it seemed anyone who had even heard of the restaurant before the Vogue party was dismayed to see what had become of their beloved red-sauce haunt.
"They don't appreciate it for what it is and alter the character of the restaurant for its regulars," wrote one commenter on the Times story. "Blue in Green," from Atlanta, wrote, "Oh no, Forlini's is now over, so over." Even here in New York, people were forlorn. I remember getting drinks with friends the night the story was published. "It's crazy how people can ruin anything," one remarked, but when I asked if he'd been to Forlini's, he said no.
People were mad because this new crop of tattooed downtown dirtbags and media folks — among them, as noted in the Times, a 20-year-old model-skateboarder with a million followers on Instagram, as well as a single Victoria's Secret model — had transformed a classic Manhattan spot into nothing more than a good place to take a selfie.
What version of Forlini's were these sullen anti-scenesters trying to protect, exactly? The Forlini's that, for years, had been a reliable lunchtime staple for the judges and lawyers working at the nearby courts? The Little Italy–adjacent Forlini's that promised to offer tourists a "real" New York City Italian meal? Or the version of Forlini's that, whenever I suggested eating there, always inspired one friend to point out that the food wasn't actually very good?
I will say, I genuinely enjoyed Forlini's. It's my favorite ziti in town, I'd tell people. You can't get the smell of garlic out of your nose for hours after you leave. I'd tell them one martini is enough, and then you'll want to move to wine. I would of course tell people that Forlini's was one of the last places in the neighborhood that had a very specific and extremely earned old-school feel, and that there was nothing artificial or put-on about its various charms. But businesses can't exist on nostalgia alone; people have to actually go there. That was why I didn't join in the chorus of boos when people suddenly got really offended that other people — people who were perhaps young and good-looking — had started to show up. These new customers didn't ruin anything. They're the kind of new audience that ensures a place can keep going.
The best of New York's classic institutions don't reinvent themselves for new generations; they are reinvented by the city itself. Just look at the Odeon, which has been more or less the same forever but still cycles through waves of prestige from year to year. The first time anyone goes to Keens, they can't wait to tell their friends about the real, "classic" steakhouse with pipes and mutton. Bamonte's, by virtue of being located in Williamsburg, always has a new wave of potential customers nearby. And please don't try and act like you're too cool for Nom Wah, even if the crowd of waiting tourists can take over pretty much all of Doyers Street on a Saturday.
It's easy to see a new crowd come into a restaurant that has been open for a few decades, point fingers, and complain that they don't really "get it." But the thing is, everyone is part of the new crowd at some point, even if a business manages to fly under some cultural radar for years at a time. In the case of Forlini's, it continued on as long as it could. It's natural to consider every classic closing a tragedy, and in many ways, this one is too. But also it's not. It's just time, it seems. No matter how young or attractive your customers are, the grind of the restaurant business will take its toll eventually. The Forlini family cashed out, selling the restaurant and the building that housed it.
Now, who knows? Maybe somebody sees an opportunity to turn Forlini's into the next Minetta Tavern or Dante, a new restaurant that also keeps a classic going, adding a few touches and trying to modernize it, just not too much.
This narrow stretch of Baxter Street will never be the same, and there will always be a choir of people happy to remind you of that — You should have been here when Winnie's was right around the corner! — but every business needs new blood, and without its late-2010s resurgence, there wouldn't be nearly as many people lamenting the loss of Forlini's at all. This is the right way to mark the end of an era. To have different generations of customers mourn a restaurant's passing — that's about as close as it gets to going out on top.