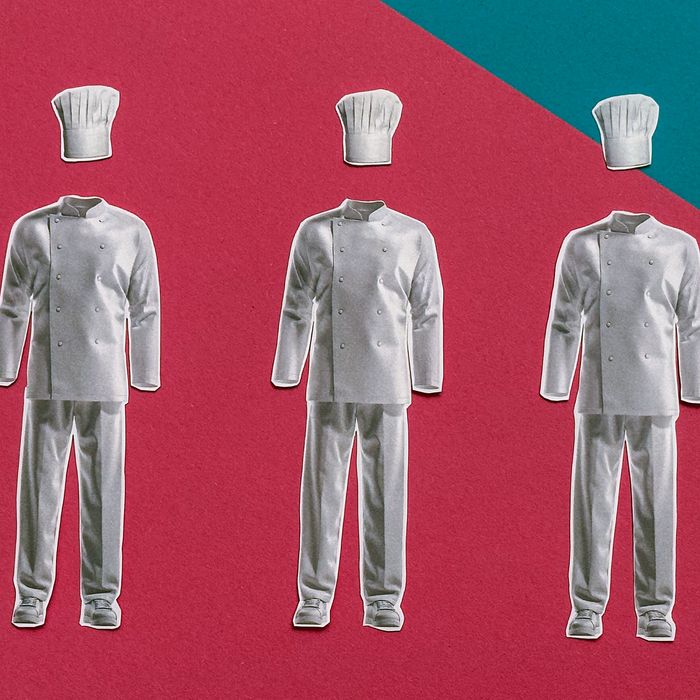 Photo-Illustration: Grub Street
When the Fort Greene restaurant Margot opened in May, it was touted as a project "helmed by three rising stars in the industry": Kip Green, Halley Chambers, and chef Alexia Duchêne, a former Top Chef semifinalist in France whose pared-back, Euro-centric cooking was the restaurant's draw for many of the neighbors who filled the bright, spacious dining room each night.
Just over a month later, Duchêne had left, and Chambers and Green didn't scramble to replace her. Instead, they refocused their energy on their original vision for a deliciously lawless "dinner party you never want to leave." The crowds stuck around. "There's a world in which we bring on an executive chef," says Chambers, "and I think there's a world in which we continue to operate in this very collaborative model."
Five or ten or 20 years ago, this new approach would have been more or less unthinkable. It was the chef who got top billing. Regardless of who actually owned something, diners went to experience a vision, which had been explained in any number of chef-focused reviews. Momofuku was David Chang. Babbo was Batali (sorry). Marea was Michael White; Michael White was Marea. The year 2004, Jeff Gordinier wrote in the New York Times, was the pinnacle of Hot Chef culture, and every major opening — there were many — was billed as a monument to the talent and vision and ego of a singular Great Chef.
Now we dine out on vibes. The latest crop of buzzy New York openings is about atmosphere. We want martinis. We want French fries. We want late nights and easy luxury. Yes, obviously, somebody is cooking — we respect that, and know that the work requires great dedication and grueling hours — but who is in these kitchens? Nobody seems too sure. "Who's the chef at Bad Roman?" asks Michael Cecchi-Azzolina, who opened his own buzzy restaurant, Cecchi's, earlier this summer. "Does anyone know? I don't think anybody knows who is, like, the chef at Libertine, which is getting so many raves."
Of course, there are still restaurants that exist as extensions of celebrity chefs, like Mischa, where the marquee name is Alex Stupak, and Tatiana, Kwame Onwuachi's Lincoln Center revelation. But more and more, buzz is reorienting away from big names in the kitchen. "I came up in the era of, the chef is why you went, you went for the person cooking the food," says New York chef Bobby Hellen. "Now, it's not like that."
This change is both intentional and not. "I wasn't like, 'Oh, we're not doing a chef-driven restaurant,'" says Aisa Shelley, the nightlife impresario who opened Casino late last year. "It was just like, Hey, I want this thing," — hypervibey Euro seaside — and he needed somebody to do it. Ken Addington, an industry vet, came in to set up the menu and the kitchen, and then, by design, handed over the reins to "great hammers to really run the day-to-day," he says. "I mean, I love standing in the pass for 12 hours and pushing food out, but it's not necessarily the best use of my time."
So what happened to chefs? "There aren't any," says Cecchi-Azzolina. "It's just a very, very small pool." The city, as Shelley sees it, has lost a generation: "Basically, what happened is all these people who were super experienced in kitchens but never made it out onto their own" — the cheffy chefs who would now be leading chef-centric restaurants — "started private cheffing during the pandemic, and all these really great servers, floor managers, managers, great GMs, took the opportunity to be like, 'I am no longer working in this hellish industry.'" The result is what he calls a "lineage gap" — "there aren't these young chefs to build a restaurant around" — so restaurateurs are doing their own thing, which, for the moment, broadly speaking, is glamorously easy restaurants that promise nobody has to think too hard.
For ambitious up-and-comers, the path has become muddled. The cost of living is too high. So is the toll of kitchen life, says Nate Appleman, a former New York star who, in 2010, ditched the city scene to become the director of culinary innovation at Chipotle. "As it stands today, the work is too hard to incentivize people to keep working like that," he says. There are too many other kinds of opportunities, ones that do not require roasting in a New York City kitchen seven days a week.
The pandemic, and its fallout, may have changed us, too. Diners, on the whole, have a better idea of how restaurants work. They've always been big ensemble projects, but now cooing too breathlessly over the capital-V Vision of a single name feels, if not naïve, then lightly dated. In the Times in 2020, Tejal Rao suggested the power of the chef-auteur was fading, as diners became increasingly aware of the grim foundations of the industry, and this is almost certainly true. Simultaneously, there seem to be less ideological forces at work: mainly, haven't we done this already? Aren't we … tired of fetishizing white-jacketed, Noma-pedigreed chefs? There are still geniuses, of course there are, but nearly 20 years after Momofuku opened, doesn't the Great Chef Theory of History feel, at this particular moment, a little bit … stale?
"People want to get back to simplicity," Cecchi-Azzolina tells me, citing the Zeitgeist. "They don't need, you know, 13 courses and 17 ingredients on a plate that's designed by Matisse or Picasso."
These are not cheffy times, which has left some chefs to wonder what that means for the future: Hellen, who himself has moved away from daily kitchens toward consulting, wonders about the costs of a future without gurus. In the olden days, "When you're cooking in the kitchen, you see someone with a specific style, and that's why you want to work there," he observes. "I don't know what that's going to do to the next generation of cooks and chefs, who don't have those people to look up to anymore."