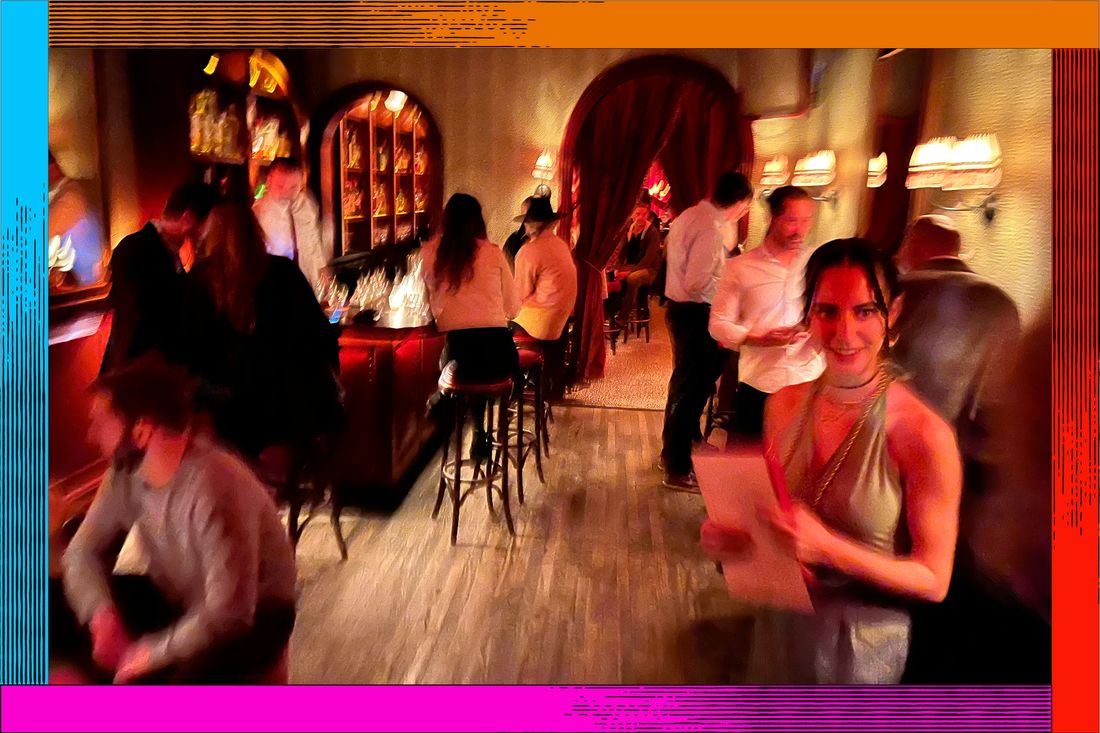 The Nines.
Photo: Tammie Teclemariam
This article originally appeared in The Year I Ate New York, a newsletter about eating through the city, one restaurant at a time. Sign up here.
Hello! It was my birthday last week. I have been hard up for a good celebration since March 13, 2020, when I canceled my 30th party, which happened to coincide with the arrival of COVID-19 in New York. Then, last year's birthday arrived before vaccines, so it was a low-key affair. This year, I had to do it right. I needed this year's birthday to be Big. I needed an Event. I needed to find the Tao of 2022 — twenty-twenty-Tao, if you will, a restaurant that is not a nightclub, but is also not not a nightclub. But I wasn't entirely certain what that place is, only that it's probably not still Tao. How will I find it? I wondered. Where will I go?
In the end, I did the only reasonable thing and decided to have a bunch of birthday dinners, and then choose which one I liked best. This is real journalism, folks!
I first sought out an authoritative nightlife source, specifically a TikTok of Bella Hadid eating an oyster in the dimly lit room she called "New York's hottest restaurant," which was identified in the comments as the Nines, an upscale piano bar in the repurposed Noho space that used to be Acme and now aims to be a swanky supper club for the kind of person who would have partied at Acme in its pre-pandemic heyday. But because I discovered this TikTok on a Thursday, and I wanted to go on a Friday, I was confronted with the very real threat that I might not get in. So, I committed to going all out and asked myself: What would Bella do? Then I emailed the restaurant's publicist to see if she could help me reserve a seat.
When I arrived at 7 p.m., there were still a handful of seats open for anyone who felt like walking in for a $26 cocktail. While the front lounge is slightly more subdued, once you go through the heavy red curtain into the dining room, it's like a portal into a Valentine's Day hotel suite, with red papered walls and red couches and leopard-print carpet that feels like walking on underwear.
Although the space itself was extremely sultry, there didn't appear to be many romantic couples in the crowd. I saw a lot of two-tops of women who looked to be friends, like the pair next to me at the bar, wearing business casual and eating mushroom pâté. Larger groups were stretched out in the red booths and sofas around the room: three women were in one of the coveted corners; Gen Z was represented by a table of youths, including a guy in a black hoodie and white bucket hat that made me regret thinking about what I was wearing that night at all; and a table of seven guys were drinking a round of sparkling wine. Sadly, no celebrity sightings that night, at least to my eye.
It was too dim to read the menu, so I asked the bartender for a recommendation. "The potato is great," he said. I squinted at the menu and confirmed that he meant the "Kaspian potato," which cost $95 due to the 30 grams of Osetra caviar that were promised to be atop this luxury spud. What would Bella do? "I'll have the potato," I said.
The piano player was in the middle of a rendition of Elliott Smith's "Waltz #2 (XO)" and I was halfway through a Cosmo when someone set down a plate of the house china with my birthday potato, its flesh exhumed and enriched with lots of dairy before being loaded back into its skin, a quenelle of black caviar on full display in the center. I had no doubt I was getting every gram of the 30 promised on the menu; in fact, I wondered if any one person should eat that much caviar at all. But then I grabbed the mother-of-pearl spoon and dug in.
When I finished and looked around, I didn't actually see that much eating going on. Then, at 9:30, it was like a dam broke, and a wave of people dressed in black flooded the dining room. By the time I left shortly after, the vibe shift was formally established with a bouncer at the door who had not been there when I arrived.
Though indulgent, Bar Potato was a little too tame to be my new Tao. I needed something that combined the "anything goes" energy of a rave with only a vague pretense of food, a place where I could hang out with a bunch of friends but where we could also make some new ones if the conditions were right.
Everyone I asked had a different opinion of what that might be. A food editor I know recommended West Village hand-roll spot Nami Nori, having recently been for a party. My former co-worker threw out Joyface "for disco vibes," while a younger friend suggested the Chinatown red-sauce joint Forlini's, "if you don't care whether the food is good." Finally, I consulted actual cool person and are u coming? newsletter correspondent Brock Colyar, who had recently celebrated their own birthday at the Jane (the rooftop, not the ballroom), but also recommended the Georgia Room at the Freehand. Hotels, it seemed, were the way to go. After surveying the scene, as well as my ability to score a Saturday night reservation for eight people the night before, I decided to celebrate at Bar Blondeau in the Wythe Hotel, because the 2022 version of a debaucherous night out definitely takes place at a rooftop wine bar in Williamsburg.
Seated with my seven-person entourage underneath industrial windows that looked out over Manhattan, ordering bottles of grower Champagne and natural wine over a dinner of Caesar salad, cod fritters, French fries, jamon, and oysters, it all felt right (though, once again, my table had more food than any of my neighbors'). The bar was at capacity, thanks to a wedding party that unloaded dozens of well-dressed people onto the scene chatting over the electro-dance beat. My friends and I watched two charming guys successfully entice a table of women to talk to them with a bottle of Champagne, and remarked that we'd like to see more of that in the world, though we were now onto a round of martinis, espresso and otherwise, and were doing pretty well without any interference.
By my actual birthday — Monday, if you're keeping track — I still had some party left in me and asked a friend to join me for à la carte Peking duck at Decoy, but it was closed despite being listed as open online, so we found ourselves looking for fun in the West Village at the last minute.
It was the day after the daylight savings time changeover, which gave me the birthday gift of an extra hour of sun on a 50-degree day, so when we passed the Dante patio — wrapped around the corner of Hudson and Perry streets, full of carefree afternoon drinkers — stopping for a fluffy margarita and an order of crispy calamari was a no-brainer.
After a round of aperitivi, we were ready for something more substantial and advanced another block to Anton's, where my friend and I had the impression that we were in a very upscale family restaurant based on the number of tables we saw with children. (To be fair, it was still light out, and a Monday.) We ate our angel-hair francese and mutton ragù, happy to eat them but also convinced that this would not be where our night ended.
We stuck to our theme of restaurants named after men, and I steered us toward Saint Theo's, where I've noticed the crowd every time I've walked past. It seemed like the perfect place to cap off the night with an extravagant dessert.
While the restaurant was in fact busy on a Monday (there were no free tables, but we were able to grab the corner of the bar), and most people were eating full meals, my heart sank when our two desserts arrived: undercooked donuts and tasteless, crumbly chocolate trifle that caused my friend to mutter "inedible." Alas, even as we shoved the majority of our desserts to the side, we noticed that nobody else seemed to be having a bad time, and because of that, neither were we. "I like watching the right people choke on dry fish and pretend like it's good," clarified my friend. Although I'd enjoyed the food more and had more fun at the other restaurants on my birthday mini-tour, I'd found a clubstaurant right here on Bleecker Street, big crowds, disappointing food, and all.
A running list of everywhere I've eaten, week nine:
91. La Vara, 92.Long Island Bar, 93. Flip Sigi, 94. Katana Kitten, 95. Korzo, 96. Sea Witch, 97. Frenchette, 98. Red Paperclip, 99. Buvette, 100. The Nines, 101. Tanoreen, 102. Bar Blondeau, 103. Dante(Hudson St), 104. Anton's, 105. Saint Theo's, 106. Abe's Pagoda Bar, 107. Amuni