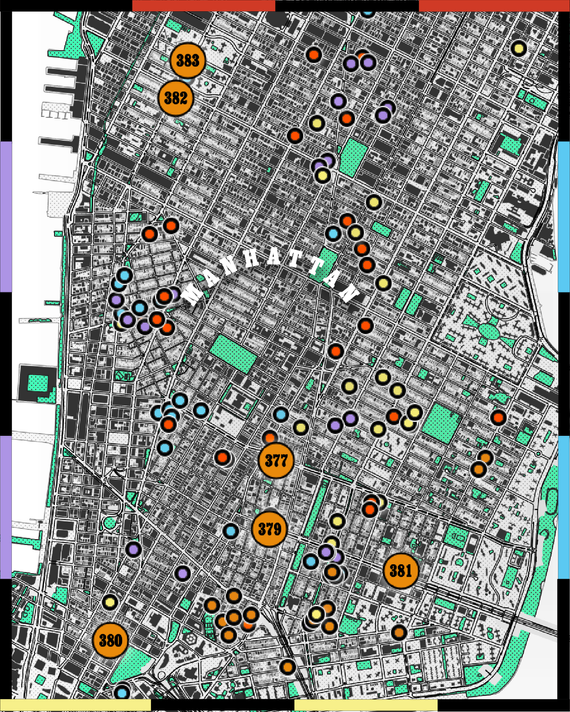 A running list of everywhere I've been, week 39: 377. Emilio's Ballato 378. Sunset Diner 379. Kimika 380. Icca 381. Nakamura 382. The Canuck 383. Jun-Men Ramen Bar
Last week, when I saw that the omakase restaurant Icca had posted about its new "Japanese/Italian" menu on Instagram, I decided to make my way over to Tribeca for some fancy fusion. Although the full sushi menu is served in a different room, I was able to benefit from a zen atmosphere, minimalist decor, and careful service. The high back-bar seats are really comfortable, which is important when you're splitting two pastas and two risottos with a friend.
We started off with a bottle of dry sake that was chosen by the chef and served from small etched goblets — I love fancy glassware — which the staff topped off as frequently as necessary. While I noticed a handful of diners ordering the abbreviated omakase menu prepared by a sushi chef at the other end of the bar, my friend and I ate al dente spaghetti Bolognese (which tasted like savory beef stew in the best way possible), followed by penne with spicy bluefin ragu, alongside two risottos — one stained with squid ink and the other with abalone liver. What struck us most about the rice was the way each grain managed to stand out. Any nonna would have been proud.
Noodles at Icca. Photo: Tammie Teclemariam
At the end of our meal, the chef came out, and I asked if he'd ever cooked in Italy. "He just loves Italian food," our server translated. "His style is very Japanese — like the broth" used to cook the risotto, which we learned was made with Japanese sushi rice, not the traditional Arborio, perhaps helping to contribute to its standout texture.
I first learned about Japan's deep appreciation for Italian food while watching reruns of the original Iron Chef. Even now, years later, the combination makes perfect sense. Both cuisines share a dedication to regional ingredients and a mutual respect for seafood, noodles, and rice. The word itameshi is both Japanese for "Italian food" and used to describe Japanese-Italian fusion cuisine.
I decided to explore a more creative side of itameshi at Kimika, where my seat directly faced The Butcher's Daughter across the street. I had been optimistic, but this time, the combinations felt more forced. A raw scallop starter with hot chile oil could have been served at any vaguely Asian restaurant, and the "pizzette fritte" was more like prosciutto on a greasy scallion pancake. You could do better than the three arancini in a pool of curry for $26 at any number of Japanese cafés in the area for about half the price, and an eggplant katsu entrée was nothing more than a slice of panko-crusted nightshade with a dipping sauce. (On the other hand, the cocktails were really good.)
Icca's excellent risotto. Photo: Tammie Teclemariam
This time, I had a Japanese friend with me who said she'd been meaning to try this place for a while when I invited her. We both agreed that the food didn't seem particularly Japanese or Italian, but maybe it was the lackluster execution. The meal at Icca had been a coherent fusion of Japanese ingredients and Italian dishes, while Kimika's food felt welded together. "This place is a victim of the neighborhood," my friend said, pointing to the streets of Nolita outside.
When I asked if she ever saw Italian-Japanese restaurants while growing up in New York, she immediately mentioned Basta Pasta, which serves tobiko and uni spaghetti among other, more straightforwardly Italian recipes like bagna cauda and tagliatelle with ragù. She recalled visiting the Flatiron location as a kid, and I was surprised to learn is not only still around but apparently thriving. (When I tried to go on Sunday, it was closed for a private event.)
Mazeman with mushrooms, uni, and plenty of green onions. Photo: Tammie Teclemariam
Unfazed, I instead made my way to Jun-Men, a ramen bar in Chelsea, for some uni mushroom mazemen. Among the rainy-night dinner-date crowd, I twirled together chewy ramen noodles with chunks of porcini, crunchy bits of pancetta and fried shallots, green onions, and a chilled lump of uni.
I asked my server about the influence for the dish. "Carbonara, maybe?" she replied. "I know the owner used to be a chef in a different Asian restaurant — maybe there?" Clearly, the origins of Japanese-Italian fusion weren't top of mind for the clientele, since I was the first person to ask. I will take it as proof that the dish works well — people don't even think to question it.