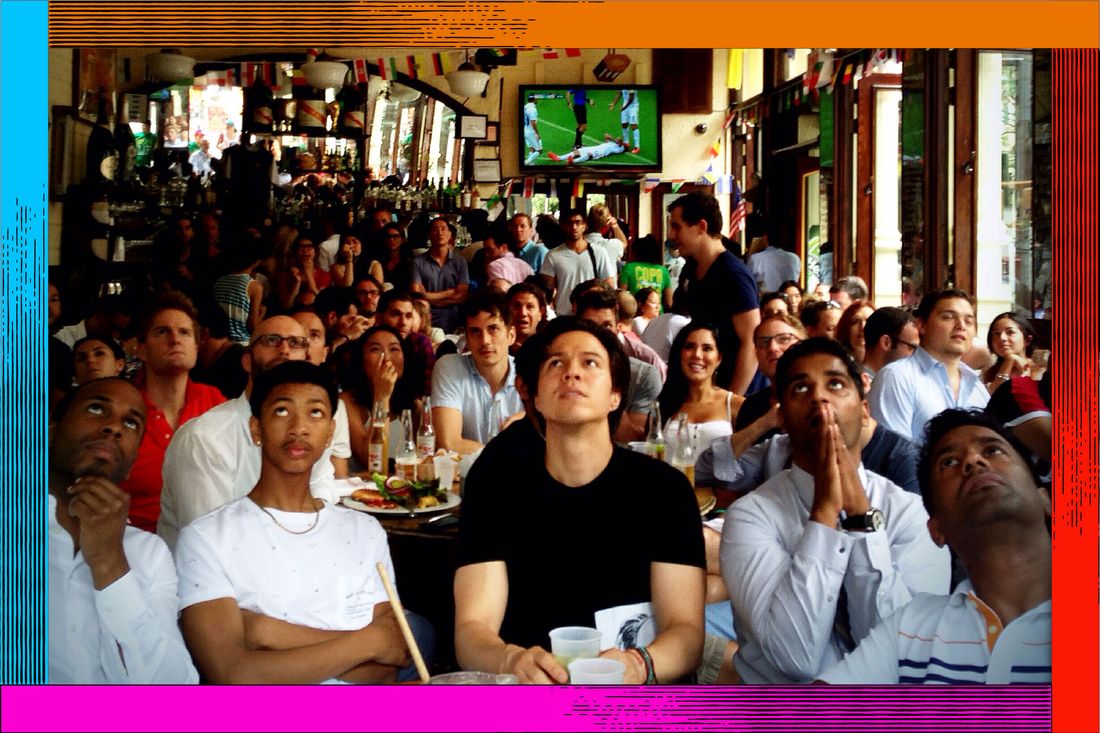 Félix, in Soho, will be open for the 5 a.m. matches. Photo: Pancho Bernasconi/Getty Images
The World Cup starts this weekend, which made me realize that although I know a lot about bars in New York City, I don't know that much about bars with televisions. I'm not a random-sports-bar type of girl, and I want to watch the matches live, which means I'll need to find a bar that's ready for those 5 a.m. start times.
For dedicated fans of the beautiful game, this is life; I'm guessing I'm not the only person wondering which spots will be best for watching this year's tournament. So it was fully in the name of research that I walked to Highbury Pub, a couple blocks from my house in Ditmas Park, for a 9 a.m. pint of Guinness. Inside there were two employees, several screens playing the tail end of a Premier League match, and not a single customer. The bartender told me that he always has to be open for the sake of consistency — sports fans will never trust a bar that's closed the one time they try to check it out — so of course they will be open for 5 a.m. matches that start next week. They don't usually have food (you can BYO), but they're working out a plan with a cook from 773 Lounge, a bar around the corner, to make sure breakfast sandwiches will be available for early World Cup watchers.
Breakfast is a swell time for beer, but I can't drink the same stout and lagers for weeks on end, plus my favorite beers are sour and fruity, or something with a lower alcohol level — things that tend to live within the realm of "craft brews." If you prefer a double-dry-hopped IPA with BEC, ABC Beer Co., a half-bar, half-store in Alphabet City, is worth considering. The owner tells me they'll be showing games starting at 10  a.m. on their projector in the back, which has a couch for that true basement feel. Frankly, I'd rather linger there than Smithfield Hall, which came recommended by several people as the place to watch soccer. When I went, it just seemed like an ordinary sports bar, with screens playing lots of different games. The crowd didn't seem particularly unique, either.
I wanted something with character. Buenos Aires in the Lower East Side is more like a sports restaurant than a sports bar, and I'm not complaining. This old-school Argentinian steak joint is decked out in flags and jerseys, and there are two TVs. The waiters are professionals and the wine list is full-bodied and red. You won't be able to see the early matches here, but Buenos Aires opens for lunch at 12, during which time you have a couple orders of empanadas and their excellent flan. (World Cup or not, I will go back for the picanha with chimichurri and fries.)
Speaking of restaurants that specialize in sports watching, Félix in Soho is typically a destination for World Cup matches, though the French bistro was showing Formula One when I dropped by the other weekend. (Not that anyone was really paying attention.) Either way, my server confirmed that they would be opening for the 5 a.m. matches, and when I asked if he thought that people would actually show up, he replied, "Do you think we would open if they didn't?"
In the end, the best not-quite sports bar I found is Terroir in Tribeca, mostly because it's a great wine bar. They have one of the biggest wine lists I've ever seen, with an emphasis on wines by the glass, which means you can actually go by yourself and drink something special without having to commit to a bottle. I had a glass of floral red muscat next to a puffy flammkuchen at the bar, in full view of a TV that, at the time, was showing the old Paul Newman movie Slap Shot, but there's also a huge projection screen in the back. That's where they'll be showing World Cup games starting at 2 p.m. next week.