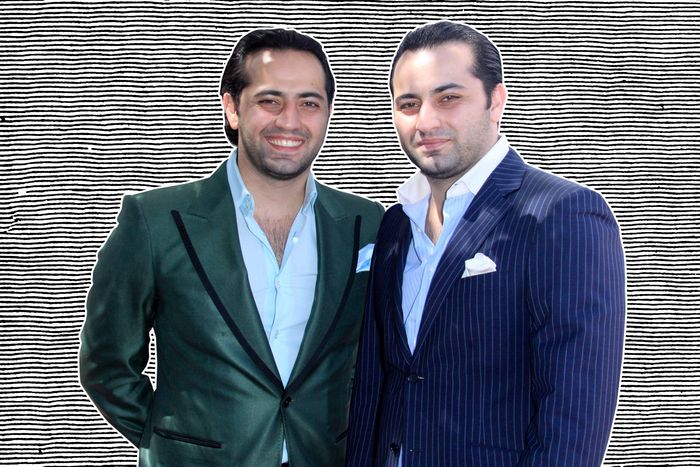 Zhan Petrosyants, left, and his twin brother Robert.
Photo-Illustration: Grub Street; Photo: WENN Rights Ltd / Alamy Stock Photo
On a recent summer afternoon inside Osteria La Baia, a white-tablecloth bistro on West 52nd Street with an open kitchen and photographs of coastal Italy on the wall, executives from nearby offices noshed on $24 margherita pizzas and $19 "La Baia Cesare" salads. The restaurant is elegant but nondescript, and on first glance it would be easy to write it off as just another Theater District spot, catering to tourists and the occasional expense-account diner. But since it opened in late 2021, it has become a favorite of Mayor Eric Adams, and the subject of media scrutiny. Earlier this year, Politico reported that Adams had turned the restaurant into his "unofficial office," and this week the Times revealed that its own reporters saw Adams there "on at least 14 evenings" in June alone, and that he's been known to stay "for three or more hours," lingering until after closing.
The restaurant is not a typical power-broker clubhouse, nor is it owned by a well-known hospitality group or chef. Instead, its operators have become the subject of speculation in their own right, specifically 40-year-old twin brothers named Robert and Zhan Petrosyants, who before La Baia built a collection of outer-borough restaurants, who once plead guilty to money-laundering charges, and who are currently contending with three additional lawsuits related to how they finance their restaurants. Yet they remain close personal friends of the mayor's, a relationship that has also turned them into two of the restaurant world's least likely power players.
The twins grew up with their sister and parents in Turkmenistan, the authoritarian Central Asian regime that became independent once the Soviet Union dissolved in 1991. There were few opportunities for an Armenian Christian family in the majority-Muslim nation, and the family suffered religious persecution. In 1996, the Petrosyants twins left their home with their mother while their father and older sister, Nonna, stayed behind to care for their grandmother. Nonna arrived three years later.
"Turkmenistan is one of the world's most isolated and oppressively governed countries," the Petrosyants said in a statement. "All forms of religious and political expression not approved by the government are brutally punished. As Armenian Christians, we faced daily dangers and discrimination and left."
In New York, they worked a variety of jobs until 2006, when Robert needed legal advice for a civil matter, and a mutual acquaintance introduced them to Akiva Ofshtein, a no-fault insurance attorney who represented doctors against insurance companies. The two became friends — Robert set Ofshtein up with his eventual wife — and soon went into business together. Ofshtein had once managed Tavern on the Green and wanted to get back into the restaurant business.
He scoured properties near the newly built Barclays Center and chose the former Royal Video store. In November of 2010, he notified Brooklyn Community Board 6 of his plans to turn it into a two-story 230-person club called Prime 6, with bottle service, live music, and an outdoor bar. Robert oversaw its construction and became general manager. Ofshtein also hired Zhan as night manager to oversee private parties and last-minute kitchen needs. But the proposal for the restaurant, and its 4 a.m. closing time, alarmed nearby residents, who stormed a community board meeting in February 2011 to protest the license. Ofshtein and the Petrosyantses agreed to revamp their plans to a "farm-to-table" eatery that would close at midnight. They renamed it Woodland and opened in May 2012.
"At the very beginning, the Petrosyants were buddy-buddy with me," said Steve Ettlinger, a Park Slope resident. "They were there all the time, especially when they were setting up, saying, 'Look, I planted flowers in the flower box — it's great.'"
Neighbors may have appreciated the changes, but few people actually dined there. After soliciting feedback from their customers, the owners rebranded again. They overhauled their menu with Caribbean-inflected dishes like sweet plantain porridge and curry chicken and hash while featuring a $20 bottomless-mimosa special on weekends. After they brought in DJs, lines began to form down Sixth Avenue as early as 11 a.m.
"The original idea was to cater to the local Park Slope clientele, but many local clients, mostly Caribbean American, kept asking for Caribbean additions to the menu and fun music," the brothers said. "We tried it one Sunday as a closed private event and it was a huge hit. So it took off and became a regular daily thing."
Farah Louis remembers meeting up with friends at Woodland after work as a City Council staffer: "It was a Caribbean spot. You feel like you're at home. The people serving you understand what makes people happy."
The restaurant appeared to be thriving, but a month after Woodland opened, federal prosecutors charged Zhan and three other individuals in a check-cashing scheme involving medical billing companies the twins had been operating called DJR Capital Group. (Robert was later indicted for participating, too.) In trouble and needing guidance, Zhan found a willing mentor. Eric Adams was running for Brooklyn borough president when he met the twins, learned about their predicament, and offered to help.
In February 2014, both brothers pleaded guilty. Robert was sentenced to six months in federal prison with three years of supervised release while Zhan received five months of probation, court records show. Both were ordered to repay $667,446.
When Adams took office as borough president that year, he became a regular at Woodland, held campaign fundraisers there, and brought borough hall staffers there after work. Adams frequently held the final round of interviews for job applicants at a reserved table at Woodland well after 10 p.m., one person familiar with Adams's hiring practices told me.
Adams promoted the brothers' other ventures, attending the ribbon cutting for Forno Rosso, a pizzeria in downtown Brooklyn, in November 2014. He also told Crain's that their third restaurant, Wallabout Seafood, which opened the following year in Fort Greene, was one of his favorite spots before he gave up fish for an entirely vegan diet.
But while the brothers were opening other restaurants, Woodland's financial problems started piling up, and they fell behind on rent and tax payments. The owners attempted to declare bankruptcy in 2015, but a judge denied the motion in 2016. Ofshtein tried again the following year before working out a court-approved payment plan in 2018. The business owed $800,000 in unpaid taxes, $300,000 in back rent, and $1.4 million in total debts, court filings show.
Neighbors also grew concerned with noise and excessive alcohol consumption at the restaurant, and complained to police and elected officials about the problems. "People over-imbed and they didn't monitor that," said Assemblywoman Jo Anne Simon, who represented the area and wrote a letter calling for Woodland's liquor license to be suspended. "There were a lot of problems when people left, like vomiting in the street and peeing everywhere. The music was so loud it affected a lot of people, and they were just completely nonresponsive to the community's concerns."
Ettlinger, the Park Slope neighbor, recalled, "The biggest issue we had wasn't even noise as much as the drunken behavior of clients when they left the bar," he said. "People were clearly drunk, throwing up, and then getting into a car and driving off."
After years of appeals, the State Liquor Authority started paying attention, too, and Woodland's liquor-license hearings became heated. At a hearing in June 2019, Frank Carone, the restaurant's attorney who also served as Adams's campaign lawyer, blamed a few "squeaky wheel neighbors" and said there was a "racial animus" to their complaints. When an SLA attorney responded with evidence of chronic noise and said that the restaurant's owner should be held to a higher standard because he was an attorney, Carone shouted in the courtroom, "You are a fucking liar. Fuck you. How dare you bring up that my client is a lawyer. Fuck you," according to that attorney's sworn affidavit.
By December 2019, the SLA had seen enough and revoked Woodland's liquor license. The order went into effect on January 3, 2020, and Woodland closed three days later. Two days after that, the twins formed the Peka Group, a new hospitality venture that would bring all their restaurants under one umbrella and allow them to expand rapidly across the city.
They were still running Forno Rosso in downtown Brooklyn and Wallabout Seafood in Fort Greene with Ofshtein, and were about to open Las Santas, a Mexican spot on Fulton Street. Plans to convert Wallabout into a locally sourced Caribbean restaurant over the summer were also in the works. They started to secure hundreds of thousands of dollars from investors, two of whom eventually sued the brothers for breach of contract. (When I asked about them, the brothers would only respond, "All the lawsuits are still active, so we cannot comment on any of them. We will continue to litigate them all.")
Meanwhile, the brothers' biggest project was coming together in Manhattan. Russian restaurateurs Evgeny Kuzin and Alexander Orlov, whose Bulldozer International Hospitality Group operated dozens of luxury restaurants in the United Arab Emirates, Hong Kong, Eastern Europe, and Miami, wanted to make a splash in midtown. In January 2008, the Dubai-based restaurant group leased the 5,000-square-foot ground-floor space in the former Flatotel building on West 52nd Street with plans to turn the space into a high-end Italian bistro.
They brought in the Petrosyantses, who would help build out, promote, and eventually operate the restaurant. Robert's domestic partner Marianna Shahmuradyan handled its liquor and building permits. (With their past felony, the twins are barred from possessing the liquor license themselves.) They also hired criminal defense attorney and former Brooklyn district-attorney candidate Abe George to represent them.
"This will be a first-class restaurant serving upscale Italian cuisine for lunch, dinner, and late night," Shahmuradyan wrote in Osteria La Baia's December 2019 liquor application. "I want to bring the Naples and Amalfi Coast food experience to Manhattan … There are many Italian restaurants in the area but none combine traditional street food with an upscale dining experience and are reasonably priced."
They'd hoped to launch Osteria La Baia in 2020, but the pandemic forced them to delay their opening and close their other restaurants. Forno Rosso, the pizzeria in downtown Brooklyn, suffered the most: Despite collecting $550,600 in pandemic-relief loans, they stopped paying rent in April 2020 and fell behind on state taxes. By October 2021, Ofshtein and Robert, who were officially on the lease, owed $514,289 in rent and accrued another $346,569.87 in tax debt. By March 2022, the state tax department seized Forno Rosso and auctioned off its equipment. Their landlord is currently suing to get their rent back.
While all that was going on, the Petrosyantses had been busy preparing Osteria La Baia for its launch in 2021. They appeared in "Page Six" when Eric Adams hobnobbed with them at his election-victory celebration at his favorite social club, Zero Bond, and a week later when La Baia held its grand opening, the newly elected mayor snagged a corner table where he regaled the crowd for three hours.
Suddenly, this just-opened restaurant had been blessed by the city's newest VIP. Adams continued bringing high-profile guests like Bill de Blasio, Andrew Cuomo, and Maureen Dowd, while Zhan hovered nearby. (Enough people paid attention to Adams's dining habits that he eventually had to admit he'd moved on from his vegan diet and did sometimes order fish at the restaurant.)
"They're hardworking and clever, but I don't think they play by anybody else's rules," said one person familiar with the Petrosyantses' businesses. Now, if the brothers can fend off their lawsuits and settle their debts, they already have plans to grow their empire, including an Italian wine bar called Loreto Queens, set to open this fall in Forest Hills; an upscale chophouse in Fort Lee, New Jersey, opening next year; and a "high-end Italian steakhouse" at the former New York Yankees Steakhouse at 7 West 51st Street, slated for winter 2023.
"There's something intentionally generic about them all," said one longtime restaurateur when I asked about the brothers' upcoming projects. "They're inoffensively formulaic — the first thing they're hitting you with is a picture of their bar or their lounge. They're not really selling you on a food experience."
It hardly matters. When their new restaurants open, Mayor Adams will certainly be among the first to dine, and he'll bring in plenty of other friends, too.