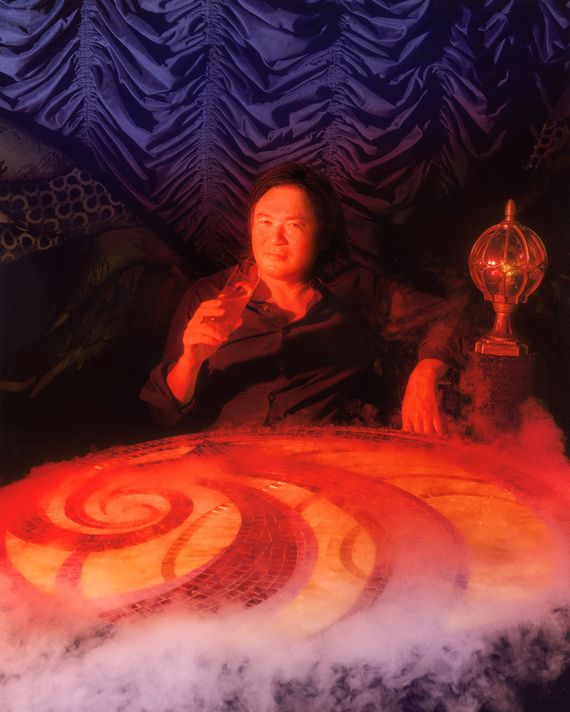 Shinji Nohara at Shinji's. Photo: Tonje Thilesen
The other night, I was sitting in a new cocktail bar in the Flatiron District counting octopuses. They were everywhere — the sign out front, the coasters, above the bar, behind it, on the seats — arms and suckers sprinkled all about this particular room's custom-made opulence. The plush banquettes are custom. The vaulted mahogany ceilings are custom. The labels affixed to the bottles on the back bar are custom. The carts that they wheel out to tables so people still have the experience of watching their drink get made even if they aren't at the bar: custom. It is both nautical and futuristic, the kind of place Aquaman could go on a bender, provided he had enough cash to afford it.
The bar is called Shinji's, and I was on my 15th octopus when Shinji himself appeared holding a glass of white wine in one hand and a whiskey in the other. Before I could ask what he was drinking or even really say hello, he started talking about how smart the octopus is and why it serves as something of a mascot for the bar, which, I should note, is technically not his bar. It belongs to David Hess, Aiden Carty and Justin Hauser, who named the bar in Shinji's honor; when the three were trying to set up their sushi bar Noda, it was Shinji who connected them with their eventual chef, Shigeyuki Tsunoda.
This, to some degree, is what Shinji does. His full name is Shinji Nohara, but anyone who knows him knows that he is also the Tokyo Fixer, the person you call when you're visiting Japan and you need a guide. In certain circles — chefs, travel journalists — Shinji is a legend. He's the guy who first showed Bourdain around. He'll get you into the cocktail bar where you need to know someone before you can dream of getting served. He can secure reservations at the Michelin-level places and then steer you to the best late-night yakitori stall afterward. And, if you happen to be an American opening a luxurious new sushi bar in Manhattan, he can help you find a chef and then help you convince that chef to move to New York City.
So when Hess, Hauser and Carty decided to open a new cocktail bar — one that's in line with the luxury trappings of Noda, one where you can order a hand roll or Noda's caviar-topped uni chawanmushi — they wanted to name it after the Fixer himself. "Since this is New York and people want the best, we wanted to give them the best," Shinji told me. "There's nothing like this."
As if on cue, the beverage director Jonathan Adler appeared in a double-breasted blazer to ask me what I wanted. I couldn't shake the idea of a drink I'd seen on the menu: a foie-gras sidecar. On paper, it sounds basically disgusting — or at best like a gimmick drink meant to entice big spenders. Instead, Adler told me it requires hours of pre-prep to infuse foie into cognac, and the finished drink, once I drank it, was surprisingly light and citrusy.
An instrumental version of Wu-Tang's "C.R.E.A.M." was playing on the stereo as I told Shinji about a trip my wife and I had planned to take to Japan before the pandemic and how much we've missed Tokyo. "I felt that way about New York," he said. "I love New York. It's like Tokyo but it's not." He explained that there's an appreciation for details in the cities that you can't necessarily find elsewhere.
And then I had to decide what I'd drink next. Where do you go after a foie-gras sidecar?
"The Tropicana," Shinji suggested. "You must try the Tropicana."
Adler agreed, explaining that it's like a screwdriver but it's not. It's served in an actual orange, and it takes around six hours to prepare as the mixture of vodka and orange liqueur is frozen ahead of service. They finish it with a red-and-white paper straw, so the whole thing looks like an old orange-juice ad.
I worried aloud that it might be a little too cute for me, but Shinji remained unfazed. "Trust me," he said. So I did, and by the time I'd finished it, I was considering a nightcap, wondering where the Tokyo Fixer would take me next.