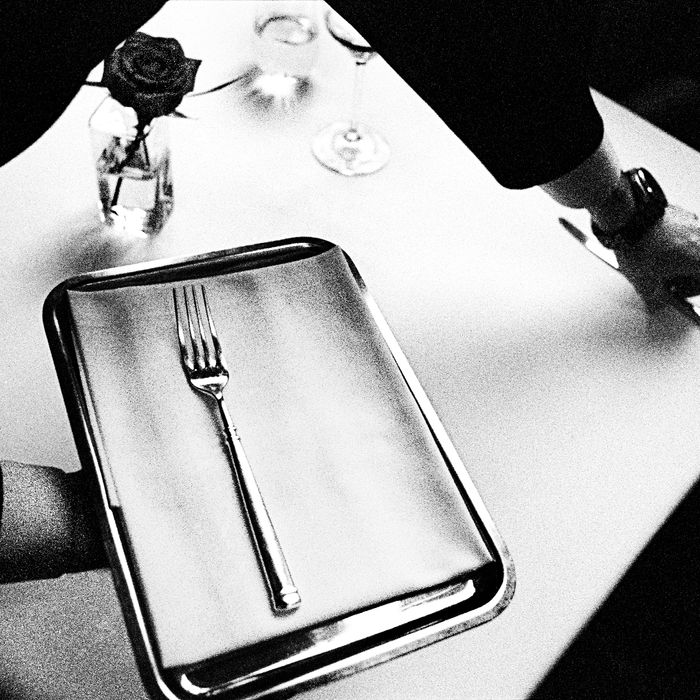 Is there any real future for the old gourmet model of fine dining?
Photo: Pari Dukovic
Earlier this past summer, as the fine-dining world was slowly emerging from its long and fitful COVID nightmare, I found myself with an extra reservation to Daniel Humm's newly vegan-centric restaurant, Eleven Madison Park. The extravagant $335-per-person all-veggie table for two (yes, you can only book tables for two and above; no, the infamous "meat room" had not yet been discovered) was already paid for, and since rebookings and refunds weren't allowed, I asked a few of my high-minded, gourmet-savvy colleagues and friends if anyone wanted the table. Once upon a time, these food-obsessed fashion slaves would have jumped at a free dinner at New York's perennial "Best Restaurant in the World," but not anymore. One by one, they muttered their regrets ("Sorry, Platty, I already have plans"), and one or two didn't bother to reply at all.
Vegan cooking isn't for everyone, it's true, but back in the not-so-distant, pre-COVID good old days, guests who accompanied your humble critic on his lordly processions around town tended to be grateful, even giddy, to be asked out to dinner at what used to be called a "gourmet" restaurant. Seated in the hushed room, they talked among themselves in polite, whispering tones as the imperious servers ghosted to and fro. When dinner arrived, they murmured with somber appreciation as one carefully tweezed preparation gave way to another. They weren't paying for dinner, after all, so why quibble about the ridiculous price of the tuna belly or Bordeaux, and besides, wasn't all this high-caliber cooking supposed to be expensive?
Not anymore. When I finally made it to Eleven Madison Park, my companion voiced her horror at many aspects of the experience, but most of all the bill, which, in a time when the city's unemployment rate hovers around 10 percent, came to $898.22 once the endless procession of old-world wines and herbal teas had been totted up. I heard similar, barely suppressed cries of indignation at Andrew Carmellini's aggressively upmarket surf-and-turf establishment, Carne Mare ("Nobody wants to eat this kind of big-dick-energy food anymore!" a prominent TV personality bellowed across our table), and at Daniel Boulud's long-awaited midtown project, Le Pavillon, where my guests watched with increasing glumness and frustration as one familiar, mannered, French-inflected creation succeeded the next. "Is this the kind of food that people want now?" one of the grizzled restaurant veterans asked. "I know I probably won't be coming back."
Bloviating critics like me have been predicting the demise of what used to be called "haute cuisine" for decades now, but as the great COVID hurricane eases slowly off the coast, leaving all sorts of wreckage and chaos in its wake, the old gourmet model of fine dining has never seemed so disconnected, irrelevant, and out of touch.
In fairness, the great hurricane has hit these upscale joints harder than most, and like old supertankers designed to move only in one direction, they've been buffeted by all sorts of bad weather. There are price increases and labor shortages like everywhere else; with the end of midtown office lunches and free-spending overseas tourists for the time being, many have seen their clientele vanish into thin air. One prominent restaurateur told me there were 50 people working in his Michelin-starred establishment before COVID hit, but when he announced with great fanfare and hopefulness that he would be opening up again this summer, only two of them returned — a loyal dishwasher from Queens and his sommelier. "In this business, it's all about pricing, real estate, and the talents of the people working for you," he explained.
Top cooking talent has already been draining away from old-guard kitchen brigades for decades, and now, with costs sky-high as well as the general collapse, for the time being, of mega real-estate deals like Hudson Yards — which have been subsidizing top-end dining around Manhattan for years — this entire section of the industry, as another veteran put it, "is running on fumes."
Then there's the even more dire question of relevance and tone. Even before COVID, grander, upmarket restaurants tended to make headlines not for the glories of their food but for dodgy labor practices and the piggish behavior of their once-admired chefs. Now, with people struggling all over the city, and fashionable tastes veering — as they have been for years — toward three-star tacos, burgers, and bowls of ramen, a fancy multicourse menu feels like the opposite of sophistication to a new generation of diners. "All these places try to tell a story," an astute young Brooklyn gourmet told me the other day. "But in the end, they're all the same. They serve the same caviar or oysters to start, the same butter-poached-lobster course and then beef or duck to finish — we've seen it all before, and now the prices are crazier than ever. I just feel like the world has moved on."
Where is the world going? Who the hell knows? But these days, your weary critic can't help feeling sympathy for his younger friend (not to mention the staffs toiling furiously in these supertanker establishments) as I make my rounds around town from one polished, glittering, strangely off-key new dining room to another, admiring the skyscraper views, forking over hundreds of dollars of someone else's money for yet another weirdly dated, lugubriously long, outlandishly priced menu.
In some corners of this fraught world, the old "jackets required" dress code has even been revived despite the fact that old-guard establishments did away with it long ago. Could this be the beginning of a great retro revolution? It's possible, though when I put on my dusty blazer and paid a visit to a new little room where ancient Belle Époque pleasures (roast pigeon breast, frogs'-legs confit) were being served and aged hits like Elton John's "I'm Still Standing" played mellifluously over the rows of linen-covered tables, it felt more like the revival of an old — and, at $185 per prepaid ticket, not inexpensive — Broadway play we've all seen too many times before.