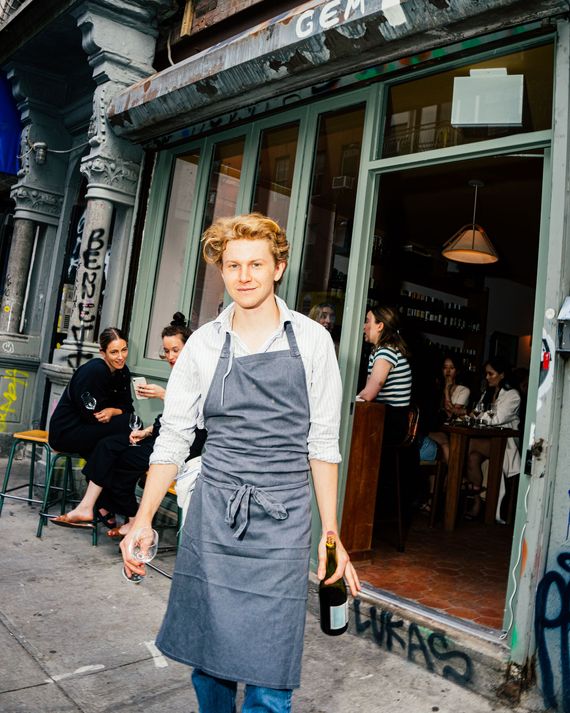 McGarry, who opened his Lower East Side restaurant five years ago. Photo: Jutharat Pinyodoonyachet
At age 24, Flynn McGarry has already lived numerous proverbial lives in the rough-and-tumble world of big-time restaurants, from teenage sensation to star chef to ambitious restaurant owner and wine-bar entrepreneur. Now comes what might be his most challenging role of all: makeover artist. With business down at his Lower East Side tasting destination, Gem, he's decided to close the restaurant at the end of the summer. Gem Wine will move into that space, and sometime in the not-so-distant future, a new Gem will be born, one that the chef hopes, after a period of experimentation this fall, will mirror the tastes of the increasingly fickle TikTok-dining generation. We sat down with McGarry to hash out what went wrong, what went right, and what will happen next.
So let's pretend we have the corpse of ye olde "fine dining" laid out in front of us, and let's perform an autopsy. What's happened in the last few years to change diners' habits, and how are chefs in your position reacting to it?
I don't know about other chefs, but my first reaction has been confusion. There are styles of restaurant dining that are still working quite well. Sushi, of course. Wine bars — when we opened Gem Wine two years ago there was maybe one other wine bar in this neighborhood, and now there are close to ten. But there are other things — like the tasting menu for instance — that aren't really feasible now in New York for all sorts of reasons.
What are some of these reasons as far as you can tell?
I think for people my age — and these are the people with more and more spending power these days — the biggest thing is choice. I think the idea of these grand chefs, and the kind of critic that you used to be, the idea of this class of tastemaker having authoritative power over the customer is just sort of dead these days.
I don't know whether to laugh or to cry.
People have moved away from wanting to go out to a place and dress up and have all this pomp and circumstance for a while now. At least my generation has, that's pretty clear. They want to have experiences and they want to be in charge, and from the experience standpoint, if you fork over a bunch of money for a ten-course tasting menu, which is what we serve at Gem, or you go up to a traditional "gourmet" place like Daniel, you're not in charge — you choose your wine, maybe, and a course or two — but you're not in charge; there's a captain, there are all these servers, you are in their ecosystem.
So what will the dining ecosystem of tomorrow look like?
We're in this place, I think, where for a lot of reasons, including maybe TikTok, the restaurants opening — and there are a lot of restaurants opening — are all a little bit the same, and the food matters so much less. Not to say that people don't recognize good food, but I also find myself going to restaurants that I don't love, and I'm okay with saying, "Hey, this is fine." There's a weird acceptance of food that has no soul to it and is just okay. You get your steak for two. You get your bottle of wine. People are accepting a little bit below to get what we want, because what people want — and this was big thing during COVID, of course — is socializing and a sense of community.
"Socializing and community" sounds like code for the dreaded "scene restaurant."
Obviously, the scene has a lot to do with what works and what does not. What goes into making a hit dish or a popular restaurant is a bit of a mystery, however. We have a dish on the menu at the wine bar right now that is literally just very nice Italian melon with some Ibérico ham on it. It costs $28 because the ham's expensive and the melon's expensive. That's how we price it. It's the biggest-selling and most-Instagrammed thing on the menu right now.
So how will the 2.0 version of Gem manage to transcend all this madness?
We'll see. We're going to spend the fall experimenting with different theories and with different friends of the restaurant and chefs we know. In the end, I think it will come down to what I was saying about choice. You want to give the new generation, my generation, as much of a sense of choice, and power, as possible. I have a bigger space in mind — there will be an open kitchen and a counter for that evening's tasting menu, so the tasting menu will be part of the experience. There will be a walk-in, à la carte space; there will be a space for private events.
I see a much-TikToked Gem Burger in your future.
There will be no burger. The burger is going to stay away. The à la carte and tasting menus will be part of the same theme for that day, and the theme will be whatever the market brings. There will be a quick experience if you want that. There will be a party scene if you want that. There will be choices and options for customers who want to talk to the chef and choose how they want to experience the tuna we got in fresh that morning, say, or this box of partridges from our purveyor in Vermont.
That's a lot of balls in the air.
It's a lot of balls in the air.
So the idea is to swap in a range of styles and experiences for the old, rigid set-menu option?
That's the idea.
Do I detect a hint of optimism?
I think that I have to stay optimistic since this is the industry I work in, and things are always changing, especially here in New York. With Gem Wine we started something very DIY with simple ambitions, and it's turned into a much bigger thing than we ever imagined. So we're lucky. We have that success to build on and we have time. I'm willing to believe that there is still room for fine dining. There are still going to be people who want a unique experience and are willing to pay for it, and when they arrive for dinner, we'll say, "This is our beautiful room and this is the food we have in the kitchen. These are the fresh flowers we bought in the market. Please sit down for a few hours and let us cook a delicious dinner for you today."
This post has been updated to clarify that McGarry has not found a specific space for a new Gem.