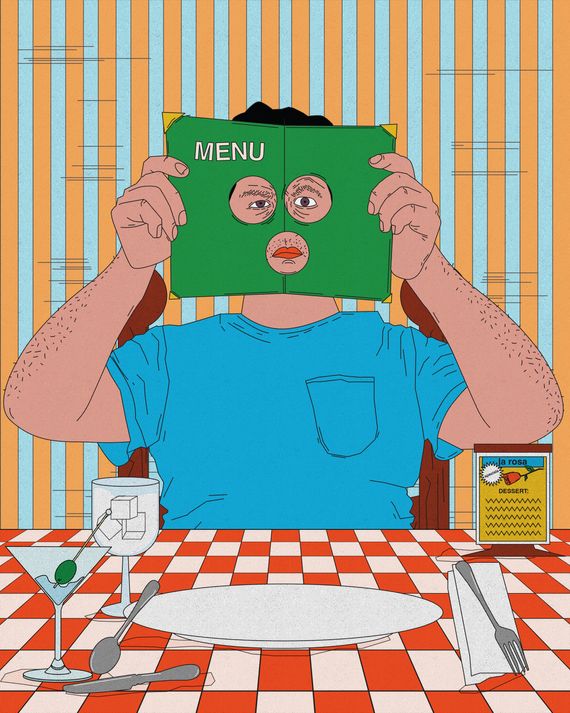 Illustration: Carolyn Figel
Potatoes are probably not the first ingredient you think of when you imagine items that could quickly bankrupt an otherwise successful restaurant, but chances are good that you do not purchase 50 pounds of potatoes every week. Chef Matt Le-Khac, who owns the Vietnamese restaurant Bolero in Williamsburg, does, so when he noticed the price of his preferred fingerling potatoes shooting up, he knew he needed to do something fast. This past spring, a case of the long, knobbly potatoes might have cost Le-Khac about $50. "But in June, it was up to $121," he says. "That's unsustainable."
The reason: Russia's invasion of Ukraine, the world's third-largest producer of potatoes, which, when combined with Russia itself, is responsible for 10 percent of the global spud supply. Suddenly, there were far fewer potatoes to go around, and Le-Khac made the decision to remove them from his restaurant's $30 plates of shaken beef.
It's a minor tweak, one that most diners would never notice, but it's also a sign of larger problems that continue to threaten the entire restaurant industry. Chefs have always had to worry about what's known as production. It's not enough to have an idea for a great appetizer; someone must also figure out how to execute and replicate that idea, often hundreds of times per night, while simultaneously ensuring that it doesn't disrupt any of the 1,000 other details that cooks must consider during service. Now, with chefs beset by skyrocketing prices and ongoing labor shortages, the usual way of doing business is untenable. To cope, restaurants have slashed menus, simplified garnishes, and introduced streamlined recipes that can be sent out to dining rooms immediately — that is, if they can find enough cooks to hire in the first place.
"Ninety percent of restaurants are probably understaffed," says Luis Herrera, who opened Ensenada in Williamsburg earlier this year. Owners might tell the public they simply want to cook honest, homey food, but cooks say those beef tartares and burrata plates on menus are designed to ease the strain on kitchens stretched to the limit.
"Dishes have been made simpler because we can't accomplish certain techniques with the number of hands available," says James, a cook who has worked at various city kitchens this year (and who asked not to use a last name to avoid limiting potential jobs). "The labor costs associated with prep have to match what we can afford, and we simply can't keep a full prep team on and a full line," James explains. As a result, many managers are favoring dishes that can be prepped ahead and assembled — rather than cooked — at the time of ordering. It's why every restaurant seems to offer a "raw bar" selection, and it's partly why the menu at the Cobble Hill wine bar June includes olives, multiple cheese plates, and several salads but only two dishes (trout and grilled duck) that would fit the traditional definition of an entrée.
"We're doing more prep and less à la minute cooking," says Diego Moya, the chef who oversees the two-person kitchen at June as well as sister Brooklyn spots Rucola and Rhodora, where the nightly kitchen staffs range from four or five people at Rucola to zero at Rhodora (servers handle the entire menu). But these kinds of shake-ups are hardly unique to small establishments.
The original plan for Gage & Tollner, the revived 110-seat chophouse in Downtown Brooklyn, called for 16 to 20 people in the kitchen each night with the intention to hire more as business ramped up. Instead, when the restaurant finally did open after a yearlong delay, just ten employees worked in the back of the house. "When one or two cooks get sick because of COVID or the flu," says executive chef Adam Shepard, "we literally don't have the manpower to do the job that's in front of us." To manage, the restaurant has had to trim up to five menu items at a time. It also, for a while, suspended a completely different food menu served at its upstairs cocktail bar, Sunken Harbor Club.
Some of the substitutions are straightforward: One career cook says a dish like chicken parm — made with breaded and fried cutlets — has taken over menus because it is "infinitely easier" to prepare than the pan-roasted half- and whole birds that were so popular before the pandemic. Other times, dishes are added in hopes of offsetting high-priced, labor-intensive items that can't be removed.
Jennifer Saesue, who owns Fish Cheeks in Noho, says she has added fried chicken wings and grilled pork cheeks to her menu to help control costs, even though the restaurant's specialty is Thai seafood. The signature dish is coconut crab curry, but when the price of lump crabmeat rose from $26 per pound to $60, before settling back down to $40, she had to raise her curry's price to $30 — a ceiling she felt she couldn't exceed. She hopes the simpler, cheaper items bolster her bottom line. "Our food costs used to hover between 25 to 27 percent," she says. "Right now that number is 30 to 32 percent."
Hard-pressed operators can take more drastic steps — one server tells me that a restaurant he worked at in the spring, having pared back the menu as much as possible, took the unprecedented step of eliminating family meal, the staff's one time to eat before service ("It was a legit blow to morale") — but the most common move is to default to a set of unchallenging crowd-pleasers. "When you look laterally, menus are always kind of the same," says James. "Tomato salad with basil; watermelon and feta; pork and cherries." Though that could be changing since, as James notes, "cherries are out-of-control expensive."
Still others have tried to keep any disruptions to a minimum, hoping they can hold off on trimming or adjusting their menus as long as possible. "We've thought about it and should, but we've just been sucking it up so far," says Ann Redding, who owns Thai Diner in Nolita with her husband, Matt Danzer. He adds, "We've kind of accepted that we're just going to make less money." Even so, late last year, the couple debuted a raw-bar menu that includes shrimp cocktail, oysters, and an $89 seafood tower called Suvannamaccha's Offering. It's named for a mythical Thai mermaid who is said to be a symbol of good luck.