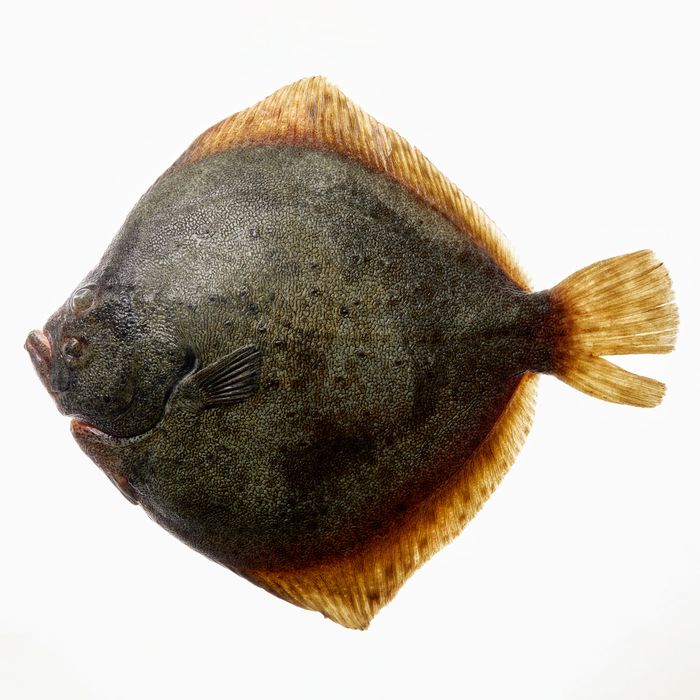 A turbot, which is quickly replacing branzino as chefs' go-to whole-fish preparation. The question is: Why? Photo: Marcus McDonald
May I?," asked our server, as she drew a knife down the spine of my dinner. I was at Foul Witch, the East Village wine bar that opened earlier this year, and a gleaming platter of whole turbot had just arrived at the table. It was placed on a small trivet, sloping the dish slightly so that a sauce of vin jaune pooled to one side. "Because it's such a rich fish," she continued, "the juices will constantly collect — you'll want to baste it as you go along." She then glazed the otherwise unadorned seafood with additional drippings and began to delicately carve off the fillets. "When you're ready, we'll flip the fish over and go to the other side."
The biggest surprise was not the price, which at $135 was reasonable, I guess, for a "large format" dish designed to serve multiple people at once. Nor was it the fact that this elegant, agreeable tableside presentation was happening inside a downtown establishment run by the people behind the Roberta's pizza empire. The real detail that I couldn't stop thinking about after the meal was that I'd been able to order turbot at all — an ingredient that, even a decade ago, was practically unheard of on New York City menus.
Wild turbot — often caught in Galicia or Brittany — is completely overfished and difficult for even the best-sourced restaurants to obtain. Because of its scarcity and mild flavor, turbot ranks alongside Dover sole as a fish that's more closely associated with the high-caliber, white-glove dining palaces of Europe. Now, I've seen it somehow appearing quite frequently on this side of the Atlantic: At Casino, the "coastal Italian" restaurant that recently moved into the former Mission Chinese space, char-blistered fish gets topped with capers and a rustic dice of Meyer lemon. Principe, a new restaurant in Soho run by the chef Abram Bissell, offers whole fish grilled over charcoal and finished with lobster and mushrooms or as a fillet that's topped with a crust of olives and anchovy. Lord's is the offal-focused sister restaurant of Dame, but chef Ed Szymanski has been known to sell whole turbot as a special, finished with spoonfuls of melted parsley butter.
"It's a versatile fish," Szymanski says. "We get very large ones for private parties and then sell the heads and collars as specials at Dame." There, they also serve the fins, breaded and fried, with a cup of aïoli on the side for dipping. The chefs I spoke to, however, all agreed that the best way to prepare the fish is whole, because its flesh can withstand the high heat of a grill or wood-burning oven and because the meat is able to extract the maximum amount of luxuriously fatty gelatin from the bones.
Most of the turbot being sold in New York restaurants come in around two pounds, an ideal weight for a shared entrée. But a wild turbot can cost $100 or more, wholesale, meaning the economics make no sense for a restaurant chef who would then have to figure out how to recoup $300 for that same fish to make any money with it.
The reason that turbot has managed to pop up on so many menus lately is because it isn't wild at all. It's sourced from aquatic farms in northern Spain, a region that has managed to pioneer a market for year-round turbot farming and that, in turn, has brought prices way down. Regalis Foods, a specialty importer, sells wholesale farmed turbot for around $15 per pound; founder Ian Purkayastha says wild fish from Northern Europe can cost up to four times as much. "Because the farmed fish is so much cheaper," Purkayastha says, "chefs see it as an opportunity."
Ryan Bartlow, the chef and owner of the downtown Basque restaurant Ernesto's, says that, despite the price discrepancy, the quality is comparable: "Blind tasting, I've had wild turbot next to the farmed stuff, and there isn't a dramatic difference." (Bartlow serves it whole or cooked as bone-in "chops," which are then filleted before plating.)
Alexi Raij was among the first of the city's chefs to embrace farmed turbot, having long served it at her own Basque restaurant, Txikito. When I ordered it recently, a whole fish for two ran just $62 on the menu, making it perhaps the most affordable turbot in town. Given the fish's strong ties to the Basque country, Raij knew it was important to sell a version at Txikito, but even in the restaurant's earliest days, before turbot was widely available here and before other chefs had caught on to this new product, she didn't consider a wild version, at least in part owing to the prohibitive costs. And while fillets were an option, Raij wasn't interested. "Cutting a wild fish that wants to be eaten whole becomes paradoxical," she says.