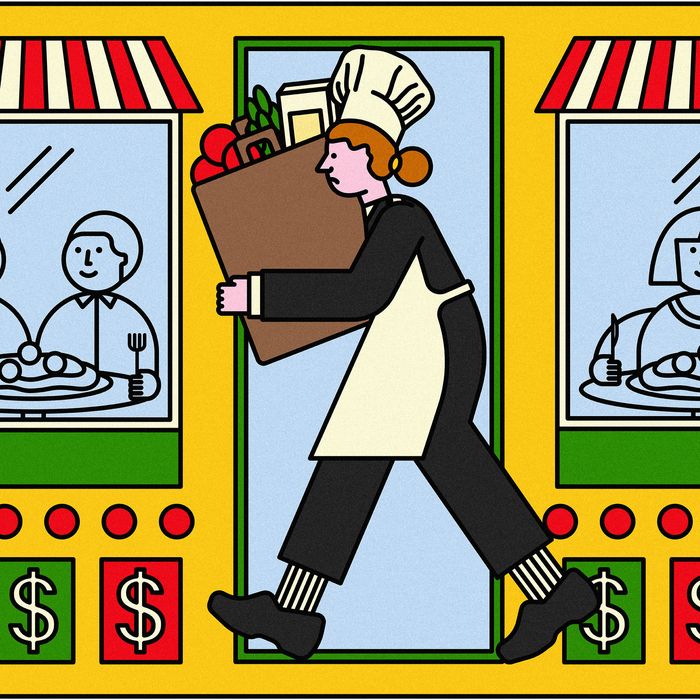 Cooks as well as front-of-house staff say they're rethinking how often they'll go out. Illustration: Allie Sullberg
Anyone who eats out with any kind of frequency will tell you the same thing: Something feels off. There is still much to be happy about — like the fact that so many restaurants are still open at all — but prices are up, portion sizes are down, and ongoing labor woes continue to take a toll on service quality. The situation is difficult, and even the people who work in restaurants (typically enthusiastic customers and big tippers) are questioning the value proposition of a night out.
Maeve McDermott, who works as a sommelier at a popular downtown restaurant, says she's gone from eating out three times a week to maybe once, often for lunch. The restaurants that give her the most pause are the kinds of upscale "neighborhood" spots where greenmarket-sourced salads and homemade-pasta dishes rotate seasonally, where the cocktail list includes at least one house riff on a spritz or a martini (or both), and where dinner for two will easily surpass $100. These are the spots where she's noticed the biggest shift in the crucial price-to-satisfaction ratio: "It only takes a few experiences dining out and being like, Man, I am paying a lot of money to become overly cognizant of it," she says. "Is this how I'm going to spend my money? Or am I going to buy something really nice at the store and pick up a bottle of wine for way less?"
Ramón Manrique Hung, the beverage director at the East Village beer bar Proletariat, estimates he's going out to restaurants "60 percent less" than he used to, and the reason is simple: "They don't give me the same pleasure." He gives the example of a quick date — two drinks each, maybe some oysters, all eaten in about an hour — that can easily cost $120 or more. "Service is not the same anymore, either," he says. "Nobody cares, and the last couple times I went out, I was like, That was too much money and the service sucked?"
According to the National Restaurant Association, restaurant prices are rising faster than they have at any time since 1981. Meanwhile, employment in food service remains 10.5 percent below where it was in 2019, leading to talent drain and understaffing. "I'm less confident in the experience that I'm going to get," says McDermott. "I know that there are a million new restaurants — it should be a very appealing time to go out."
Instead, Manrique Hung says that more than half of his friends in the industry are eating out less. Gio Morales, a cook at the restaurant Porcelain in Ridgewood, says the phenomenon is felt even more strongly by back-of-house employees, who often make less than dining-room staff: "I rarely go out, and then when I do, I try to avoid the fancy places, where I know food is going to be extra pricey." Even with hourly wages up, another cook told me, they can't keep pace with inflation, and they have less disposable income now than they did before the pandemic.
What can be done? Operators like Jeremy Salamon, the owner of Agi's Counter in Crown Heights, says he understands his customers' frustration and wants to find a solution. His accountant has urged him to raise prices further, but that's "not fair," he says. "I can only charge so much." (Other people tell me there's been a drop in the freebies and comps that industry folks used to give one another at restaurants.)
McDermott says that even when she does go out, she might get home more quickly, not necessarily by choice: "You see how turn times are now faster," she says, referring to the time customers are given to finish their meals. "I don't want to dine out and feel like I'm being pushed out the door — even though I've been part of that at other jobs."
There are still a few ways that management can encourage its workers to dine out. One cook says his company gives its employees a 51 percent discount — so everyone he works with goes out to that group's restaurants when they have some time off.