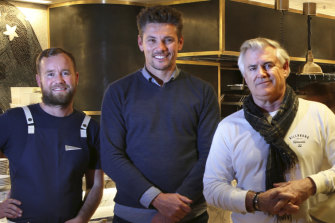 Michael McCann, founder and principal of architecture and design studio Dreamtime Australia Design, estimates that in the current economic climate, a restaurant would need to set aside anywhere between $6000 and $7500 for every square metre of space.
"One of the main issues is that, even though you have that conversation, people think they can do it for less and that we're exaggerating," Mr McCann said. "Then they get halfway through the project and the penny drops and they're totally in the s–t."
Mr McCann said a "depressing majority" of the underestimated costs involved essential services such airconditioning, plumbing and lighting rather than restaurateurs overpaying for lavish furniture and accessories.
His firm had several recent projects where work on a new space had to grind to a halt because the client ran out of capital.
A 'typical' Sydney restaurant's opening costs
Kitchen fit-out: $100,000-$300,000
Dining space fit-out: $50,000-$200,000
Airconditioning, lighting, plumbing etc if required: $50,000 each
Building costs: $80,000-$300,000
Rental deposit: $30,000
Cooking and dining equipment: $15,000-$50,000
Alcohol licence and alcohol management plan: $5500
Initial food and alcohol supply: $5000
Utilities: $3000 a quarter
Public liability and shop insurance: $4000
Source: Restaurateurs, architects and online sources
But where do all the fancy chairs and artwork go when a restaurant goes broke?
"Most restaurateurs will lease whatever they can – so they don't own any of that. So if someone goes broke, the leasing company is usually one of the biggest [creditors] that are owed. So those people try to come immediately and repossess all the equipment," Mr McCann said.
One way savvy entrepreneurs can cut costs is by finding an existing space that fits their vision.
Rachel Jelley recently opened her own restaurant, Hearth and Soul, on Newtown's King Street, making minimal alterations to the exterior and shop front. She said that the kitchen space was "by far" the biggest outlay.
After leaving her old desk job three years ago, Ms Jelley started doing "pop-up feasts" out of a warehouse in Marrickville in 2017 to learn "what it was like to cook professionally".
Travelling the world seeing street food inspired her to take a minimalist approach.
"You don't always need everything that everyone in society tells you that you do," she said.
Ms Jelley said the kitchen price exceeded $130,000, which was more than 80 per cent of the fit-out cost. Equipment was one-third of that, and the rest was building and design costs.
The existing building's amenities and features – including the "beautiful" stained-glass windows that originally caught her eye – as well as a keen eye for a bargain, helped keep her start-up costs down substantially.
Loading
The restaurant's garden, for example, was largely sourced from neighbouring greeneries – and she bought the furniture from an auction house in Leichhardt, which she said was "super-economical".
"I wanted it to feel like as much of a home environment as possible in a commercial setting," she said.
Kelvin Do of Papa Do's Chicken in Cabramatta was unsurprised by the spate of recent closures of trendy restaurants.
As well as Oscillate Wildly and ACME, the casualty list includes Billy Kwong, The Fish Shop and Paper Bird in Potts Point, The Bridge Room in the CBD, Longrain in Surry Hills, Sotto Sopra in Newport, and Ramsgate's Ble Greek Kouzina.
"That story rings really true – for all hospitality, the cost of everything is huge," Mr Do said.
Mr Do founded Papa Do's Chicken in 2017 with his brothers and their father, whose background in the building industry helped contain costs.
Even so, renovation, kitchen and dining equipment, alcohol licensing, rental deposit and other aesthetic elements saw the total bill reach about $450,000 before the restaurant opened its doors.
Mr Do insists they got off lightly. "I have a couple of friends who started a restaurant – they used premium builders and their cost was somewhere between $600,000 and $800,000," he said.
While Papa Do's is popular, the family is trying to sell it. Mr Do said rent ate up about 35 per cent of the gross profit and it needed to be closer to 25 per cent for the restaurant to succeed.
Matt Bungard is a journalist at The Sydney Morning Herald.