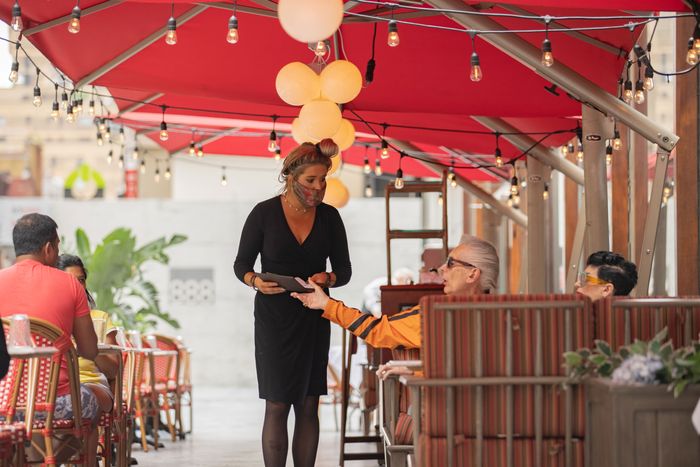 Photo: Jeenah Moon/Bloomberg via Getty Images
Over Labor Day weekend, the federal government ended its so-called enhanced-unemployment-benefits program, reaching the dreaded "benefits cliff." The benefits, unusually generous by the standards of this country, staved off evictions and allowed many people to hold off on returning to jobs they may have felt were unsafe or were otherwise undesirable. Already, some restaurateurs are excitedly telling the New York Post that this could mean, at long last, the end of their ongoing staffing woes.
One, Jeremy Merrin of the Cuban chain Havana Central, tells the tabloid, "It's unbelievable there are so many people claiming unemployment and everyone I know in the restaurant industry can't find enough staff." Restaurateur Stephen Starr rehashes a familiar talking point, saying that "logically, it makes sense that once unemployment benefits stop, more people will apply for jobs."
This is a tired argument against a necessary social safety net, repeated ad nauseam by some business owners and the pro-business camp. As Adam Chandler wrote in the Washington Post in May, "Study after study has debunked the myth that the emergency benefits and occasional payments provided by the government are disincentivizing people from returning to the labor force en masse." (Not to mention the fact that the benefits alone weren't necessarily enough for people, especially those with families, to get by.)
So it is not surprising that last week, The Wall Street Journal reported that states that ended enhanced unemployment benefits early have not seen any difference in job growth. And last month's job report was, as CNBC put it, "a huge disappointment" and the worst since January. Just 235,000 jobs were added, compared to an expected 720,000. Job growth in leisure and hospitality stalled after leading the economy for the past six months. In large part, the stalled growth has been pinned on the Delta surge, which Reuters wrote has "reduced demand for travel and entertainment."
Even in my own conversations with business owners who bemoan the very existence of these unemployment benefits, it hasn't been difficult to get them to admit that there are in fact other reasons why they're having trouble hiring staff (such as old staff moving out of the city or country!).
For restaurant and bar workers specifically, money is one concern, but it is not the only one. Workers who spoke about leaving the industry cited the lack of stability and work environments in an industry in which abusive behavior is endemic. Others cited the absence of benefits like health insurance and paid time off as well as the power imbalance with both employers and customers. Many hospitality workers know people who died or got severely sick. Additionally, their employers didn't necessarily do anything to make them feel secure or taken care of. Meanwhile, some people have simply moved on to other careers they had always wanted to pursue, started their own businesses, returned to school, or are carving out their own space in the restaurant and bar industry. The end of unemployment benefits won't change anything for those individuals.