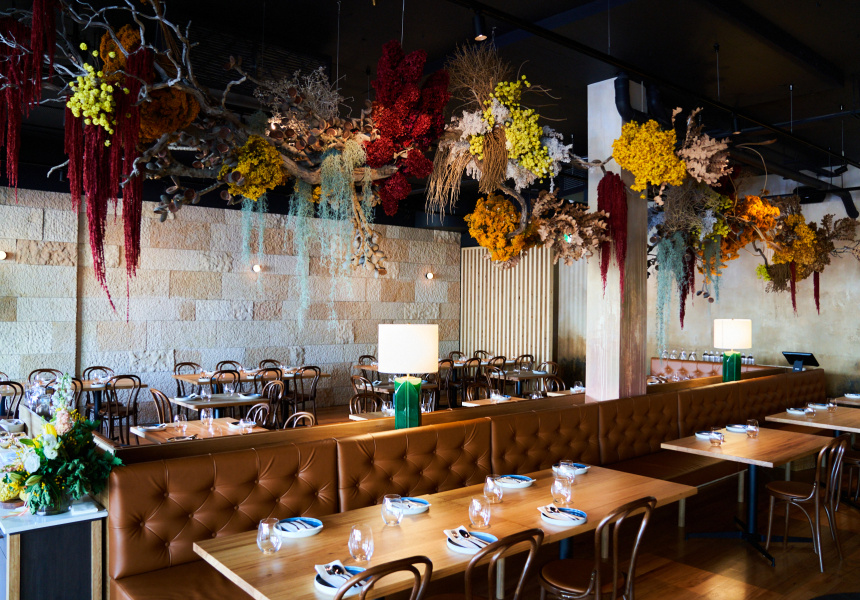 When word got out that Will Meyrick was opening a venue in Perth, heads, understandably, turned. Those heads also had a lot of questions. What will the restaurant be called? Would the cooking just be a facsimile of his popular Balinese restaurants, Sarong and Mama San? How hands-on will Meyrick be in the running of the restaurant? And the crucial question, will it be good? The answers, in sequence: Will Street. No. Extremely. And yes, very good, in fact. Or at least if the restaurant maintains the standards and energy of opening weekend.
Last time I was at the former La Vida Urbana site in May, it was a construction site with spaghetti wiring and metal overhead. White splashback tiling on the walls. Six months on and Paul Lim of Mata Design Studio has reimagined the space into a sophisticated den of dark timber and texture. Bottles of wine and spirits line the walls. Dried wildflowers from Yamatji country around Geraldton hang overhead. It's a fun, high-energy, grown-up place to be, helped in no small part by floor and kitchens teams that seems to have hit the ground running.
"After a year of understanding WA, we've got our own space to do what we want and call the shots," says Meyrick, his hands and jeans coloured with turmeric stains. Prior to opening Will Street, Meyrick spent much of last year as a consultant to Lontara at Samphire Rottnest, which gave him the opportunity to learn the lay of the land. "But the main thing is that we're having a lot of fun cooking and doing the food that everyone expects us to be doing."
I'm going to come clean. I wasn't sure what to expect from Meyrick's menu, but I'm happy to say I was surprised in the very best way possible. Assisted by long-time associate and chef Tim Bartholomew, Meyrick and the rest of the Will Street team are turning out some very precise, true-to-type Southeast Asian cooking.
Thailand is a recurring motif – from the spice and freshness of betel leaves (miang) freighting smoked eel, to a note-perfect sai oua, Chiang Mai's famous herbal spiced pork sausage, served with traditional accompaniments: the spicy green-chilli relish nam prik num, sliced ginger, Thai basil; and a sweeter red-chilli relish, jaew bong. Dashi adds a smoky Japanese accent to springy fish-and-scallop dumplings, while a tender Indian Muslim-style nihari curry makes a compelling argument for the pleasures of slow-cooked goat. It's a good-sized menu and one that's best tackled in numbers.
While much of the focus around Will Street will be on the restaurant's eponymous chef, the roster features other notable hires. Laurie Eaton, a former bar manager at Melbourne cocktail den Eau de Vie is in charge of a drinks list that features spice-sympathetic wines and cocktails, while restaurant manager Audrey Ruckhaber – formerly of Bread in Common and, prior to that, wineries throughout California – has done a fine job assembling a snappy team of waitstaff eager to please.
Will Street

1/228 Carr Place, Leederville
Hours:

Wed & Thu 4pm–late

Fri to Sun 11.30am–late