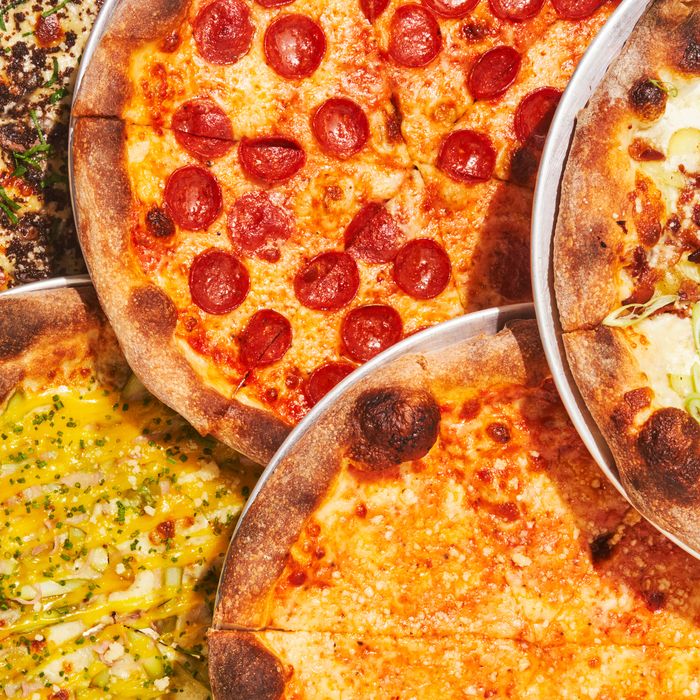 Pizzas from Stretch, coming soon to Park Ave South. Photo: Adam Friedlander
Last we saw Wylie Dufresne, he was engineering Creamsicle doughnuts at his Williamsburg shop, Du's. When it closed during the pandemic, he found himself with some free time and lots of restless energy. "I have a pathological curiosity," he says. "I mean, it's a bit of a running joke that on the last day of wd~50, I changed a recipe." He turned his attention to a new pursuit — pizza — first cooking at home with his family before, in 2021, launching a six-month Stretch Pizza residency at Breads Bakery in Union Square, close to the apartment where Dufresne grew up, using the ovens during their off-hours for carryout pies and a small sit-down setup.
Next week, on March 17, Dufresne (along with Breads owner Gadi Peleg) will turn the pop-up into a permanent pizzeria on Park Avenue South, where the chef's commitment to tinkering remains intact — one senses he'll never stop tweaking the dough recipe — even if his embrace of wild flavors has softened. (Don't expect any aerated foie gras here.) In addition to carbonated negronis and ice cream with a Mister Softee–style "shell" made of hot honey, the most recognizably Dufresnian item may be "potato chip salad," where herbs, greens, and olive oil are mixed with Greenmarket chips dusted in homemade vinegar powder — re-creating the effect of traditional vinaigrette while ensuring everything remains crunchy.
For the classic pie, dough is carefully stretched (not tossed) and topped with tomato sauce from a squeeze bottle. The cheese is a mixture of low-moisture mozz and a bit of fresh curd — enough to get some milky flavor without all the added moisture. Toppings, too, stick close to variations on tradition. Beyond plain cheese, there is pepperoni. The Yolks on You combines asparagus and a squiggle of egg sauce that's reminiscent of the yolk cylinders Dufresne served at wd~50; the Ploughman features smoked cheese, ham, and horseradish. It tastes like an extra-strength tarte flambée, and it could use a pint of dark beer on the side. That pairing would work just as well with Stretch's Old Town pie, which layers Muenster and sautéed mushrooms with pumpernickel crumbs, ingredients cribbed from a grilled cheese that Dufresne loves at the nearby Old Town Bar. The cheese offers a bit of funk, and the breadcrumbs are pleasantly garlicky, but the most surprising aspect is how recognizable it all seems.
The most noticeable quirk of Dufrense's pizza is its size: 12 inches, which can be thought of as "personal plus." The dimensions worked best in the home oven that Dufresne started using and were convenient at Breads as well. Dufresne isn't changing now, but even this is not a decision that was arrived at casually. "Somewhere around three-quarters of this pie is gonna make you happy," he says, "and that leaves you with something to take away, which I think is part of the fun of pizza — it gets to live its second life at home."