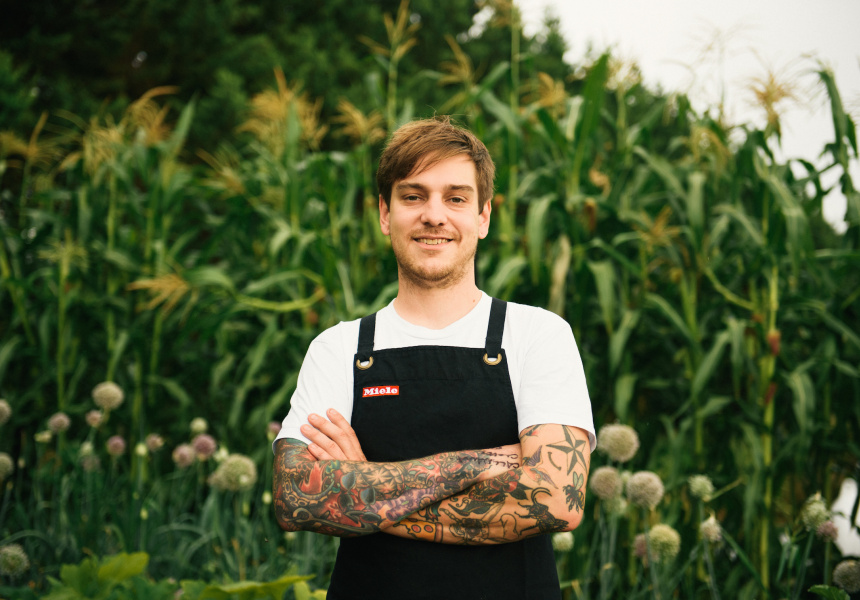 For a chef like Matt Stone, who loves using fresh, local ingredients, working in the Byron Bay hinterland is a dream. Along with hordes of other Aussies escaping the city in the wake of the Covid-19 pandemic, Stone made the move to northern NSW last year. It was a gig at acclaimed farm-to-table restaurant Harvest at Newrybar that brought him to the region.
But when his good mate Nick Stanton (of Melbourne's Leonardo's Pizza Palace, Leonard's House of Love and the now-closed Ramblr) offered him the opportunity to take his spot at atmospheric eatery Ciao, Mate!, in the nearby town of Bangalow a few months later, he jumped on board. Now he's about to embark on his latest venture: a tapas-style restaurant and bar in a prime corner position just a few doors down.
"We call it the jewel of Bangalow," Stone tells Broadsheet. "We can envisage it being beautifully lit, with lots of ambience. We did a pop-up event before we started the renovations. It was a great vibe; it really worked."
The "we" he is referring to includes his new-ish business partners, Matt Rabbidge and Luke Sullivan, who also own the Eltham Hotel at the old railway junction between Lismore, Ballina and Bangalow a bit further inland. The space that the new restaurant, You Beauty, will occupy was previously home to The Italian Diner, which was owned by Big Brother series one housemate Pete Timbs.
Locals are already predicting You Beauty – which will feature timber-clad interiors, some high bar stools and a couple of tables outside – is likely to give the sleepy town of Bangalow an energetic culinary hit, just as Ciao, Mate! did.
Stone's passion for sustainable cooking has evolved naturally over the years. The 35-year-old grew up in Western Australia's Margaret River region and began his career washing dishes at Leeuwin Estate in 2003. After completing his apprenticeship, he worked at much-awarded Perth restaurant Star Anise for a couple of years before joining eco-warrior Joost Bakker's Greenhouse restaurant as head chef.
He also worked with Bakker to set up Australia's first zero-waste cafe, Silo (which later became a soup bar called Brothl), in Melbourne before taking on the role of co-executive chef of Oakridge Wines in the Yarra Valley. While there, he and Jo Barrett (the other co-executive chef and his then-partner) shook up the regional eatery by becoming super local and extremely DIY.
He returned to working with Bakker's groundbreaking Future Food System project in Melbourne in 2021 before moving north. With You Beauty now in motion (and an engagement to another local, Beach Byron Bay's head chef, Alanna Sapwell), he's likely to stick around the area for a while.
It's no surprise that the pioneering chef (who has authored a cookbook and made numerous guest appearances on Masterchef) is excited to showcase at You Beauty the produce and foods of local farmers and suppliers. He says to expect a menu of about a dozen small plates based on the seasons and a couple of main dishes, paired with a tap beer and wine.
"My role as a chef is to serve delicious food," he says. "The less food has travelled, the better it is, and the better it is for the environment. It also means less packaging is needed." He also plans to pay a fair price for the produce he sources. "Good food should be expensive."
You Beauty is at 37–39 Byron Street, Bangalow and is slated to open late July for lunch and dinner from Wednesday to Sunday.